I am so excited to share the new Spring launch of the Free Assembly clothing line at Walmart! Their Spring line consists of the prettiest colors, everything coordinates so well together and is perfect for mixing and matching. Also, the quality is top-notch and the pieces are classic staples that you can wear over and over again! And even better is the amazing price point that you can shop all of these pieces at. I'll be featuring some of my favorite Women's pieces here, but I wanted to let you know they have a full Men's line too for those who like to shop for the men in your life! The Free Assembly collection is committed to sustainability AND most everything is under $40!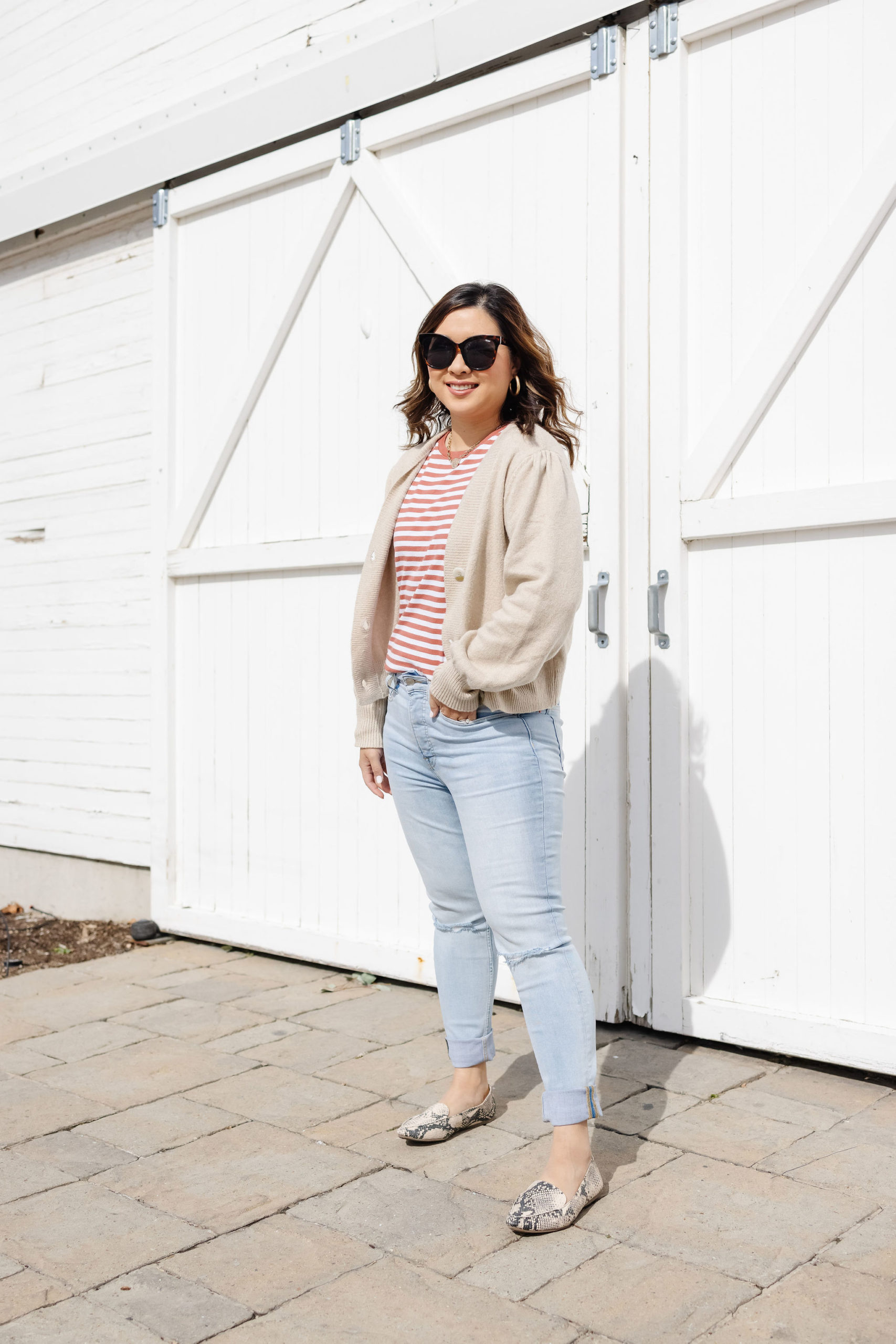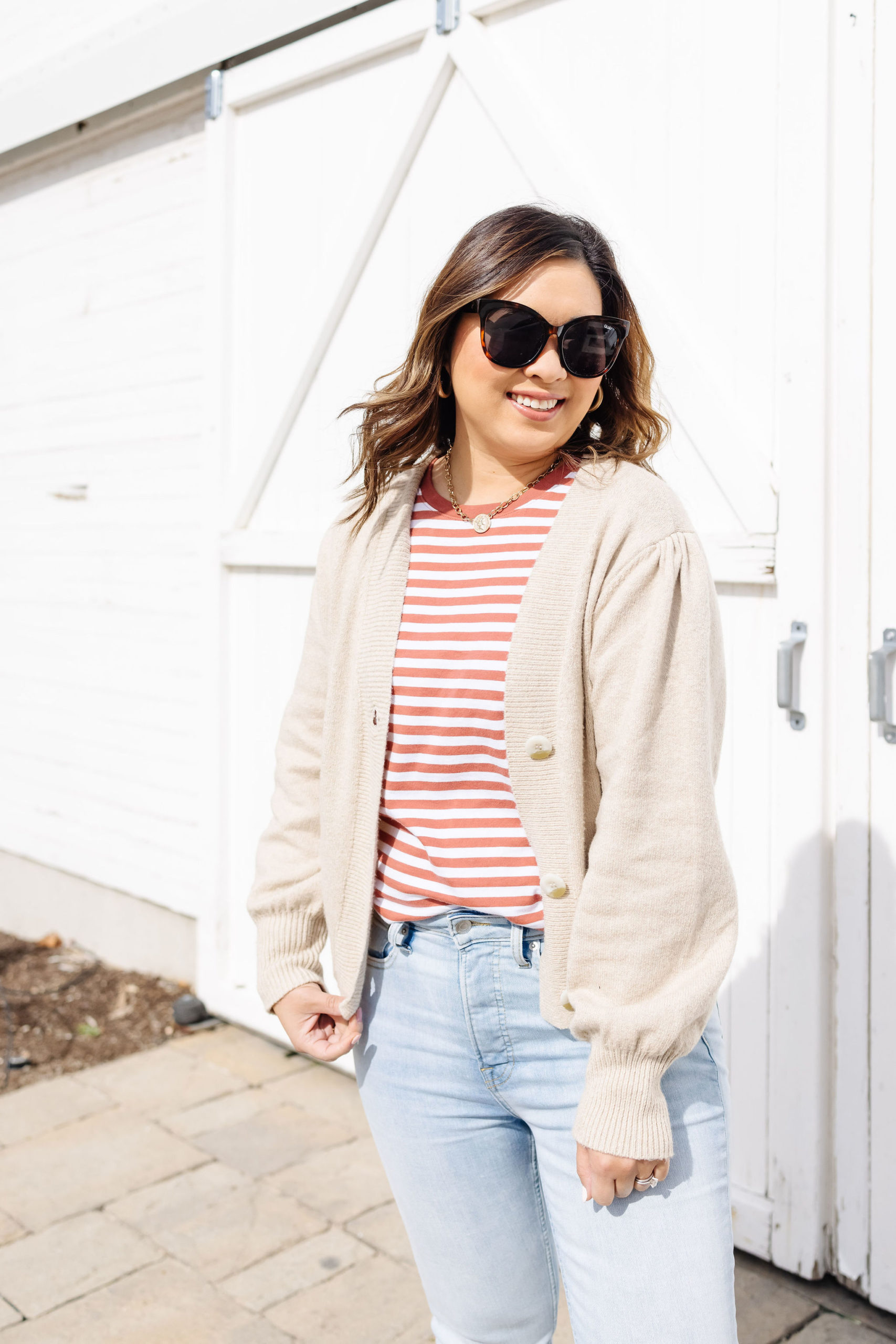 Tee (Medium) // Jeans (8 – size up) // Cardigan (Medium) // Loafers (TTS)
The Free Assembly line consists of A LOT of great basic tees that really can work year round in your wardrobe. You all know that I am a sucker for stripes, so when I saw this tee in the prettiest rose pink hue, I had to have it! But honestly, I would be happy with any of the colors the tee comes in, and by the way, its only $12!! I paired it with these light wash high rise skinny jeans and layered it with this neutral puff sleeve cardigan! I totally think the cardigan can be worn open or buttoned up.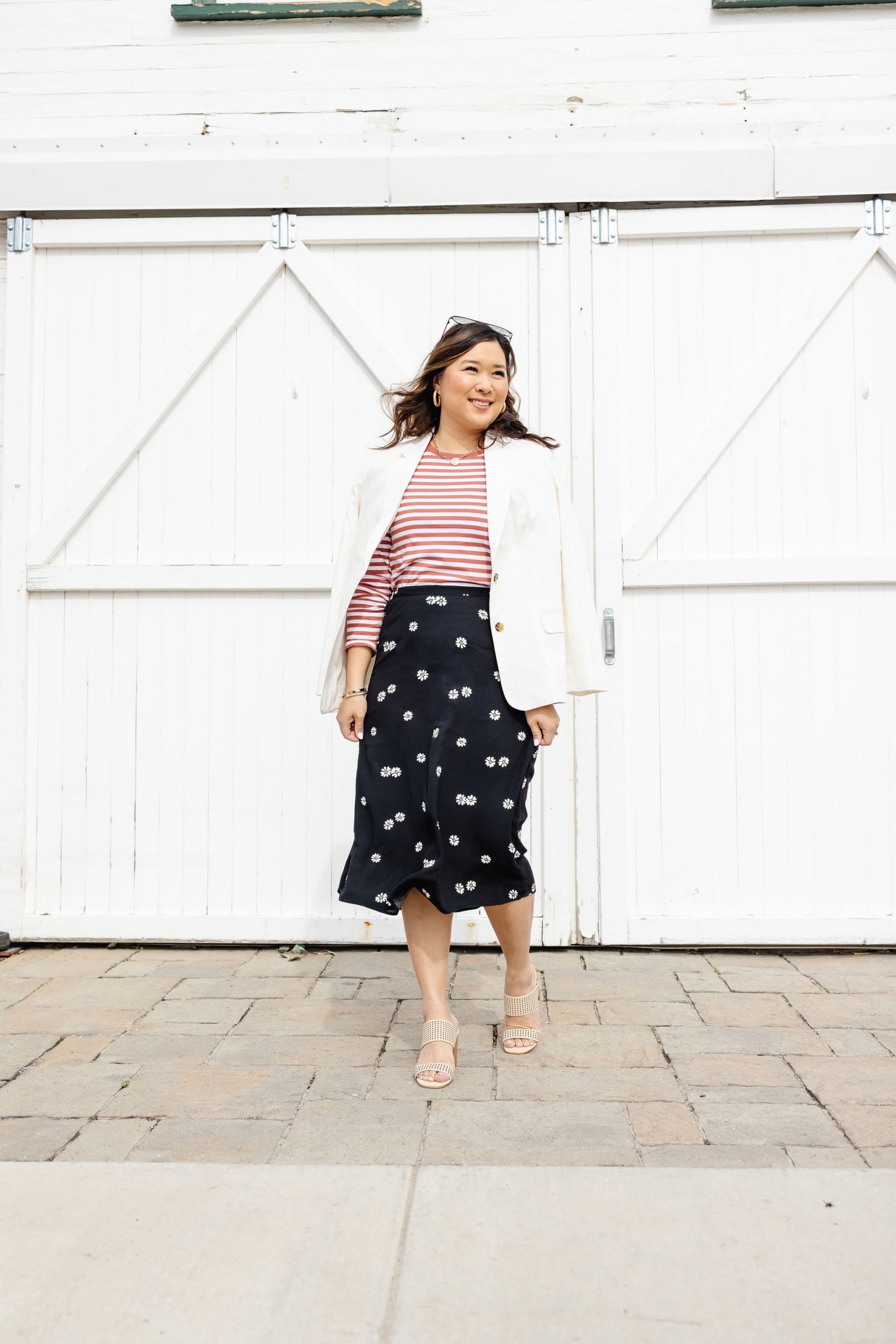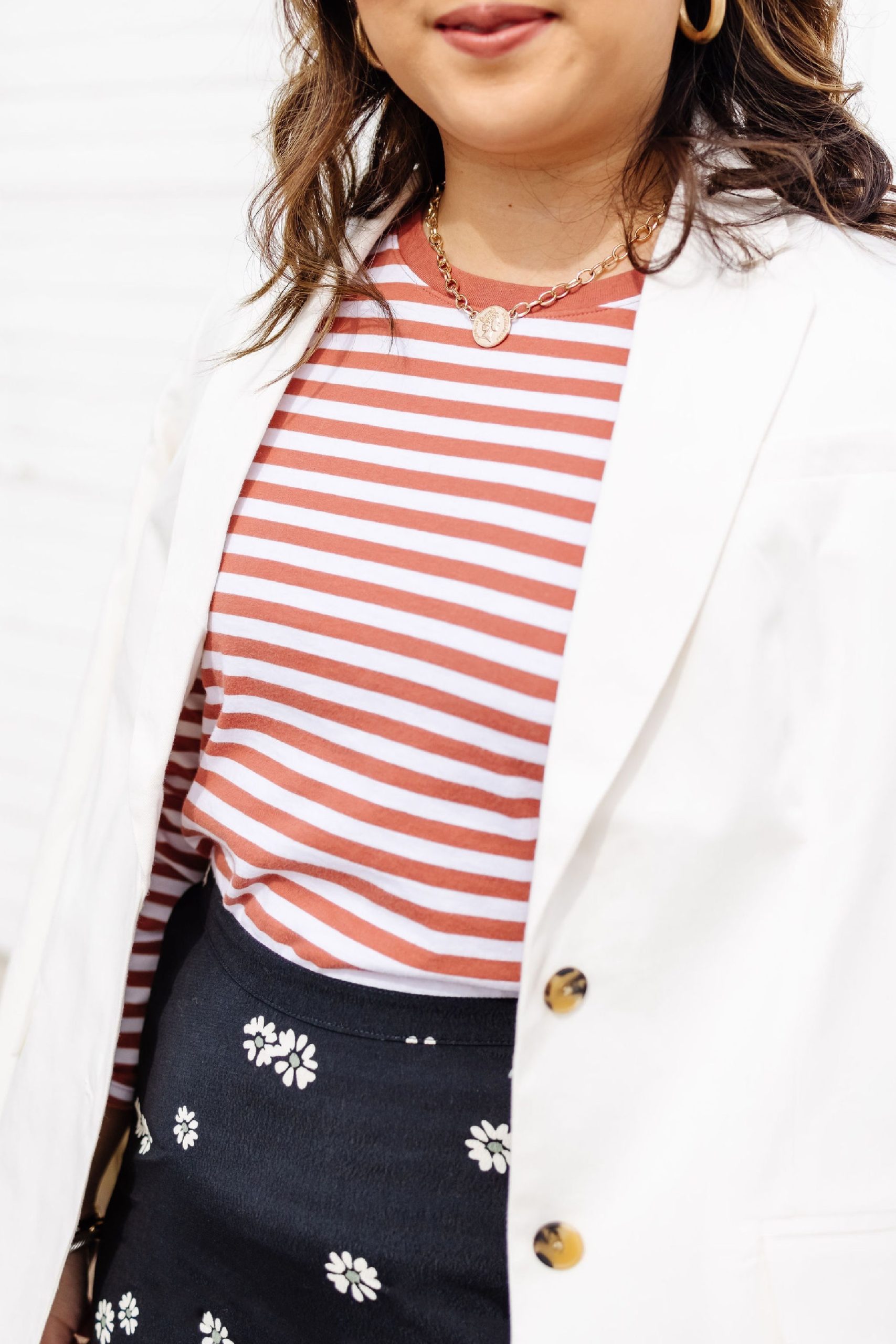 Tee (Medium) // Skirt (Medium) // Blazer (Medium) // Heels (TTS)
As I mentioned earlier, the pieces in the line are all so great for mixing and matching and I just love a good stripe mixed with floral. This skirt comes in a ton of cute prints and is just so effortless flowy and cute. It can be worn dressed up with heels or dressed down with a pair of sneakers. With the blazer to elevate this outfit, this look would totally be something that you could see me wearing when I used to work in an office setting.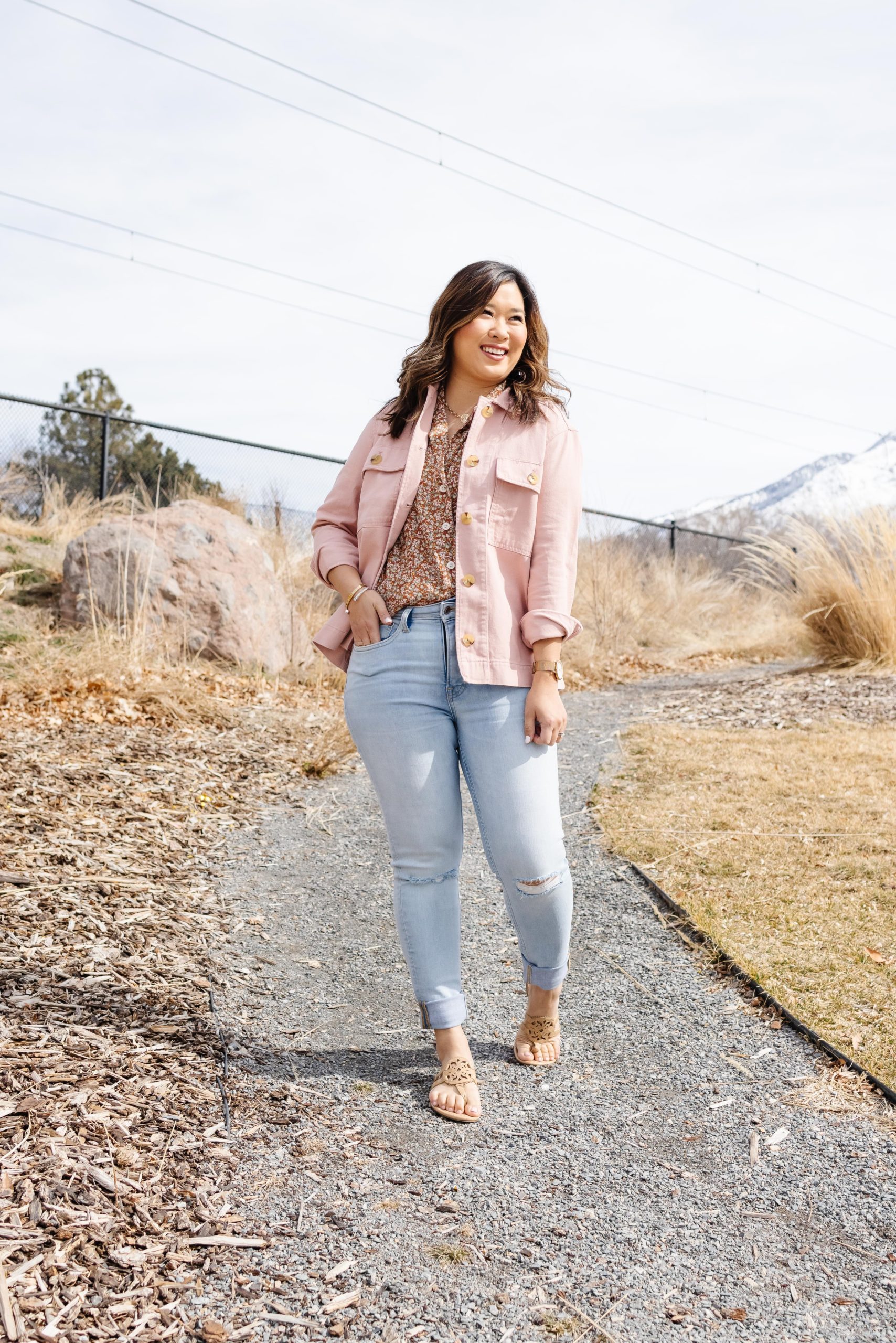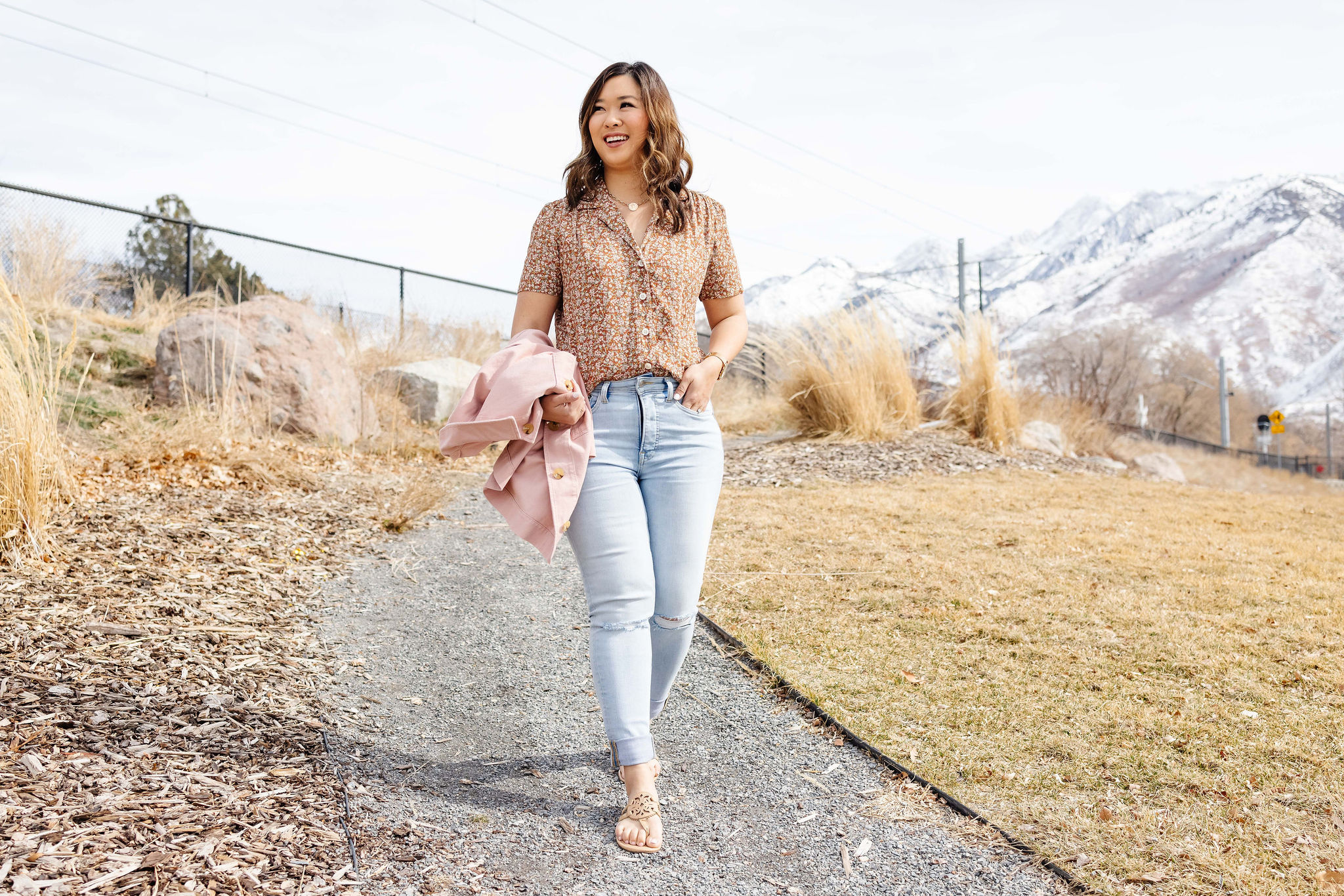 Camp Shirt (Medium) // Jeans (8 – size up) // Shirt Jacket (Medium) // Sandals (TTS)
Shirt jackets are totally trending right now and they are the perfect layering piece to add to your rotation for Spring layering. I always love kimonos, cardigans, and light jackets, and the shirt jacket is a nice addition to the layering round up! This shirt jacket from Free Assembly comes in 4 gorgeous colors (it was so hard to pick one, but you know my heart gravitates towards pink) and is only $30! I would say it's kind of a mix between a military jacket and shirt jacket and the great thing about it is that it is not super oversized and won't add too much bulk. For this look here, I am layering it over this gorgeous floral camp shirt that immediately caught my eye because of the color and the print. The shirt is lightweight and absolutely perfect for Spring.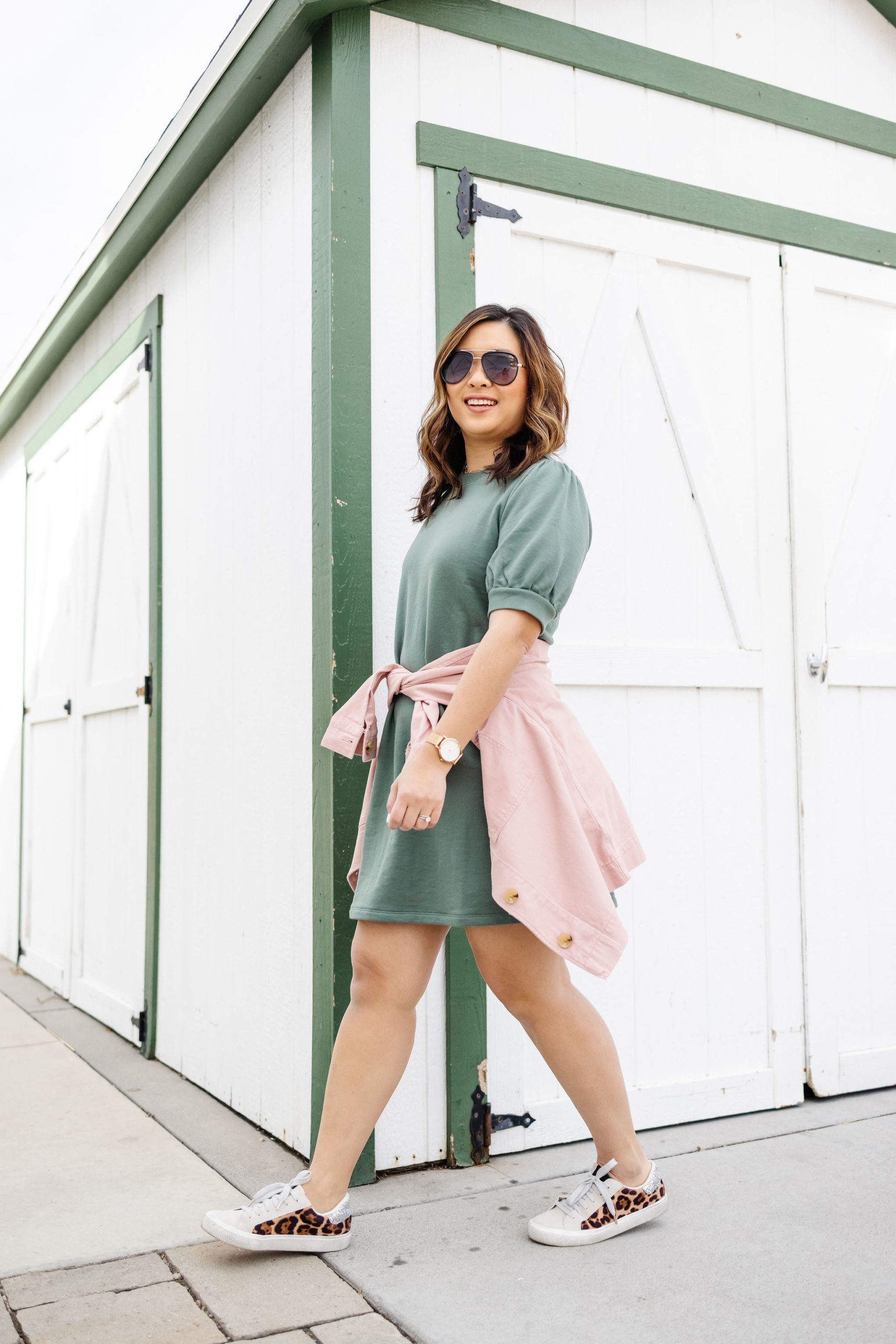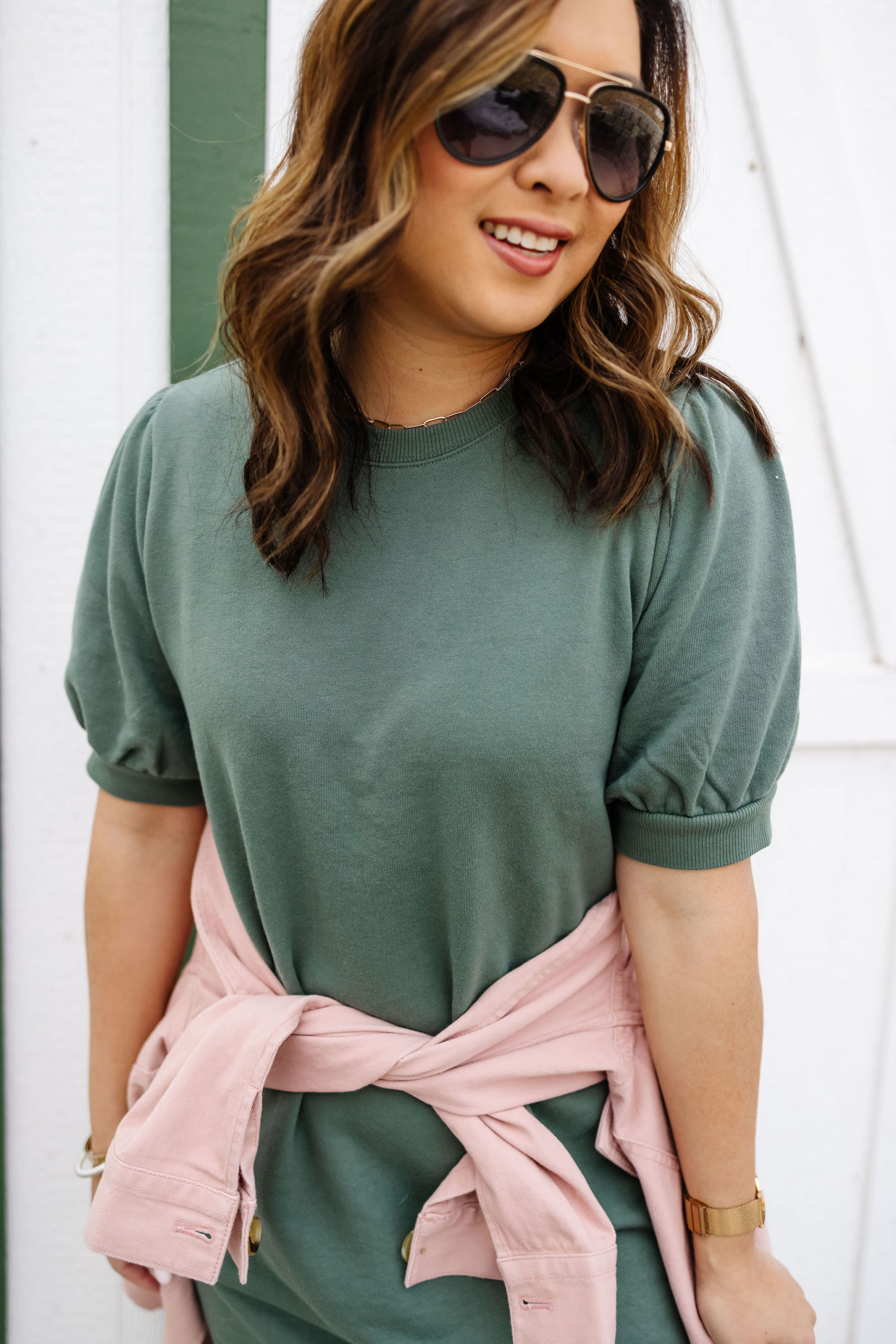 Dress (Medium) // Shirt Jacket (Medium) // Sneakers (TTS)
And lastly, quite possibly my favorite from the line (well it might be a toss up with the tees) is their dresses! They have a handful of really great sweatshirt dresses (for more casual outfits) and some lightweight flowy dresses (that could work great for work, Spring break vacations or honestly would make great everyday dresses)! This little green with the puff shoulder caught my eye because it's just casual, yet cute and the perfect dress to wear with sneakers! And I am really love the flowy feel of this one too!
The whole line is seriously incredible and the prices are great. I am linking up everything seen in this post + a few other favorites below!!!
Thank you to Walmart for sponsoring this post, all opinions expressed are 100% my own.