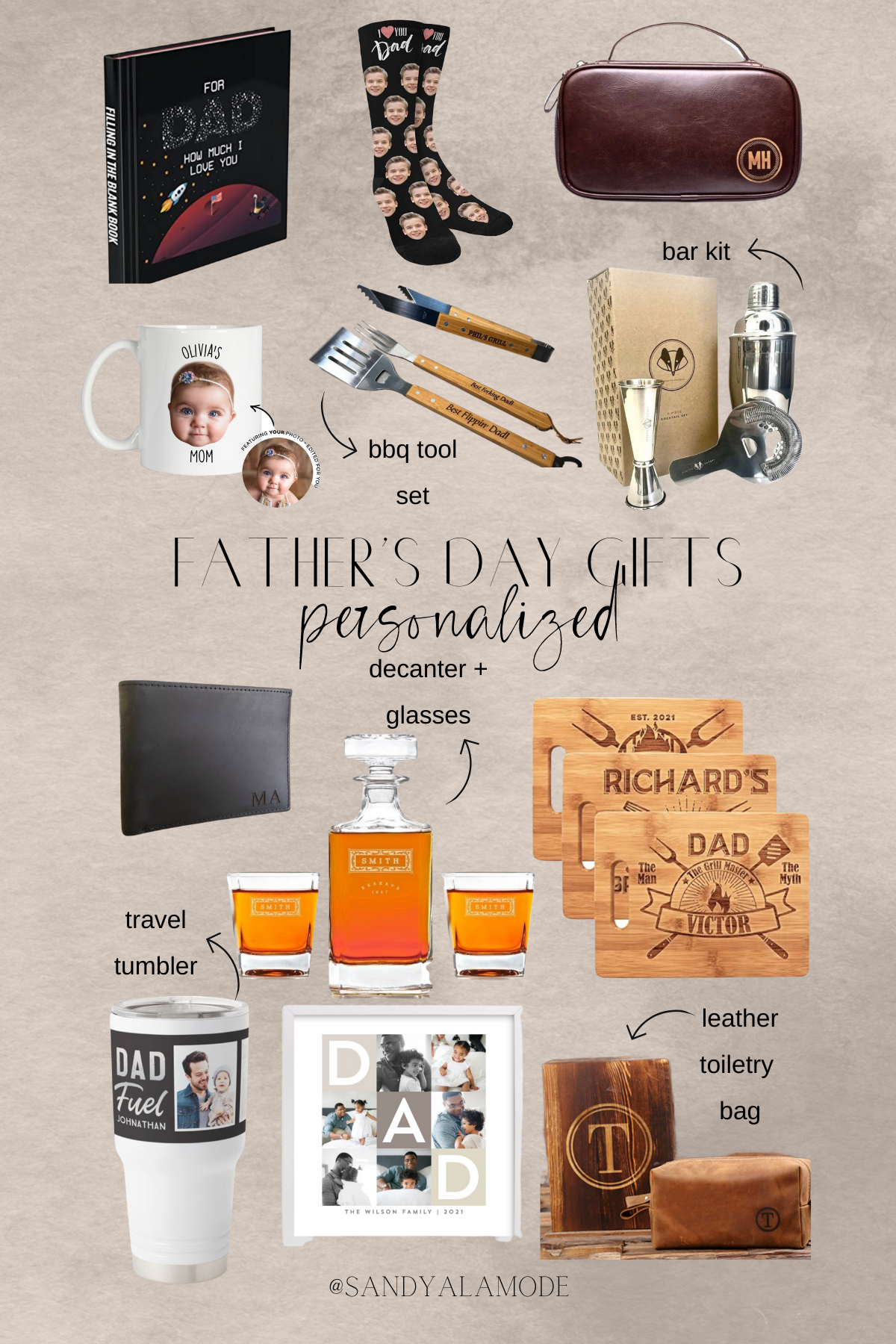 Dad Book – Cute book for sentimental Dads.
Personalized Socks – Almost like a gag gift, but super fun!!
Toiletry Bag – These look high end and are great for travel toiletries!
Mug – An easy personalized gift for the coffee drinker!!
BBQ Tool Set – Personalize his tools!
Bar Kit – For the Dad who loves to kick back with a drink.
Cutting Board – For the Dad who loves to cook!
Wallet – Wallets are always a great gift!
Decanter and Glasses – Perfect for the man cave or bar!
Travel Tumbler – Great for Dads to bring to the office!
Picture Frame – Another great gift for his office desk or nightstand.
Shaving Bag – This bag would fit all his shaving tools perfectly!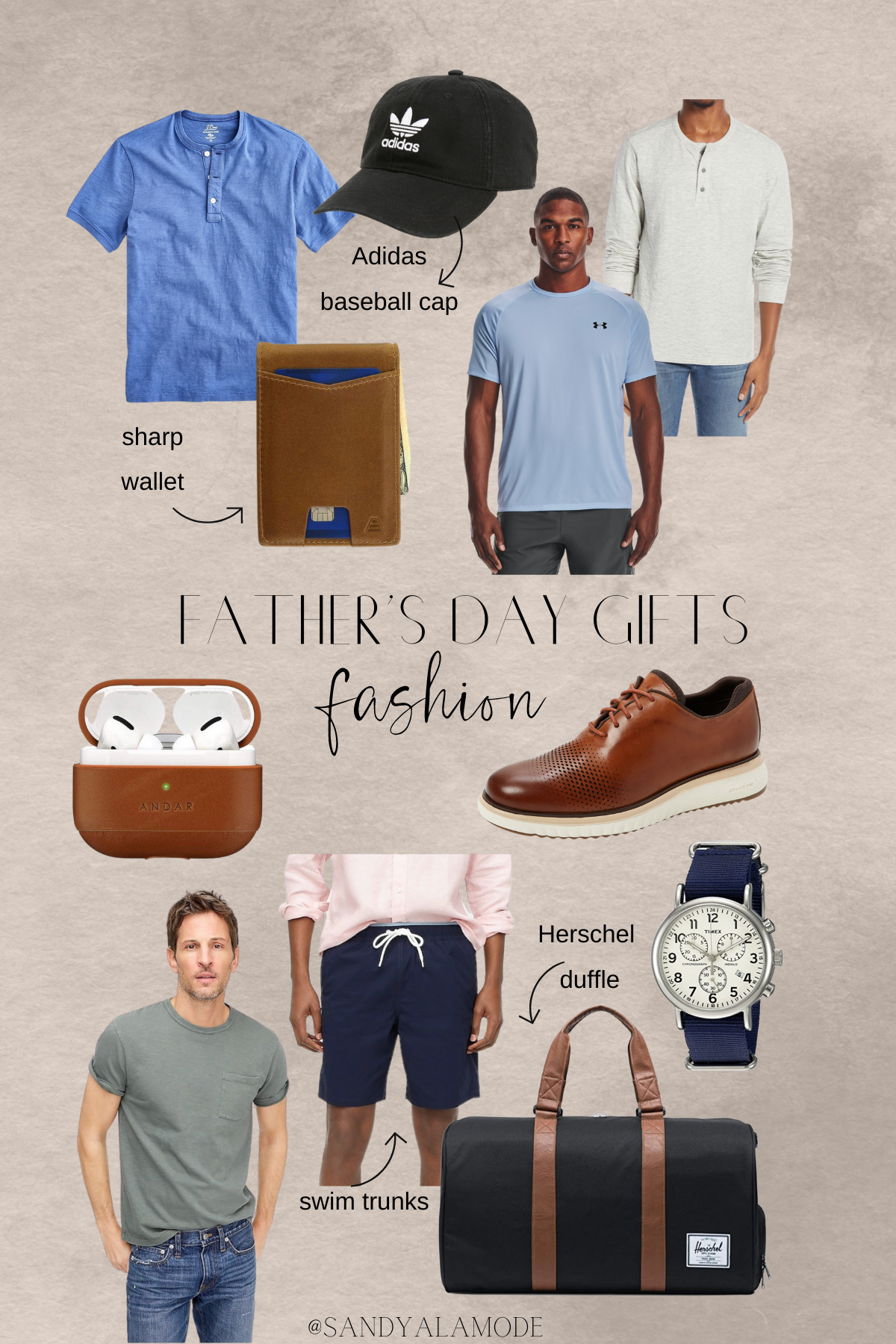 Short Sleeve Henley Shirt – I love henley tops for Marvin!
Baseball Cap – For those bad hair days!
Under Armour Shirt – These are a great material for active Dads.
Long Sleeve Henley Shirt – Can't get enough of henleys haha!!
Wallet – This is such a cool slim wallet!
Air Pod Case – So he won't lose his Air Pods!
Shoes – These are a great everyday dressy sneaker!
Pocket Tee – Can't have enough of these types of tees!
Swim Trunks – Perfect for the Dad who wants to get in the pool and play with the kiddos!
Duffle Bag – Perfect bag for those who are going on Summer trips!
Watch – Marv's top pick for an affordable everyday watch! He LOVES his watches!!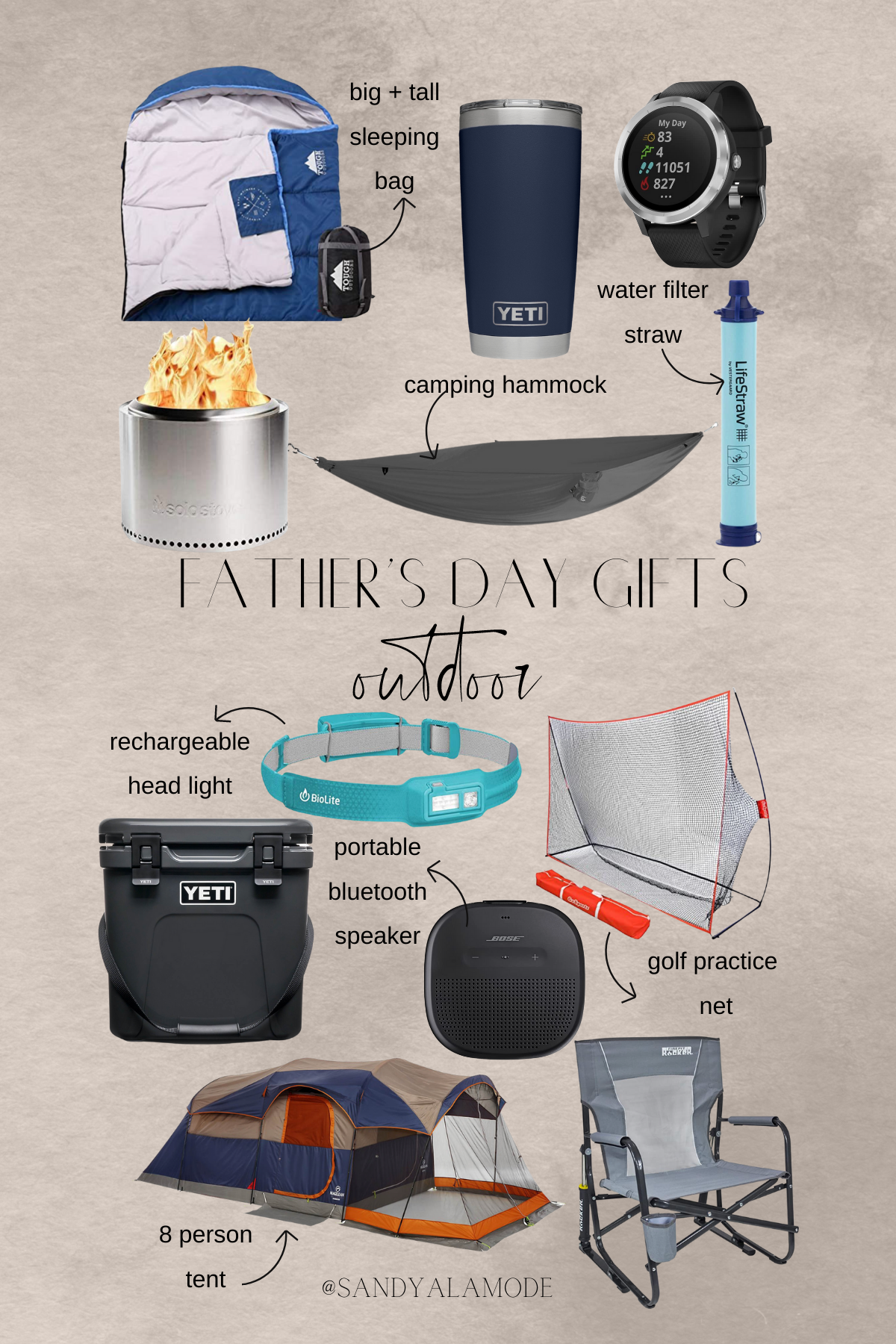 Sleeping Bag – Great for camping!!
Yeti Tumbler – You know we love are YETIs! Keeps drinks cool for a long time!
Smart Watch – For him to track his activity and steps!
Solo Stove – We LOVE backyard fires in the Summertime! Could work for roasting smores too!!
Camping Hammock – For Dads who like to relax in the back.
Water Filter Straw – Personal water filter, great for camping.
Head Light – So you can see at night!
Yeti Cooler – We swear by our YETI cooler! This one is more vertical which takes up less space in our trunk!
Golf Net – For the Dad who loves to golf.
Bluetooth Speaker – We LOVE listening to music, great to have outdoors too!
Tent – The whole family can fit into this tent!
Rocking Portable Chair – Perfect for backyard Summer nights or tail gating.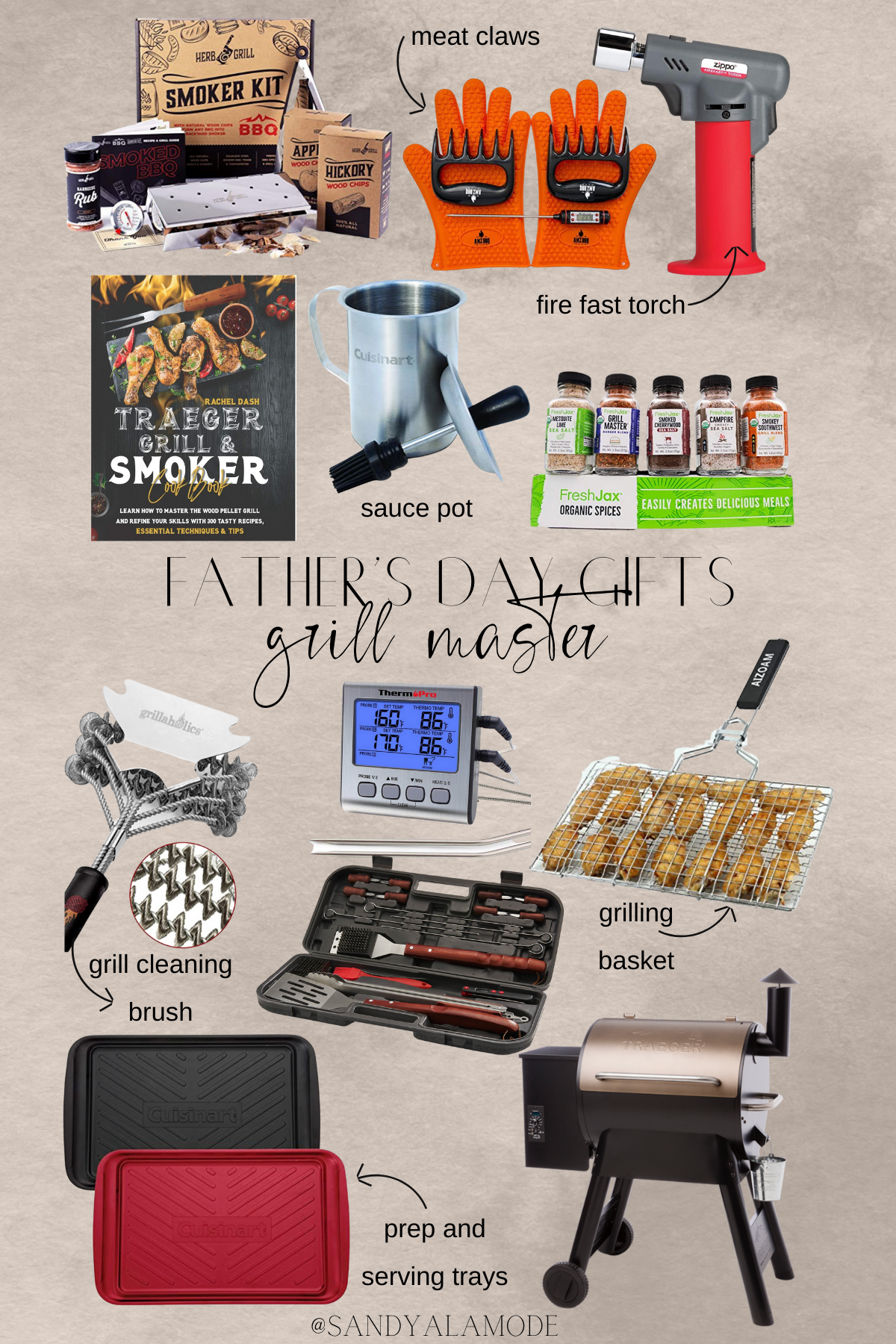 Smoker Kit – The perfect seasonings to add to meat!
Meat Claws – Make sure his hands are protected while grilling!
Torch – Perfect for starting a fire.
Cookbook – Need some grilling or smoker recipe ideas? This book has great reviews.
Sauce Pot and Basting Brush – For perfecting those meats!!
Smoked Spices – These spices have over 10K+ 5 stat reviews!!
Grill Brush – This is great for cleaning the grill.
Meat Thermometer – Always got to make sure the meat is cooked to the right temperature! This is a must with grilling!!
Grilling Basket – Great basket for grilling fish, shrimp, seafood.
BBQ Set – The perfect starter set of tools.
Prep and Serving Trays – Use the red tray to prep raw meat and the black one for cooked meat!
Traeger Grill – Of course, if you guys don't have a grill yet, we have a Traeger and love it!!! I mean honestly a gift to him is a gift to yourself with all the yummy food that will be made on it!!