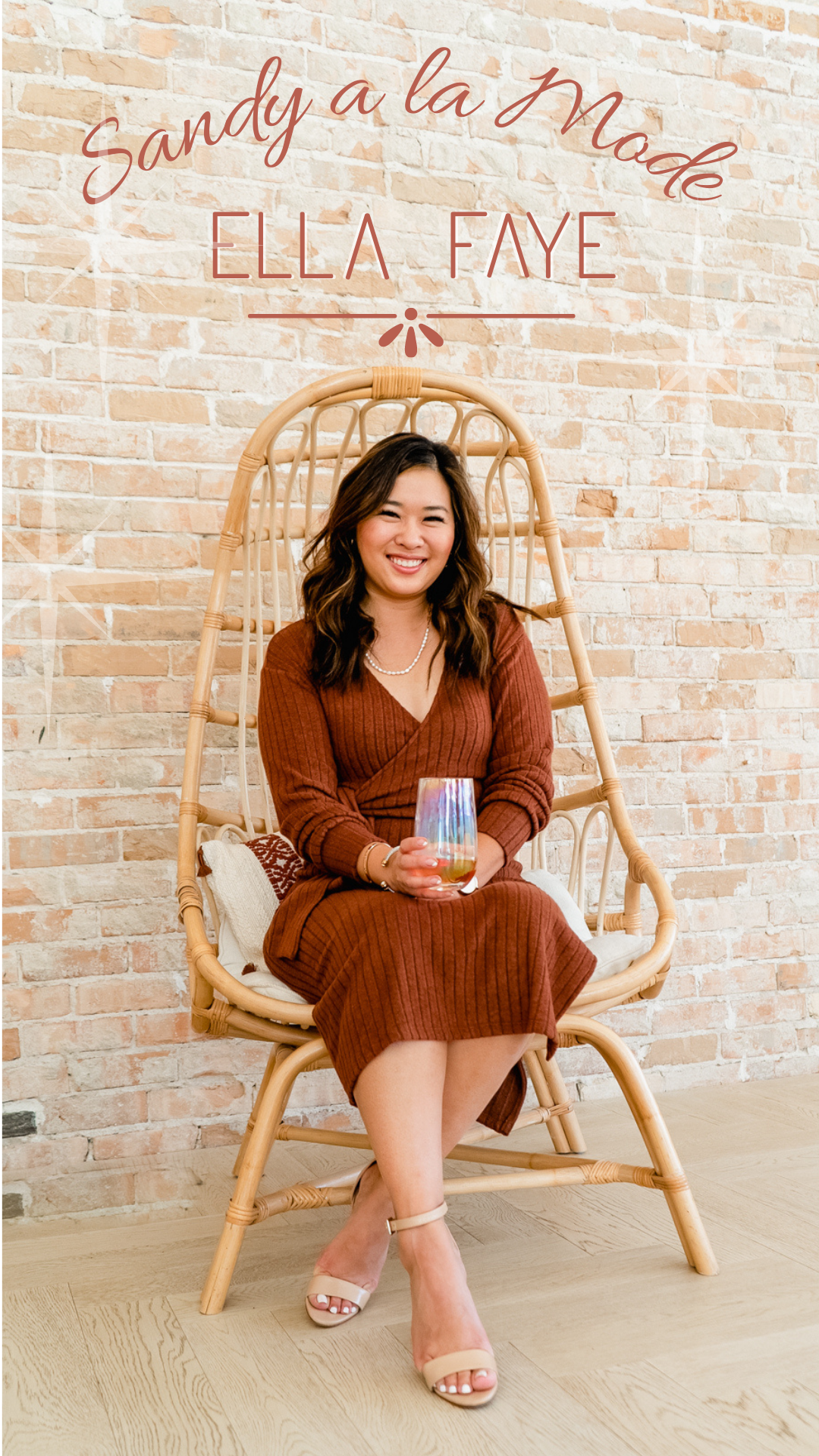 I am so excited to announce that I have partnered with a local Utah shop, Ella Faye Boutique and curated my own little Fall collection!!! It consists of 8 pieces that range from casual to dressy and I love each and every one of them so much! We have spent weeks prepping for this and I am so happy with all the pieces that I chose! I hope you love them as much as I do!!! Before we get into each piece, I wanted to let you know that you can use code SANDY10 to get 10% off anything in the shop + free shipping!! 🙂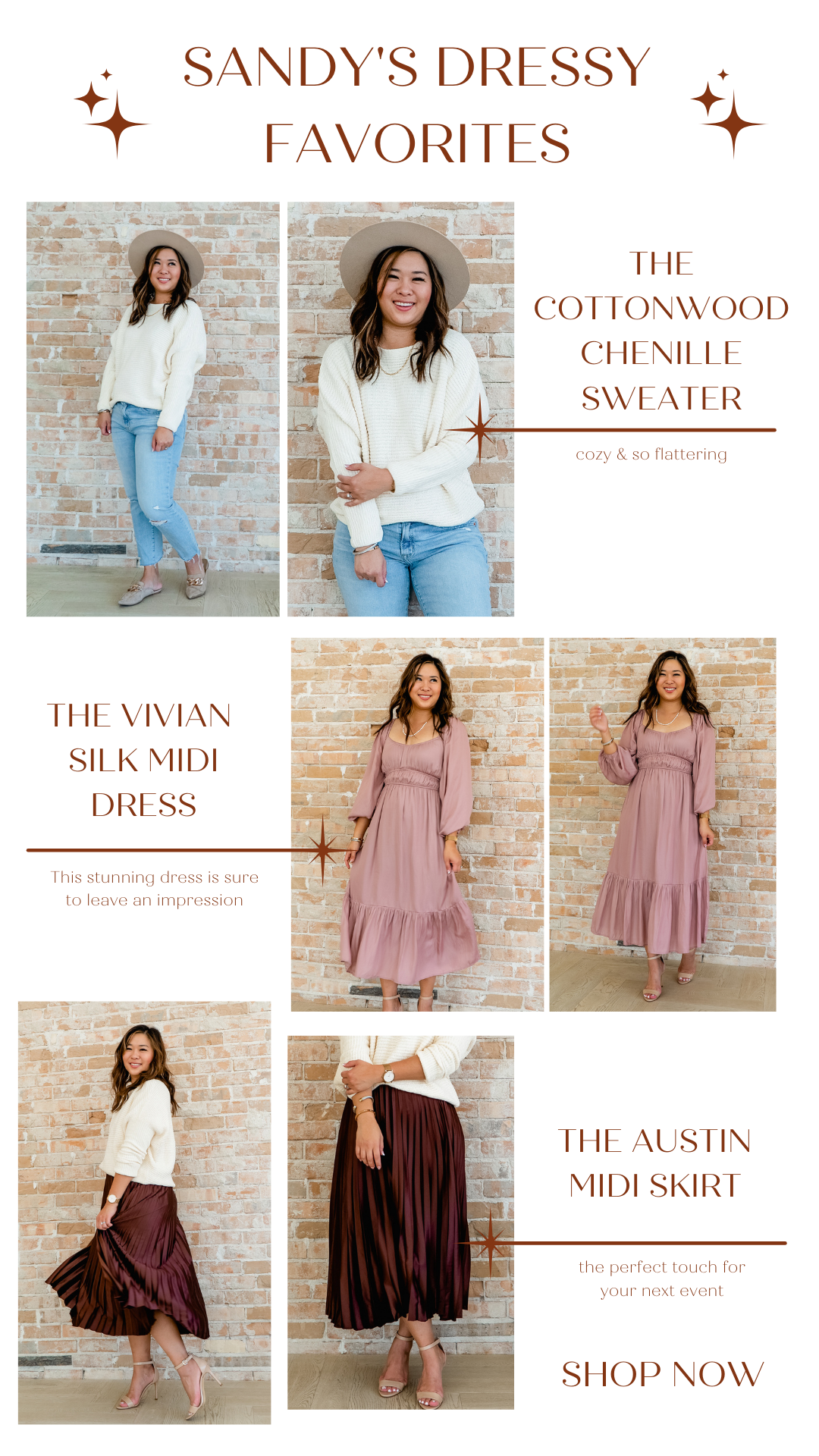 The Cottonwood Chenille Sweater (Sandy's size: Small)- This sweater is SOOO soft!! It has a boatneck, little bit of a batwing sleeve, and a slightly cropped fit. I prefer this sweater in a size Small, but could do a Medium as well. It pairs well with denim or a skirt (I would go with TTS or size down if in between if planning to wear with a skirt).
The Vivian Silk Midi Dress (Sandy's size: Small) – I have a feeling this silky dress will go fast!!! This was a favorite among my friends who tried on the collection with me! It's a gorgeous mauve color, the style is flattering on all body types! The neckline is a little lower, just FYI and it is a midi length dress that flows SO nicely!!!
The Austin Midi Skirt (Sandy's size: Medium) – This chocolate brown skirt has a little sheen to it and is SOOO pretty! I really am loving this color for Fall these days!!! Midi skirts can be styled so many ways, dressed up or down!!! This one does flow out a little bit and is a midi skirt length.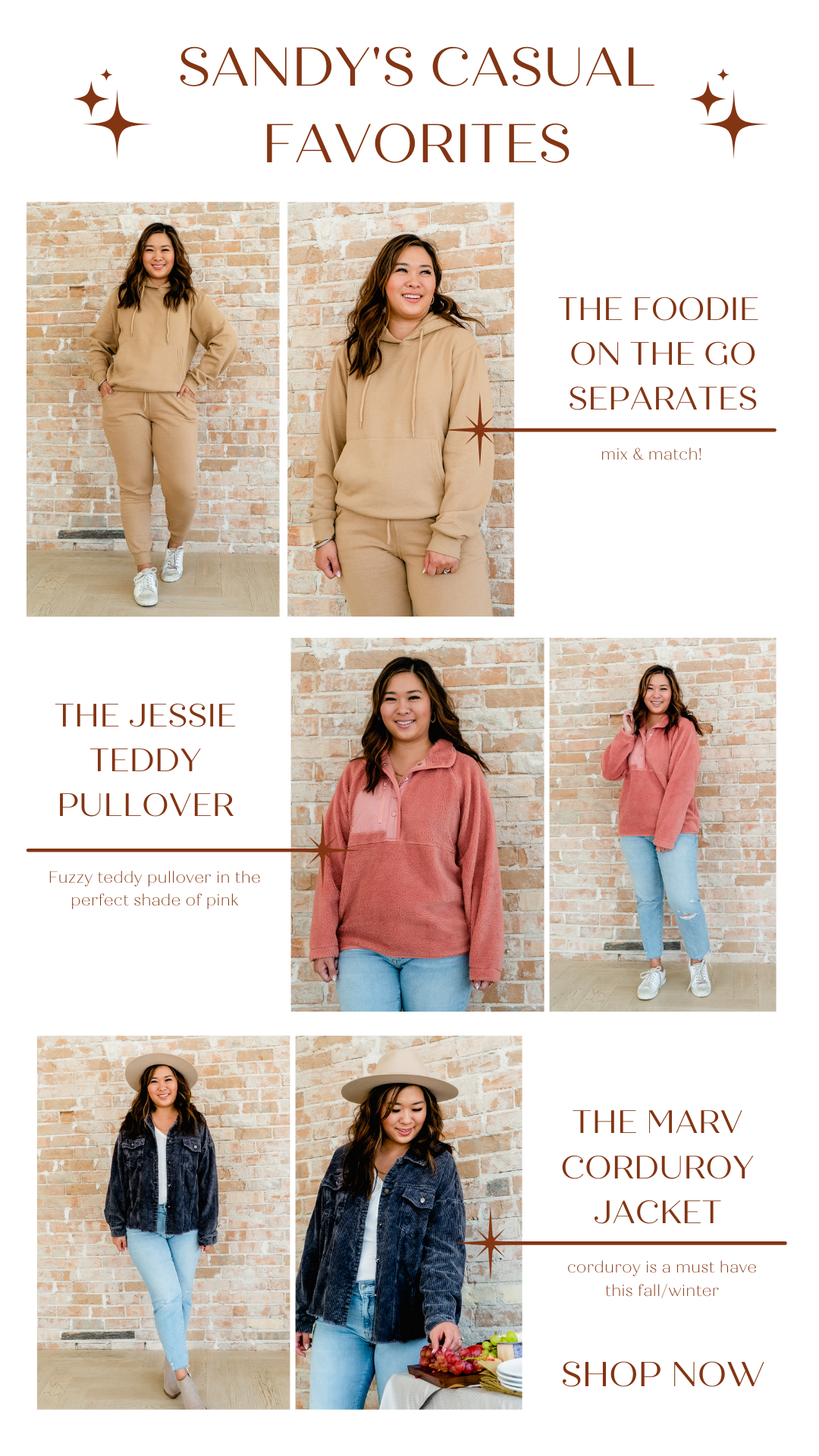 The Foodie On The Go Sweatshirt (Sandy's size: Small) – The name says it all and describes me perfectly!!! This hoodie is SOO cozy and soft on the inside and is the perfect color of hoodie Fall!! You know I love my neutrals and comfies!! I typically wear Medium in hoodies but I preferred the fit of the Small in this one!
The Foodie On The Go Joggers (Sandy's size: Medium) – Buy this as a set with the sweatshirt, or on it's own, joggers might be a tie with leggings for my favorite type of bottom to wear!!! These also have a cozy inside and a band at the bottom so it's more cuffed, just the fit I like for my joggers!
The Jessie Teddy Pullover (Sandy's size: Medium) – This pullover is the perfect thing to wear at night as the weather gets chillier. This pink color is bright, but I love it!!! I own a few pullovers like this in more neutral colors, but I love my pink!!!
The Marv Corduroy Jacket (Sandy's size: Medium) – I love a good jacket or shacket and this corduroy one is the perfect piece in place of me wearing denim jackets all Summer long!!! It's got a distressed hem and has got a cool vibe to it!!! I love it worn casually paired with a graphic tee and jeans or with jogger set!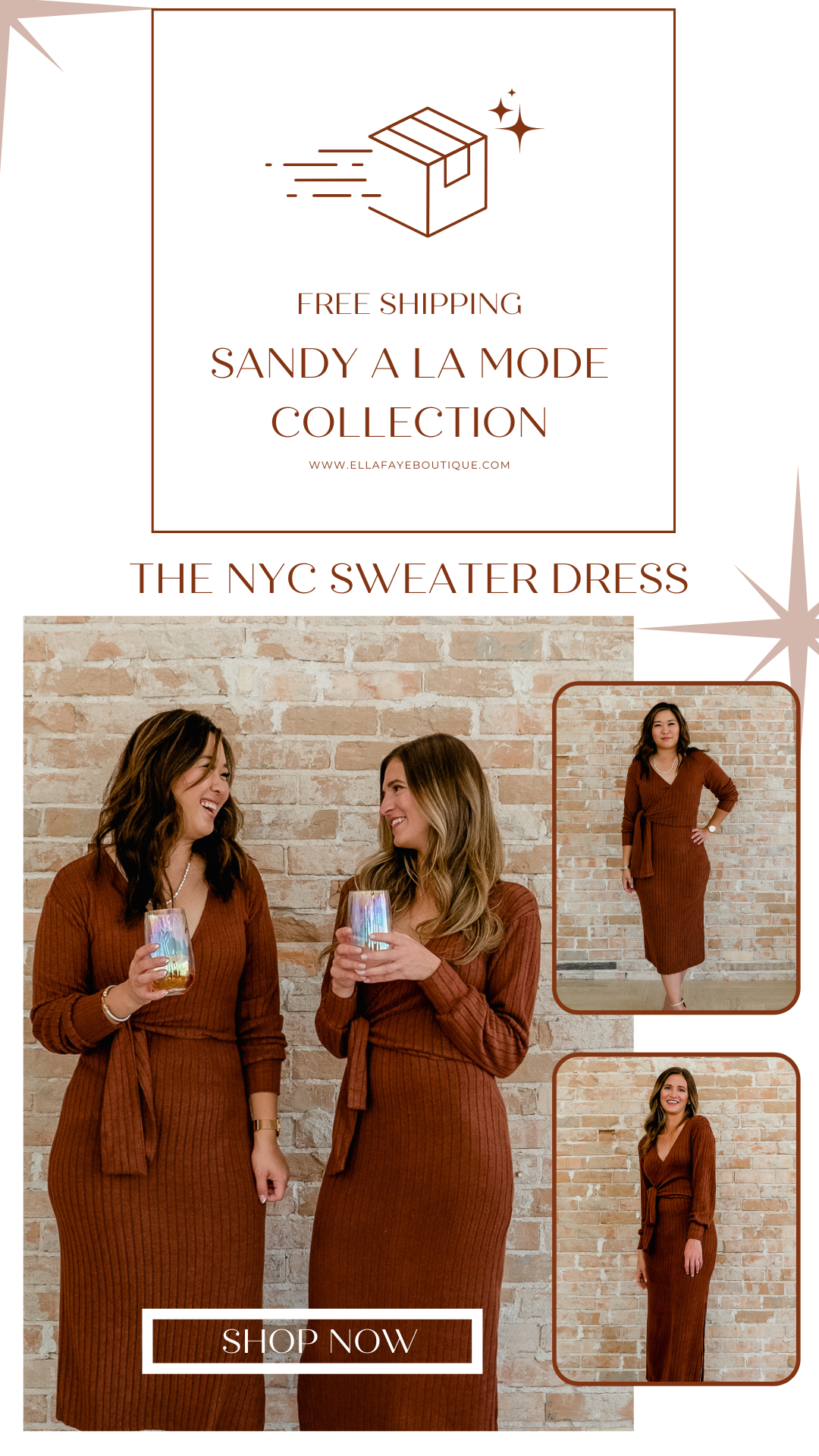 The NYC Sweater Dress (Sandy's size: Medium) – This sweater dress is SOO soft!!!! It's got a wrap top and a ribbed detail and a flattering waist tie. It is more of a body hugging dress, but has lots of stretch to it!! I do prefer to wear this one with shapewear underneath to smooth out any lines, but it really is a gorgeous midi length sweater dress!!
I hope you love these pieces as much as I do!!! 🙂