Happy Friday and upcoming weekend, friends!! 🙂
Since I did my Flavors To Follow post this past Wednesday already, I thought today I'd share the bacon chocolate chip cookies I made for a Super Bowl party! It's the one I mentioned in my first Awkward and Awesome post from yesterday, that my coworkers were pleasantly surprised with! 🙂 I'm guessing some of you have tried it before, some of you are severely intrigued and can't wait to try them, and others, probably just think it's plain gross. These cookies, oh my, are a mix between salty, sweet, gooey, fluffy, crunchy and unexpectedly addicting. Yea, we'll keep the description at that. And if your man is anything like my husband, it's just another reason to eat cookies for breakfast… because bacon is breakfast food, right? For my first time making it, I followed a recipe by Pete Bakes and I'll probably be using it again! Although I think you could probably follow any chocolate chip recipe and just throw in a handful of candied bacon and you'd get a similar taste! 🙂
Bacon Chocolate Chip Cookies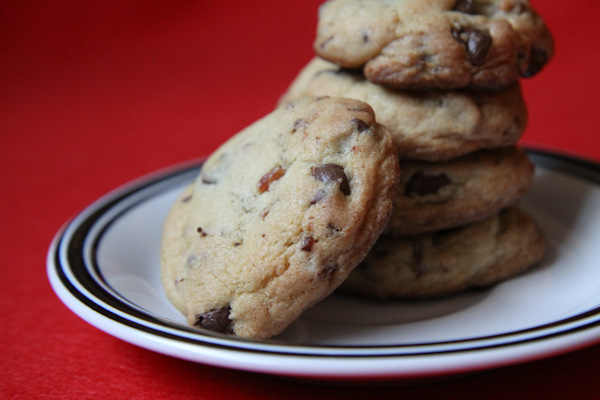 Ingredients

candied bacon
1 pckg thick cut bacon (about 10 strips)
brown sugar for sprinkling
chocolate chip cookies
2 1/4 cups flour
1 tsp baking soda
1 tsp salt
1 cup butter, softened
3/4 cup white sugar
3/4 cup brown sugar
1 tsp vanilla
2 eggs
12 oz toll house semi-sweet chocolate morsels
Directions
1. Make the candied bacon: preheat the oven to 350 F. Lay bacon on a parchment covered baking sheet so they are not overlapping. Sprinkle about 2 tsp brown sugar evenly on each strip of bacon. Bake for 12 minutes, remove from oven, flip bacon and drag it through the syrupy liquid that's collected on the baking sheet. Put the bacon back in the oven for another 12-15 minutes, until it is fully cooked and very dark (mahogany). Remove the strips from the sheet and cool on a wire rack. After they have cooked, chop them or quickly food process into tiny pieces.
2. Make the cookies: combine flour, baking soda and salt in a small bowl. Beat butter, both sugars and vanilla in a large bowl. Add eggs, one at a time, beating well. Gradually beat in flour mixture. Stir in morsels and bacon pieces.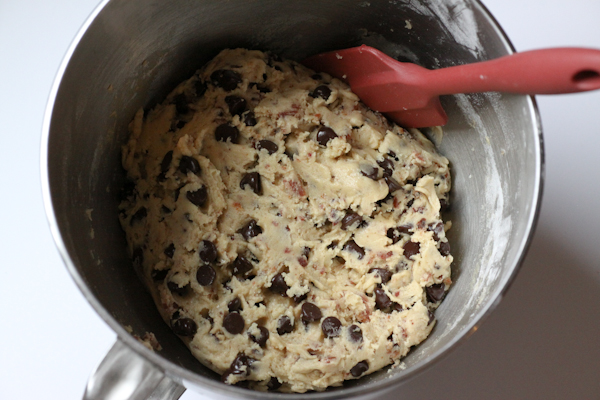 3. Spoon dough (about a Tbsp per cookie) onto an ungreased baking sheet and bake at 375 F for 9-11 minutes. I tend to go a little under 9 minutes so they come out just underdone. Remove to cooling racks or eat immediately with a tall glass of cold milk.
So there you have it, there's your last minute Valentine's Day present for you bacon loving lover! 😉 And while we're on the subject, please tell me…
What are some of your favorite strange, unexpectedly delicious, food combinations?
peanut butter and bananas, ramen and cheese, french fries dipped in ice cream, oreos in lemonade, grape jelly and saltines are a few to ponder…