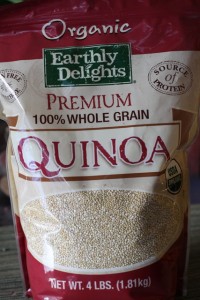 Back at my recent girl's craft night outing, my friend Amy, who owns Pura Vida Nutrition, made this awesome Greek Quinoa and Avocado Salad for us and I just had to try it for myself again. I've had quinoa once before in a restaurant and then this salad and that's about it. A now for a little history lesson, quinoa is a small seed that has been cultivated in South America for thousands of years. They consist of all eight amino acids, are packed full of protein and are perfect for a gluten-free diet. It also provides fiber, iron, magnesium, calcium and vitamins A and E. I'd say the texture of it is similar to couscous and a little bit crunchier than rice. It has a slight nutty flavor and blends well with lots of other foods. Quinoa can be found at most health food stores and Costco (that's where I got this big bag shown above). Oh, how I heart Costco. 🙂 OK sorry for my little Costco plug there. Moving along, as you read this, I bet some of you are pronouncing this as "Q-Noa" in your head, don't worry that's what my husband called it the first time…and I kind of accidentally scolded him for it and he won't let me live it down (sorry babe!), but the actual pronunciation is "Keen-Wa". And now I bring to you this delicious and healthy recipe using quinoa.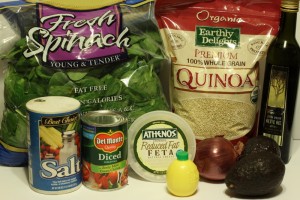 Ingredients
½ cup uncooked quinoa
1 cup water
2 Roma tomatoes, seeded and chopped (I cheated and used canned)
½ cup shredded fresh spinach
1/4 cup finely chopped red onion
2 tablespoons lemon juice
2 tablespoons olive oil
½ teaspoon salt
Spinach leaves
2 avocados, pitted, peeled, and sliced
1/3 cup crumbled feta cheese
Directions
1. Bring quinoa and water to a boil in a small saucepan. Reduce heat; cover and
simmer for 15 minutes, or until liquid is absorbed.
2. In a medium bowl, stir together slightly cooled quinoa, tomatoes, spinach, and
onion.
3. In a small bowl, whisk together lemon juice, oil, and salt. Mix with quinoa.
4. Place spinach on plates with avocado slices and quinoa. Sprinkle with feta.
Here's a little before/after for you.
On the left we have uncooked quinoa and on the right we have cooked quinoa.
Mmmm and here's our finished product. I really think the avocado and feta cheese make this dish stand out so please, I beg of you, do not skimp on these ingredients! Enjoy, and have a lovely day!