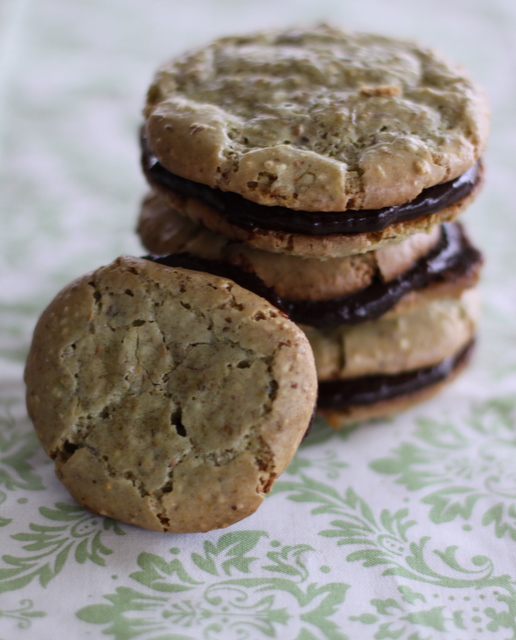 So in light of St. Patty's Day coming up next week, I wanted to show off a really crafty, totally delicious, perfectly footed, awesome GREEN colored macaron for you today… but instead, I bring to you what my husband called a "Cookie Sandwich".
Delicious?  Yes.  Green?  Sorta.  Macaron-like?  Not really.
It wasn't until my trip to Vancouver last year that I first stumbled upon these visually adorable, crunchy, crispy, light, sweet treats and since then I've seen them plastered all over many blogs and websites.  And for the past week or so, I have scoured the web for green colored macaron recipe after green colored macaron recipe and finally decided to land on the pistachio macaron recipe that Tartelette used, which was taken from Stephane Glacier's book, Un Amour de macaron. Now let me just say, that just because my attempt was a bit of a failure, that does not discount Stephane's recipe in any way….I encountered a few bumps in the road and I just wanted to share them with you to solicit your FEEDBACK on how to improve on my macaron making skills.  I will try again and again until I have mastered it, I will not give up!
Macaron Ingredients
225 grams powdered sugar

60 grams almonds

65 grams pistachios

3 egg whites (about 100gr), room temperature

green food coloring (optional) (powdered is better, but I used liquid)

25 grams granulated sugar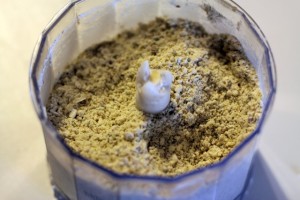 1. In a food processor, mix together the almonds, pistachios and powdered sugar until FINELY GROUND (My bad #1 – I did not pay attention to the word FINELY, mine ended up COARSELY ground)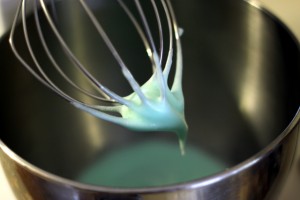 2. Whip the egg whites until foamy, slowly add the granulated sugar until glossy.  Add in the food coloring. (My bad #2 – I think I needed someone to walk me through this part b/c it was extremely hard for me to know what foamy and glossy look like first-hand.  I may have over-blended or under-blended, but I really have no idea on this one.)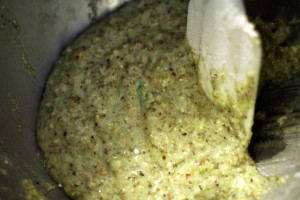 3. Slowly fold the nut/sugar mixture into the whites with a wide spatula. The mixture should remain shiny and flow easily. (My bad #3 – I think I probably over-mixed at this point b/c I am not sure that it was still shiny and "magma-like" as some people like to call it).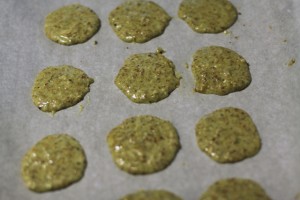 4. Fill a pastry bag with the batter and pipe small rounds onto parchment lined baking sheets. (My bad #4 – I don't have a pastry bag so I did it the ghetto cut a hole at the end of a ziploc bag way. My bad #5 – My rounds probably were about 2 inches wide when I think they should have been more like 1 inch wide.)
5. Let the macarons set for 20 minutes. (I aced this part, hooray!)
6. Preheat the oven to 315 and bake for 12-15 minutes.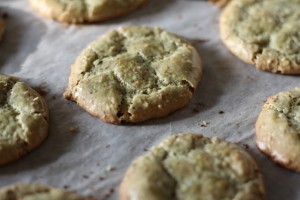 And… this is what I got fresh out of the oven. The top cracked, the macarons did not form feet, the edges were slightly burned, the green color turned into brown color and I am blaming my bads #1-5 for it.  I did not let this bring me down too much and continued to make the
Chocolate Ganache Filling
8 ounces (227 grams) semisweet or bittersweet chocolate

3/4 cup (180 ml) heavy whipping cream
2 tablespoons (28 grams) unsalted butter

1 tsp. ground ginger (I actually decided not to use this)
And finally…
Here's mine on the left and Tartelette's on the right.
Stop laughing, that's not nice! 🙁 Let me just say that although my macaron is not aesthetically what I would have liked it to be, the FLAVORS of the pistachios, almonds and chocolate crumbling and melting in your mouth are spot on and delicious.  Now I just need to work on the baking technique.
For all you professional macaron makers out there, please please please let me know what I need to do for next time to make them more macaron instead of cookie sandwich looking?? 🙂

And for the rest of you, are there any recipes out there that you've always wanted to make but thought would be too hard??