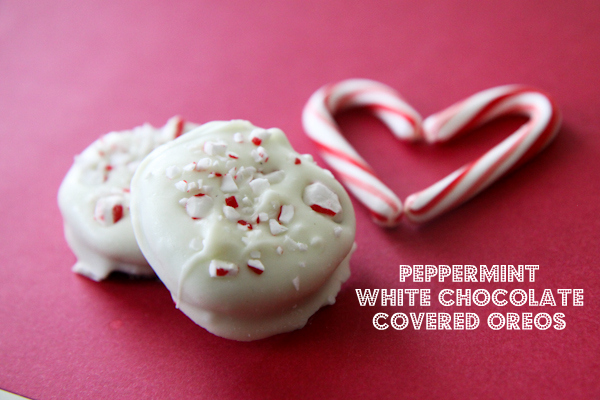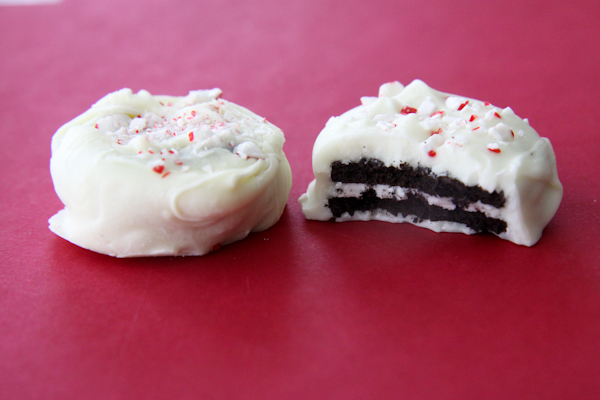 adapted from CupCakes and CrabLegs to include more Oreos
Ingredients:
1 package Oreo cookies (30 cookie pack)
2 – 11 ounce bags of white chocolate chips
20 mini -size candy canes (or 10 normal-sized candy canes)
Directions:
1. Crush candy canes in a food processor until the pieces are very fine.
2. Melt white chocolate (I use the glass bowl over pot of boiling water method).
3. Dip each Oreo in the white chocolate, then lay out on parchment paper.
4. Sprinkle with crushed candy canes.
5. Let them cool for about 30 minutes.
You may not end up being able to fully cover 30 Oreo cookies, but this also accounts for the fact that you may eat a few Oreos during the process.  😉  These were a huge hit at the workplace and I imagine they'd be so at any Holiday Party!
P.S. If your name is Aik and you blog over at Friends & Family – then CONGRATS!  You won the Luce $30 credit giveaway!  Please email me at sandyalamode(at)gmail(dot)com and I'll put you in touch with Ashley! 🙂
What foods are you planning on making for your Holiday Parties?