…or at least I can't stop!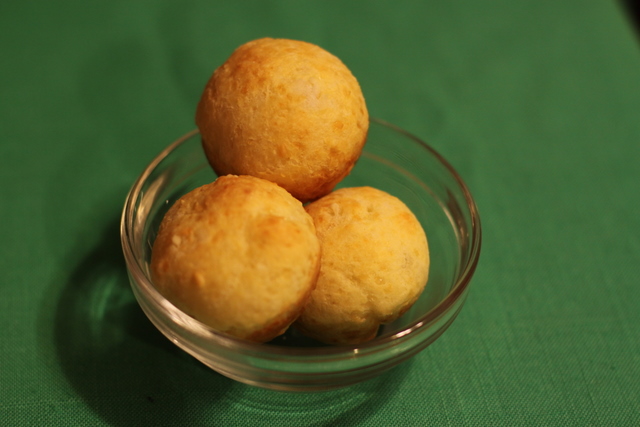 First spotted at Fogo De Chao. Also known as Pao de quiejo. Best paired with massive amounts of unlimited meat. Cheesy Goodness. The perfect appetizer. Recipe adapted from Chowhound. 🙂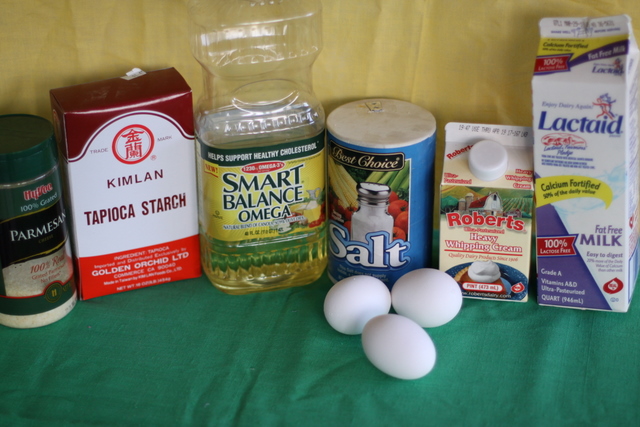 Ingredients:
1 lb Polvilho azedo (Sour or fermented Tapioca/Cassava flour) – I used Tapioca Starch because that's all I could find at the store
1 cup whole milk – I actually mixed 3/4 cup skim milk and 1/4 cup heavy whipping cream as I did not have whole milk on hand
1 cup filtered water
3 medium eggs beaten
1 tsp common salt
1/2-cup cooking oil
6-8 oz Parmesan cheese (grated)
Directions:

1. Mix milk, water, oil, and salt well in a large metallic container.
2. Bring it to boil. Turn off heat.
3. Mix in flour/starch well with the liquid using a wooden spoon/spatula. Let it cool so you can knead.
4. Add beaten eggs and knead until smooth. It'll be too sticky. Have patience.
5. Gradually mix cheese until the dough stops sticking in your hand. Knead well.
6. Make 1-inch balls and place them in a muffin tin.
7. Pre-heat oven at 350 degrees Fahrenheit and put the pan on the bottom rack.
8. Let it cook for 20 to 30 minutes depending on the size of the ball until slightly brown.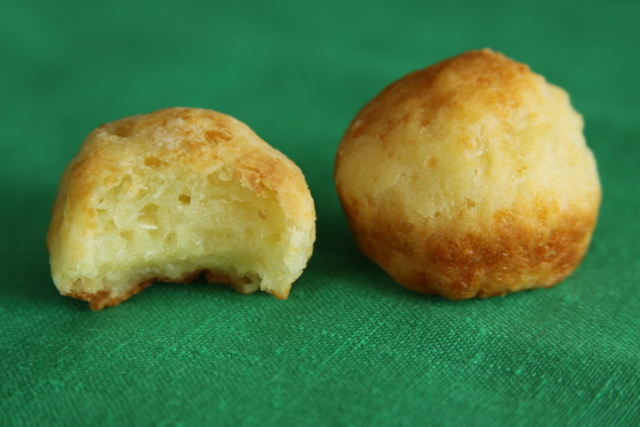 This recipe makes A LOT, I'm talking approximately 50+ little balls of cheese. I actually ended up freezing half the dough and eating it later and it was still good! They are really so easy to make and SO cheesy DELICIOUS! Go on, go grill a garlicky steak and pair it with these poppers, they really do rival Fogo de Chaos' (OK, maybe they aren't as light and airy, but still pretty darn good) and are best eaten fresh out of the oven!