So I've been a little negligent in writing posts for my Nest Designs category, shame on me. My current CSN Store Giveaway that I have running basically reminded me that I needed to update you all on my basement! Well, wouldn't you know we've definitely made some progress on the basement in the past few months. In case you missed it before, check out Series 1 and Series 2 to see how far we've come! Basically, we've fixed the foundation so no agua seeps in, put up drywall, taped, mudded, sanded, primed, painted and changed some fixtures in the past… 10 months. Yea, we're kind of slow but we don't have a deadline so we just do what we can without being overwhelmed! And here's what we've done in the past two months (with a lot of invaluable help from my Dad).
May 2010 – June 2010
Basement Bathroom
– Repainted the bathroom vanity and mirror from wood to a clean white (Thanks Dad!)
– Put in Traffic Master Allure vinyl plank tiles (joint effort by Marvin and Dad)
– Painted the bathroom walls Gray Ash (Behr paint) and installed the new light fixture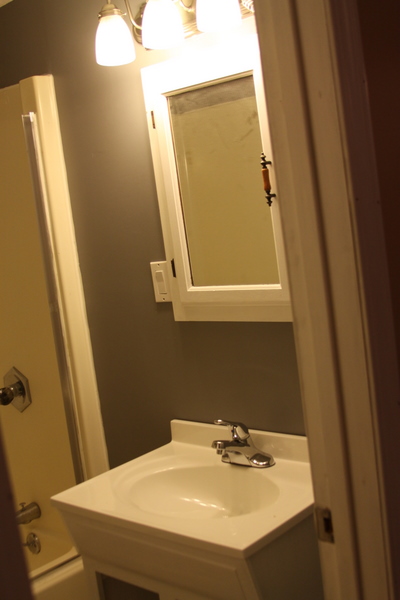 and here we have one side of the bathroom finished (this last picture taken without flash, it's hard to take a picture of the whole bathroom because the area is pretty small)
Main Basement Area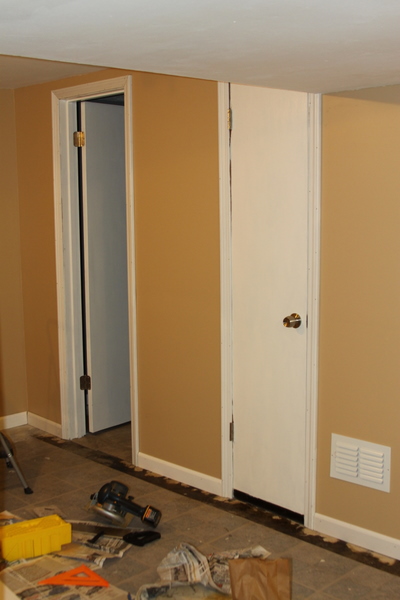 – We're currently in the process of putting up the white baseboard trim (Marvin's doing this one) 🙂 Once done, we'll have to repaint it to cover up the nails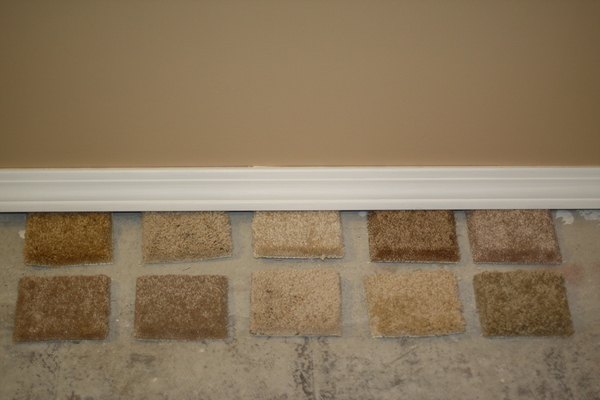 – And we've gotten multiple bids for carpet but just have to decide which one to go with. This is the one thing we're going to hire someone else to install! Picking out a color has been quite the feat, we want a neutral color carpet but don't want it to be too close to the wall color since that's pretty neutral as well! I think we're going to go with a lighter, creamy, ivory type color.
And that's it, after the carpet is put in we'll be DONE in terms of renovations and on to decorating we'll go! We've really come a long way since wood paneling and stained yellow ceilings!