As you know, my husband just had his big 3-0 birthday, and on his actual birthday I originally was thinking of just taking him out to dinner (since it was a work night). However, the day before his birthday I got an email saying that Julianne Hough was going to be coming to the Power & Light District as an opener for country singer, Chris Young. Now, my husband and I have always been big time fans of Dancing With The Stars, and Julianne was one of our FAVORITE professional dancers. However, recently, she dropped off the show to pursue her country music career and of course, we still support her! 🙂 So anyways, we took an impromptu detour to see her in concert before Marvin's birthday sushi dinner!
Here's a little playlist I put together for you of some of our favorite Julianne Hough songs (some even play music videos, how cool is that?). Just click the Play button to start listenting! Oh and don't you dig my pink Gucci Mixpod player? 😉
Here are some pictures I took of the concert with my nifty fifty. And you can bet I will be linking up my favorite photo to Sweet Shot Tuesdays.
Here's me wearing my custom made Ink & Button fascinator and Marvin wearing his most "country" like shirt from Express. I'm not sure if you can tell from the picture, but his shirt has grey and yellow stripes, so we're totally matching, like usual! 😉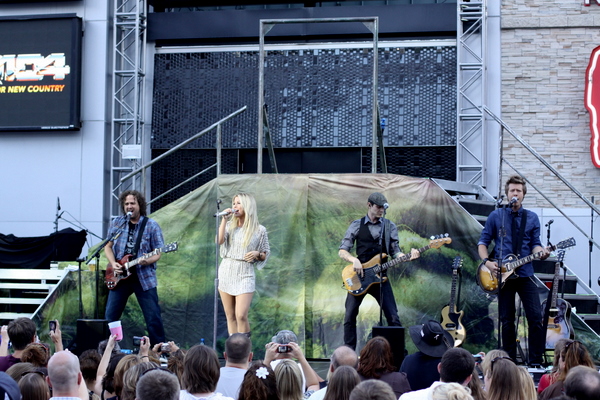 And here's Julianne Hough in outfit #1 with her band of three men.
Of course she has to show off her dance moves! And I just love this shot with Kansas City Live! in the background.
Out came the swing with outfit #2!
Ummm yea, of course we HAD to take a picture WITH her! And somehow I captured a picture with a random couple in it, oh BTW, Julianne plays guitar too!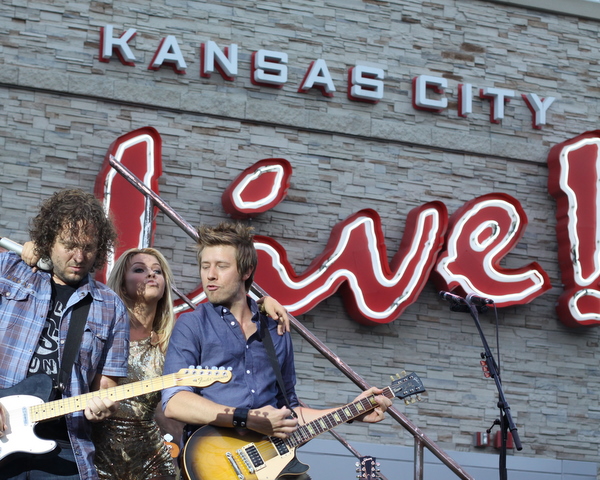 And her portion of the concert ended with this fun sparkly number!
Julianne really is such a talented dancer and singer! I'm not traditionally a huge fan of country music, but I think Julianne is more country pop and I do like my pop music.