So I know I'm a little behind on posting photos but I've been super busy lately prepping for the last of my husband's birthday surprises this past weekend… which was my brother, sister-in-law and 18 month old nephew coming to visit us! My nephew is the most adorable little guy in the world (with plenty of tricks up his sleeve) but like any toddler, he does require lots of attention and loving! I'll post some photos from their trip in a few weeks… as I am behind by a few weeks on uploading pics.
But for today's Sweet Shot Tuesday post, I'm posting a few of my favorite pictures from my old roommate's San Francisco (well actually Redwood City), California wedding which was held a few weekends ago. As always, I'll be linking up my favorite photo to…
E+M's navy and peach wedding was held at a beautiful hotel waterside courtyard on one beautifully sunny day…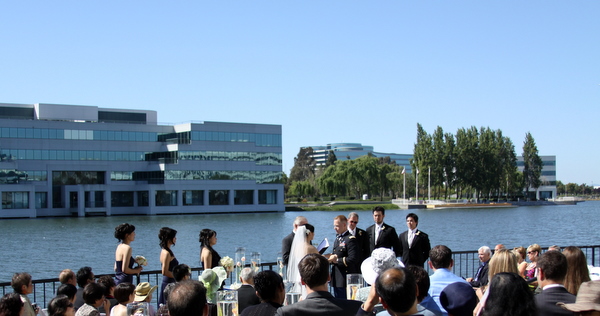 With 1 matron, 2 maids, and 3 men by their side.
Two rings and a few prayers and blessings later, then came THE KISS!
Guests cooled off in the trendy lounge…
as they discussed how great the newly married couple looked!
Cheese, bread, 0lives, delicious hors d'oeurves later…
The reception was all set to begin!
Guests got to sign a wish and decorate the tree…
Eat some yummy salad, entrees and desserts…
Even the groomsmen had fun with the food!
But the grand food finale…
Was this scrumptious cake!
And then everyone danced (and some friends serenaded the couple) away!
Congrats Eafong and Matt! Hope you enjoy(ed) your honeymoon in Disneyworld and the Meditarranean cruise! 🙂 And all of us in KC are going to miss you dearly!