Can I just say that I love the blogosphere and how crazy talented everyone is? I read sooo many blogs on a daily basis and one of the things I really look forward to is finding new sewing tutorials… especially simple ones that (I think) I can do! It's great and all, but I'm also finding it really hard to keep up with all of the projects I want to do, maybe I am being too ambitious here. But hopefully someday, I will be able to tackle them all! 🙂 So basically, I just wanted to keep a running list on here (in no particular order) of all the DIYs I have queued to date… and maybe it will inspire you to try some of these as well (if you do, let me know how it goes)!
1. Messenger Bag by Make It Do – this is the only one on my list that I have actually sewn. I made it for a friend as an engagement party present! And while I'm at it, the following two pictures are the only ones taken by me, the rest are taken from the respective blogs.
Here's the messenger bag I made in all it's glory.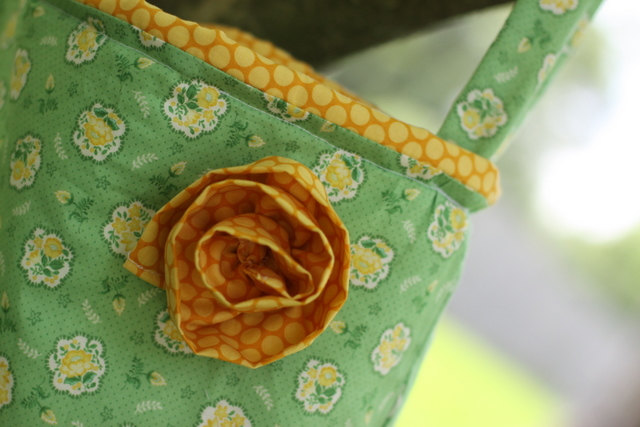 And the little flower? I pretty much just coiled up a piece of fabric and sewed it on, didn't follow a tutorial for it!
2. Museum Tunic by Anna Maria Horner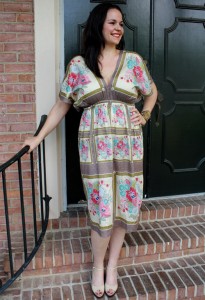 I think this is totally fantastic for going to the beach, on a picnic, shopping with girl friends, or even a dinner date! I can't wait to find a pretty soft fabric like the one in the picture!

3. Drawstring Bags and Coloring Books by Prudent Baby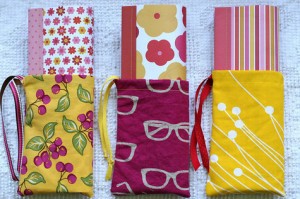 I just think this would be the perfect gift bag to give out at a 2 year old's birthday party. My nephew is 18 months old now… Drawstring bags are pretty simple to sew, but I've never sewn paper before, should be interesting!
4. Men's Ties by The Purl Bee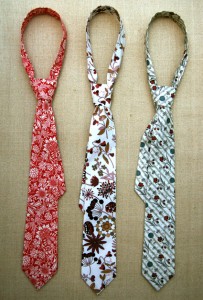 YES! I'll never have to buy an expensive tie for my husband ever again, I'll just MAKE them from now on hehe! 🙂
5. Pants by Prudent Baby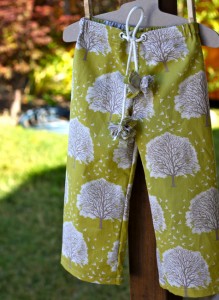 Like I said above, my nephew is 18 months old now and walking/running all over the place! I'm sure he could use a few pairs of comfy pants, I mean, I don't think you can ever have enough comfy pants, yea? And I'm thinking I could totally adjust this tutorial to make a pair of pants for myself… and my husband, yea totally!
6. Gathered Clutch by Noodlehead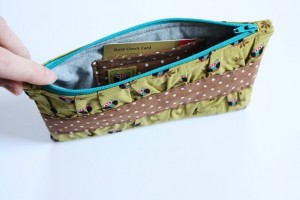 Classy, made pretty with ruffles, TOTALLY USEFUL! Just like comfy pants, a girl can never have too many clutches!
7. Bias Tape by Prudent Baby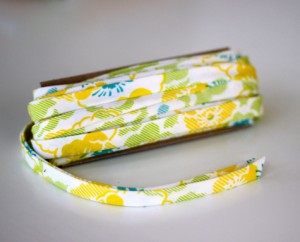 So, a few weeks ago, I won the Simplicity bias tape maker giveaway on Prudent Baby (Thanks again ladies!), so that means I definitely need to use my new machine to make some awesome tape to hide those raw edges!
8. Market Tote by Bijou Lovely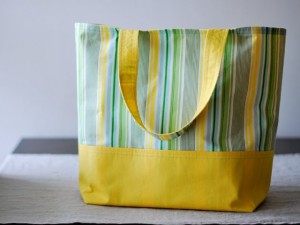 Ummm, can I just have this tote and call it a day??? No seriously, I LOVE this exact bag since I'm a huge fan of stripes and yellow! I will make my own someday!
9. Mail Organizer by Noodlehead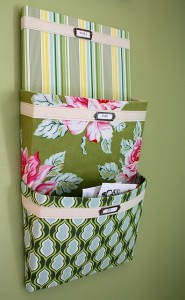 *SWOON* Look at how all of those fabulous Heather Bailey Nicey Jane fabrics have been coordinated sooo nicely? I am in desperate need of a mail organizer… heck, I think I'll make it into a mail/coupon organizer… pretty much right now, all of our papers are strewn all over the kitchen counter, living room side table, floor, etc… this organizer is just perfect!
10. Grosgrain Belt by Ruffles and Stuff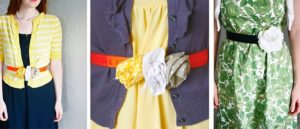 Not gonna lie… I may have spent upwards of $30 on a J.Crew flower belt… or three. But look, from now on, I'm making my own! 🙂
Sewww yea… if I drop off the face of this blog, you know where to find me… behind my sewing machine. I just know there are so many more tutorials out there that I have seen but forgot to book mark! Oh how I just wish there were more hours in a day and days in a week!
Are there any sewing tutorials you've been wanting to try? Extra brownie points if you leave a link! 🙂