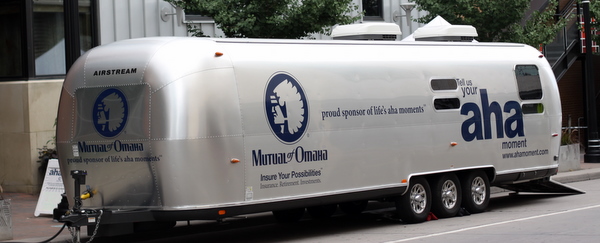 On an extremely hot summer day in July, the Mutual of Omaha proud sponsor of life's aha moments traveling airstream studio made it's way to the Power and Light District in Kansas City, MO. They basically go all around the country and interview every day people who have defining moments where you gain real wisdom and that can lead to a change in your life. All of the videos are posted on the website and some of them make it to the actual commercial you see on TV, how cool is that?
I have never done anything like this before; I'm deathly afraid of public speaking, being in front of a camera, and being stuck inside of a hot car with people I don't know. But we all must step out of our comfort zone once in awhile right? So I agreed to do it on a Friday after a business trip I was supposed to arrive home on Thursday from. That Thursday my flights were delayed and I had to spend the night in Chicago, only get 4 hours of sleep and fly home on Friday morning. I figured I would nap on Friday morning but i couldn't. It was 100+ degrees outside too. Tired, hot and nervous as can be, I drove myself out to the airstream mobile. When I got there, everyone on the Mutual of Omaha team was extremely friendly and nice as can be, which made the experience very pleasurable and calmed my nerves!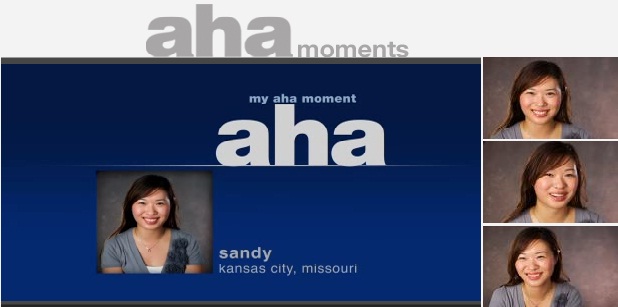 Ten sweaty minutes later, I was done. Did I mention it was 100+ degrees out? Oh yea, I already did, but just wanted to reiterate it as an explanation for my sweaty glow…
To view the video, click on the above picture or here.
To sum things up, my blog, this blog, has truly been a blessing for me. It has allowed me to express my creative passions with the world, with you, my dear readers. I've used my right brain more than ever in these last 7 months. I've become a photographer, a seamstress, a crafter, a baker, and a blogger. You've welcomed me into your community with open arms, big smiles, and sweet comments! But the defining moment, my aha moment, that started it all was when I was in my mother-in-law's basement, learning how to sew. I felt relaxed, empowered, and CRAFTY with that sewing machine. The world (or really just a few pieces of fabric) was in my hands and I was ready to change it.

If I can do it, you can do it.
If there's something you've been dying to try, GO, DO IT, what have you got to lose? And if you've already done it, I'd love for you to share what your "aha moment" was!