So since we have finished renovating our basement, we've now been spending the last couple of months organizing it! So today I just wanted to share a little part of my "crafting side of the basement" with you today. Yes, the other side of the basement is my husband's "bachelor pad full of all of the electronics you can name side", with a Wii, Xbox, huge TV, speakers, games, DVDs, etc.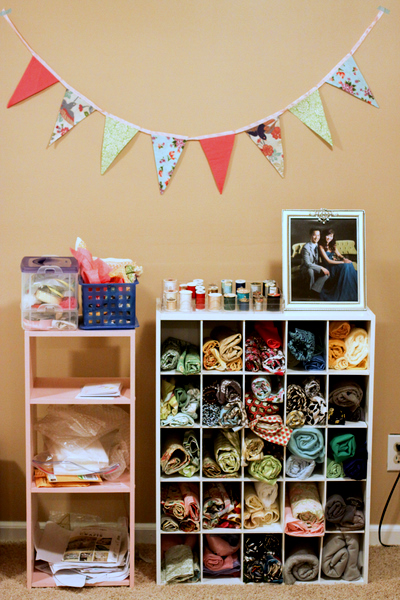 Top: A homemade bunting banner which I wrote a tutorial for here.
Bottom Left: This pink organizer (painted by my Dad) was my nightstand before I moved in with my husband. Now I've turned it into a ribbon, fabric scrap, cards, packaging, and pattern shelf.
Bottom Right: This ClosetMaid shoe organizer was purchased from Lowes. It's perfect for storing rolls and rolls of fabric. On top of it is a thread organizer and a picture of me and my hubs! 😀 And here's a closer look at my fabrics…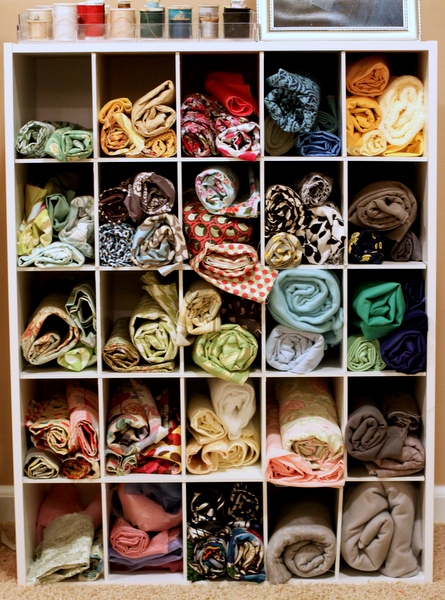 There's certainly room for even more fabrics, don't ya think?! 😉 I'll share pictures of the rest of my "crafting side of the basement" once it's a little bit more neat! And I've finally started USING my fabrics to make some new passport covers w/ bows for my etsy shop, here's a peek at the first three I've made, which I will be listing this week!