Hi friends!! I just wanted to interrupt your regular blog programming to make a few announcements! I have recently been deemed the Giveaway Queen by a few sources, I'm flattered to have this title and just want to let you know that there will be at least one giveaway (maybe two) a week from now until Christmas! But I also have tons of other posts full of recipes, baby pictures, wedding pictures, inspirations planned as well, so don't you worry, I'm not turning into a giveaway blog, I just love free stuff and even more, I love sharing it with you all while helping to promote HANDMADE/BUSINESS OWNERS!
With that being said… don't forget to enter the $25 shop credit to junghwa by amy stewart giveaway and the $200 credit to a photography session by San Francisco based Bllew Photography giveaway! And next week, I'll have a fabulous GIVEAWAY TO CELEBRATE MY BIRTHDAY on Monday, can't wait!! 🙂

Next up, if you have been following my twitter, you will know that yesterday I mentioned that Much Love, Illy and I have something BIG planned for you all! While this is not quite the BIG REVEAL yet, here's just a sneak peek at the fun swap we're working on…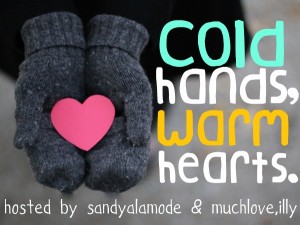 The details will be announced next Thursday, November 4, so make sure to check back!!
***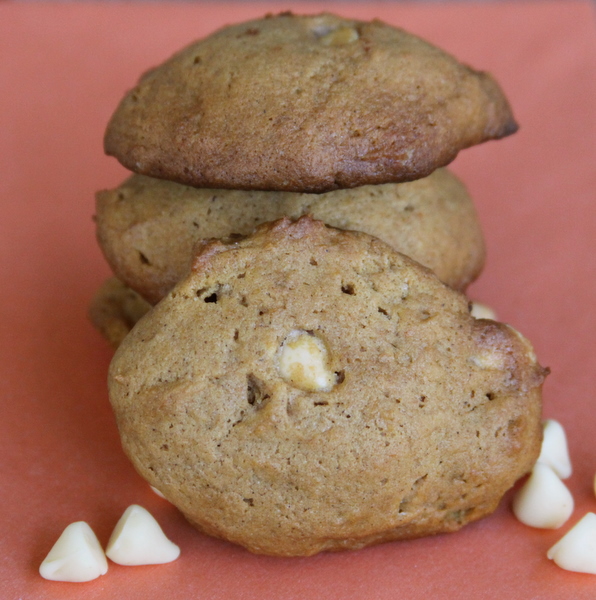 And finally, it's about time for another recipe don't ya think? Like that super LARGE pic haha? This one I made for my coworkers and let me tell you, people came back for seconds and thirds and they were gone pretty quickly! So I pretty much knew I wanted to make something with pumpkin (b/c it is pumpkin season after all and this post has me craving it) and I had an abundance of white chocolate chips in the house that my husband told me to use up, so put the two together… and you have a delectable cookie! I searched my trusty recipe sites and found a Pumpkin Chocolate Chip Cookies Recipe on Food Network, only changes being that I used White Chocolate Chips instead of regular Chocolate Chips, I doubled the pumpkin, and doubled the spices~!
Pumpkin White Chocolate Chip Cake Cookies (adapted by me)
Ingredients

1 cup (2 sticks) unsalted butter, softened
1 cup white sugar
1 cup light brown sugar
2 large eggs
1 teaspoon vanilla extract
2 cups canned pumpkin puree
3 cups all-purpose flour
2 teaspoons baking soda
1/2 teaspoon salt
2 teaspoons ground cinnamon
1 teaspoon ground ginger
1/2 teaspoon ground nutmeg
1/2 teaspoon ground cloves
1/2 teaspoon pumpkin pie spice
2 cups (12-ounce bag) white chocolate chips
Nonstick cooking spray or parchment paper

Directions

Heat the oven to 350 degrees F. Spray cookie sheets with nonstick spray or line them with parchment paper. Using a mixer, beat the butter until smooth. Beat in the white and brown sugars, a little at a time, until the mixture is light and fluffy. Beat in the eggs 1 at a time, then mix in the vanilla and pumpkin puree. In a large bowl, whisk together the flour, baking soda, salt, cinnamon, ginger, nutmeg, and cloves. Slowly beat the flour mixture into the batter in thirds. Stir in the chips. Scoop the cookie dough by heaping tablespoons onto the prepared cookie sheets and bake for 15 to 20 minutes, or until the cookies are browned around the edges. Remove the cookie sheets from the oven and let them rest for 2 minutes. Take the cookies off with a spatula and cool them on wire racks.
Did you notice how I called them Cake Cookies?? Well I think doubling the pumpkin does make it more cake like, but it's definitely a good thing!! I think you shall give these a try if you've been craving something pumpkin lately!
What pumpkin desserts are you making??