So I have a confession to make. Sometimes when I'm in a blog post preparing frenzy, baking lots of stuff, taking lots of outfit pictures, etc. I get so backed up in content that I don't have enough time to post then. Case in point, this post here. It's a "The Dish" one if you couldn't tell from the title, but I actually made these ONE YEAR AGO. But then somehow November and December got away from me and then I figured it was too late to post about a pumpkin recipe, although I do not have a problem with pumpkin desserts being made year round, mind you. SO anyways, I figured it was about time I post this… since recipes never really go bad, thank goodness!
Chocolate Pumpkin Whoopie Pies (adapted from Martha Stewart)

Ingredients
For the Cookies
1 3/4 cups all-purpose flour
3/4 cup unsweetened cocoa powder (not Dutch-process)
1 1/2 teaspoons baking soda
1/2 teaspoon coarse salt
1 tablespoon unsalted butter, softened
1/4 cup vegetable shortening
1/2 cup granulated sugar
1/2 cup packed dark-brown sugar
1 large egg
1 cup whole milk
1 teaspoon pure vanilla extract
For the Filling
4 ounces cream cheese, at room temperature
1/2 cup (1 stick) unsalted butter, at room temperature
1/2 cup confectioners' sugar
1/4 cup canned solid pack pumpkin
Pinch of cinnamon
Pinch of nutmeg
1/2 cup of chocolate chips (optional)
Directions
1. Prepare cookies: Preheat oven to 375 degrees. Sift together flour, cocoa powder, baking soda, and salt into a medium bowl; set aside.
2. Place butter, shortening, and sugars into the bowl of an electric mixer fitted with the paddle attachment. Mix on high speed until smooth, about 3 minutes. Add egg; mix until pale and fluffy, about 2 minutes. Mix in half the flour mixture, then the milk and vanilla. Mix in remaining flour mixture.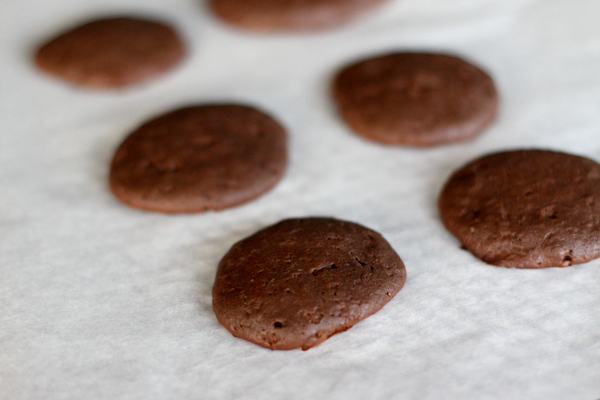 3. Drop about 2 teaspoons dough onto baking sheets lined with parchment paper, spacing 2 inches apart. Bake until cookies spring back when lightly touched, 12 to 14 minutes. Transfer baking sheets to wire racks and let cool 10 minutes. Remove cookies from baking sheets and transfer to wire racks using a spatula; let cool completely.
4. Prepare filling: In the bowl of a mixer fitted with the paddle attachment, whip together cream cheese, butter, and confectioners' sugar on medium speed until smooth, about 3 minutes. Add pumpkin, cinnamon, and nutmeg; whip until smooth, scraping down the bowl as necessary.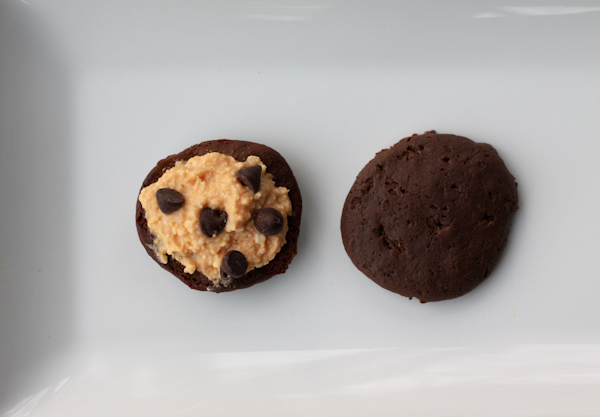 5. Pipe or spoon about 2 teaspoons filling on the flat sides of half the cookies. Place 5-6 chocolate chips on top of filling. Sandwich with remaining cookies, keeping the flat sides down.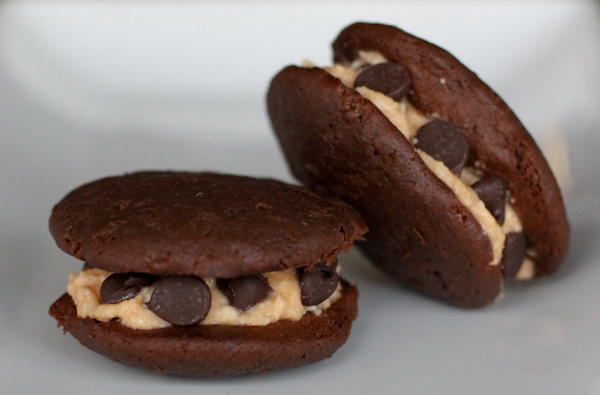 And there you have it! A little time consuming, but so worth it. These little mini bites are perfect for a Fall Holiday party or potluck! Don't worry, all the whoopie pies you see in this post had already been consumed (last year), it was only a matter of minutes at the office. 🙂
Well, I just wanted to say once again how THANKFUL I am of this blog, my readers (you), and my sponsors. I am so happy to always share with you all the daily happenings in my life and honored that so many of you care enough to read and leave comments about it! Hope you all have a safe, wonderful Thanksgiving holiday filled with a ton of good food! Our menu will consist of a young chicken (it's just the 2.5 of us so we didn't want to go all out w/ a turkey), cranberry dressing, creamy corn casserole, green beans, mashed sweet potatoes, and mini pumpkin pies! 🙂
P.S. If you have a little one in your life… a daughter, son, niece, nephew, or have friend's with kids, then don't forget to enter The Rice Babies $20 credit

giveaway

!
What's on your Thanksgiving menu?