Today is a very exciting day… because it's my BIRTHDAY! Nope, not my blog birthday (that's in January), but my real birthday! I've got some randomness for you and a GIVEAWAY!
First I'll start with this week's Miscellany Monday which I'll be linking up to lowercase letters.
(a) we got 7 trick or treaters last night, kinda sad i know. but that means more candy for us! not sure if that's a good thing though. maybe it's b/c we didn't put any halloween decorations outside. perhaps if our house was decorated like this, we'd get more kiddos!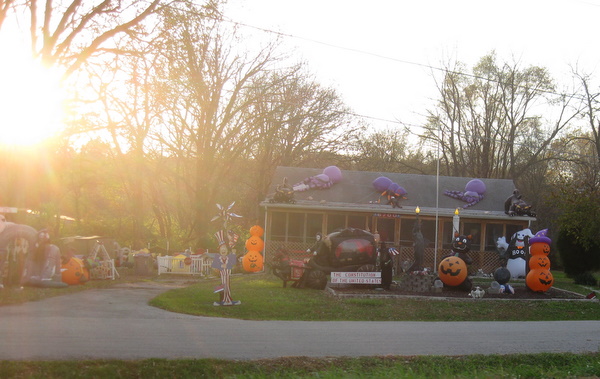 (b) did you watch the chiefs vs. bills football game? yesterday was the first day i watched the chiefs game, and boy was it a nail biter! the game went into overtime because it was tied at 10-10 and in the LAST SECOND the chiefs kicked a field goal!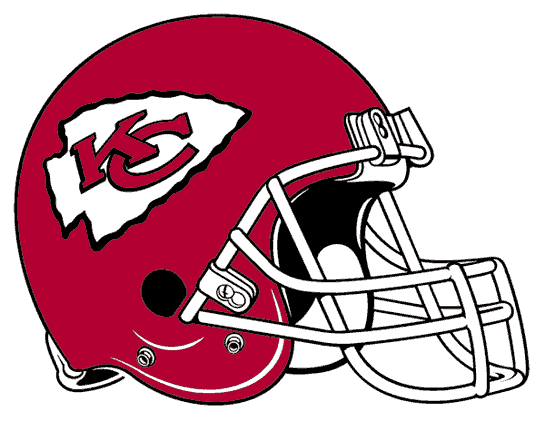 (c) there's a deal going on right now where if you spend $20 at world market, you get 15% off your airfare at southwest airlines for travel through 1/25/2011! you can bet we are taking advantage of that to go visit my adorable nephew!
(d) my sweet friend piper, from one sydney road, who i've actually met in person, is opening up her SHOP today! i can't even express how happy i am for her! i remember sitting outside at starbucks looking through a thick stack of papers full of inspirations and now, a few months later, it's become a reality for her! here's a sneak peek at some of the items she will be selling!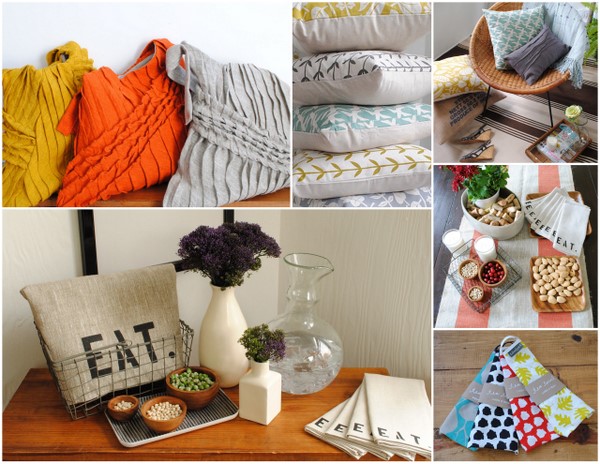 (e) i celebrated my birthday with friends this past friday! we had pizza, sangria, cupcakes and ice cream, pretty much all of my favorite foods! here's a pic of me blowing out the candle in my (cup)cake! i think this pic shows off my eyelash extensions, dyed black and permed hair pretty well for all those that were wondering! 🙂 i'm also wearing the dress i got from oh, hello friend's booth at uci (more pics to come later)!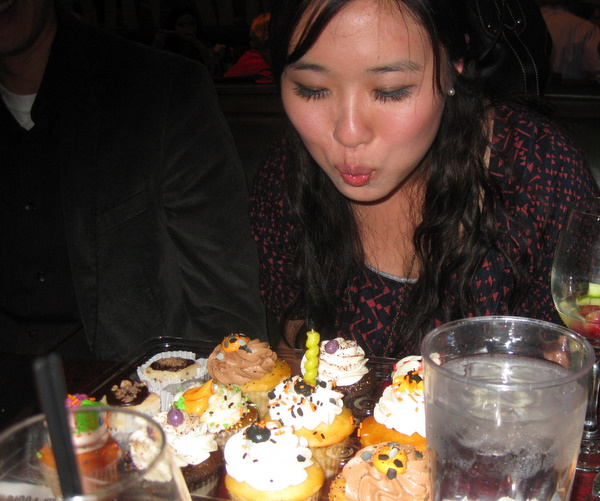 (f) and finally… here's what i'm giving away for my birthday to ONE LUCKY READER! there's 9 things because i'm not going to tell you how old i'm turning but if you add the two digits together it equals 9. i could be 18, 27, 36, 45… 😉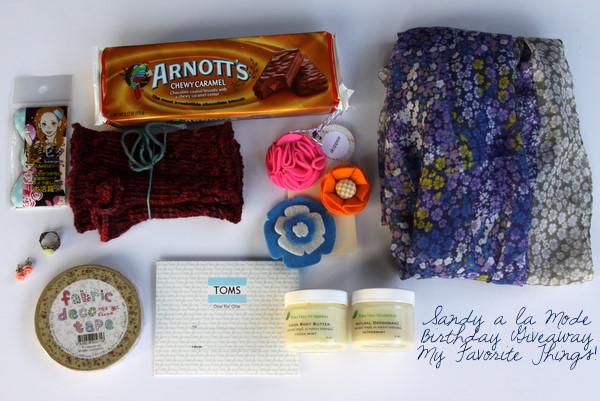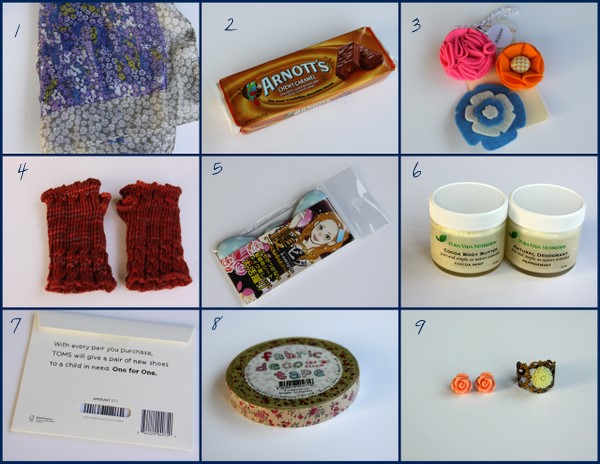 1. A floral scarf from one of my favorite stores, H&M!
2. Have you ever had Tim Tam's before? They are my favorite biscuits from Australia! And although they don't sell them in the U.S., there is a similar kind called Arnott's Chewy Caramel biscuits that can be found at World Market. Trust me, you will love them!
3. My sister-in-law, a fabulous mother, photographer, and crafter, is starting an etsy shop VERY SOON and it will be called skippee! Here's a flavor of some of the hairpins she will be selling, you will receive a hot pink, orange and blue/grey one.
4. I love love love wearing cute gloves/mittens in the wintertime, they keep my cold hands warm and are stylish at the same time! And my crafty childhood friend Jessica, agreed to knit a pair of fingerless gloves just for this giveaway! She used the Fetching pattern by Cheryl Niamath to make these red lovelies!
5. One of my new favorite things that is part of my daily face washing/putting on makeup routine is wearing a bang fringe holder!? Have you heard of this before? It's all the RAGE in Asia! It's like a little velcro piece that keeps your hair away from your face and it won't make kinks in your hair like a bobby pin or clip would! 🙂 The one I'm giving away is a blue polka dot bow so in case you leave the house with it in, it's still a cute accessory!
6. My friend Amy of Pura Vida Nutrition is soon going to be starting up her own shop in December that sells deodorants, soaps, and lotion (that she MAKES)! And up for grabs is a Peppermint Deodorant that you apply to your armpits in pea size amounts as well as a Cocoa Mint Cocoa Body Butter that will make your dry skin super soft. These scents are perfect for winter and are ORGANIC!
7. Have you heard of Toms Shoes? You know, the company that gives a pair of shoes to a children in need each time you buy a pair~! I absolutely love their shoes and love their cause so I'm giving away a $25 gift certificate! 😀
8. One of my favorite ways to package up gifts and orders is with cute tape, I love the pattern of this floral Fabric Deco Tape and I know you will too!
9. And lastly, a giveaway of mine wouldn't be complete without some Sandy a la Mode etsy shop items! I'm giving away some of my newest items, peach rose earrings and a green mum antique ring!
TO ENTER:

1. (Mandatory entry) You must be a Google Friend Connect follower (over there on the right) and all you gotta do is LEAVE A COMMENT!
2. (Additional entry) Spread the word via blog, twitter, facebook and leave a comment with the link! Feel free to use this tweet:

It's @sandyalamode's BIRTHDAY CELEBRATION and she is having a ONE DAY GIVEAWAY of her favorite things! http://bit.ly/9QHO3R
I hope your excited about this giveaway as much as I am! This giveaway is open INTERNATIONALLY and is only going to be open for my BIRTHDAY (November 1, 2010) and will end at 11:59 CST. Good luck friends!
Entries for this giveaway have been closed! Thanks for entering!!