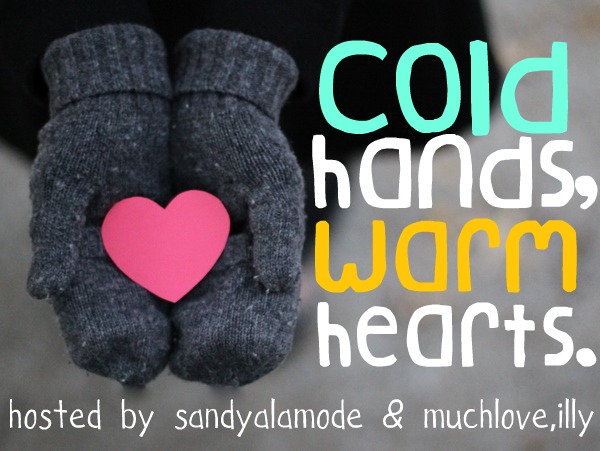 Update: Thanks to all that are participating! Sign-ups are now closed!!
The SWAP is finally here! Much Love, Illy and I have been scheming and planning for this for quite some time now (OK, maybe just the past few weeks) and we're so excited to finally SHARE IT WITH YOU ALL! All the details you will need to know to sign up for the swap are below, so please READ ON AND READ CAREFULLY!
About the Exchange:
The Cold Hands, Warm Hearts Swap is a swap created to keep your hands warm as Winter approaches and the weather gets colder. It's also a way for bloggers to make new friends across the blog-world. Doesn't your heart get warm when you make new friends? Your package should include a pair of gloves AND any other items you think your partner would like! You can never have too many pairs of cute gloves and who doesn't love getting some extra unexpected goodies in their packages too? Please make sure your package is made from the heart! 🙂
Swap Partners:
We will pair you up with one partner that you will send your package to and receive from. Our hope is that you will gain a new friend from this!
Overseas:
If you live outside of the U.S., you will be paired with someone from a different country. If you live within the U.S. please let us know if you are willing to ship outside of the U.S. We think it'd be fun to receive items from different countries, but we understand that shipping may be more costly.
Dates:
Sign ups will remain open until November 11, 2010, so you have one week to enter. We will email your swap partners to you on November 15, 2010. Please have your package sent out by December 1, 2010 (you could totally take advantage of Black Friday sales!) We would really like it if you could blog about the items you received in your package as well as send some link love to your swap partner/new friend! Starting on December 7, 2010 you will be able to link up your blog post on Much Love, Illy so we can all see what everyone received!
Requirements:
1) You must have an active blog to participate.
2) Please try to spend around $25-$30 on your gloves + other item(s). If you decide to hand make gloves or other items, please make sure the total worth of package is still within this amount.
3) If you decide to join, PLEASE make sure you meet all time commitments and can send a heartfelt package. 🙂
4) We are capping the swap at 100 bloggers, so please make sure to sign up as soon as possible!
How to Sign Up:
Send an email to
coldhandswarmheartsswap@gmail.com
with the following information by November 11, 2010. You will receive an
email confirmation
so you will know if you made it into the swap (100 person limit).
Name:
Blog URL:
Email Address:
Snail Mail Address:
If you live in the US are you willing to ship overseas?
What are your favorite colors?
What are your top 3 favorite things in the whole wide world?

Spread the Word:
It would be lovely if you could help spread the word about the swap! Please grab a button and post it on your blog!
200 x 150 pixels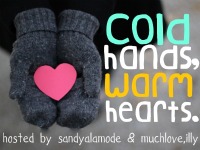 150 x 150 pixels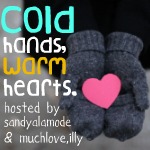 Questions:
If you have any questions/concerns, please don't hesitate to email us at coldhandswarmheartsswap@gmail.com.
We're so excited about this swap and we hope this is fun for everyone! If you need some glove/mitten ideas, check out this post that much love, illy wrote! Feel free to leave a comment if you're joining in on the swap so everyone can see who is participating!
Update: Thanks to all that are participating! Sign-ups are now closed!!