i recently met elisse through blogging and she is one sweet girl! when i stumbled upon her blog i noticed that she posted a lot about "the happiness project" and i just happened to be reading the book at the same time, so it was great to see that someone was actually doing their own version of this project! elisse's blog is always so fresh and fun, you must check it out! she even had the idea of exchanging holiday cards and we did just that a few weeks ago! you're totally going to enjoy this yummy recipe!!

***

Thank you to Sandy for giving me the opportunity to be a guest blogger while she's away! My name is Elisse – and you can find me at my blog, Für Elisse, posting about the various things that give me warm fuzzies, including crafts, fashion and living life as a newlywed!
Today I'm sharing a very sweet and simple dessert recipe that you can bring to your next holiday party. But before I dish the details on that, I want to tell you about the person who gave me this recipe.
Many moons ago, before I started my current job as a hospital social worker, I worked with people who were terminally-ill. Donna (name changed) was a woman who was diagnosed with breast cancer, and I visited her at her home to provide emotional support, and be a friendly face. During our first visits, we talked about how being diagnosed with cancer had turned her life upside-down. She had to leave her job, and because she was too weak to drive, she was isolated from her friends and family who lived in another city. The cancer was taking its toll beyond her physical body.
Fortunately Donna was matched with a hospice volunteer who visited her regularly at home and took her out on social outings. She did have a few friends who ended up staying in her apartment with her and take her to her medical appointments. In my last few visits with her, she was feeling more supported by family, friends and health care professionals. She had started a photo album of all the people who had helped her along her journey, and I felt honored when she shyly asked to take a picture of me!
Donna's favorite time of year was Christmas, as evidenced by her brightly colored living room, filled with Christmas village figurines. Once I mentioned that I had to go to a Christmas party and had no idea what to bring! Donna pulled out this recipe and guaranteed that it would be a hit. Years later, she is still right.
Almond Squares
Ingredients:
18 – 24 graham crackers (not crushed)
1-2 cups sliced almonds
1 cup butter
1 cup packed brown sugar
Directions:
1. Preheat oven to 350 degrees Farenheit
2. Line a 9×13″ baking pan with graham crackers. Sprinkle with sliced almonds.

3. In a small saucepan, melt butter and brown sugar under low-medium heat. Stir frequently. Bring to a boil for 3 minutes.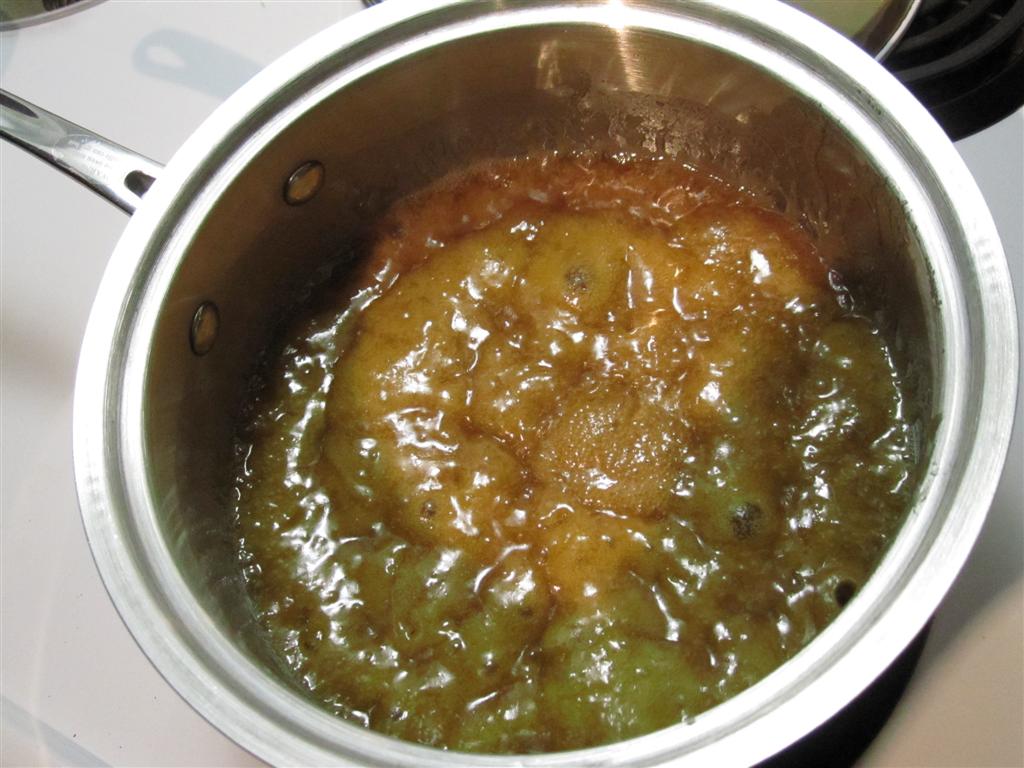 4. Pour sugar mixture over graham crackers, spreading evenly.
5. Place baking pan in oven for about 7 minutes or until bubbly.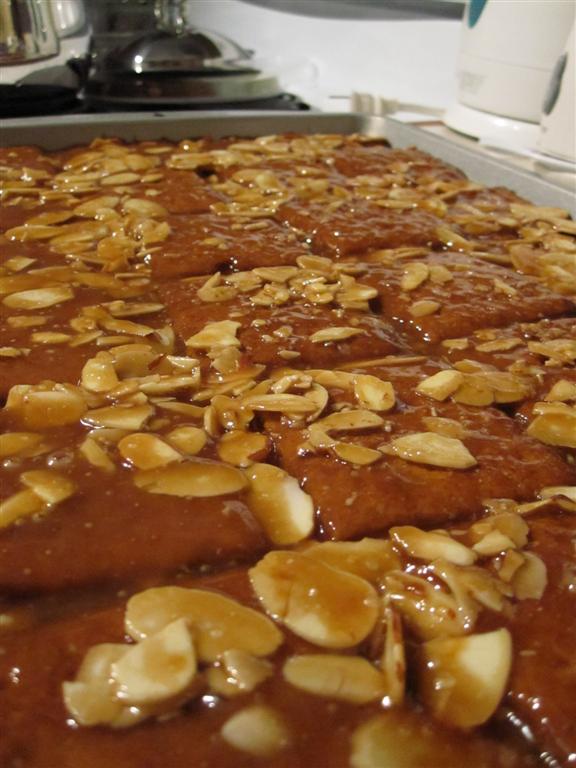 (** Let the bars cool for about 5-10 minutes – I like to cut them while they're still warm and then place them on parchment paper to continue cooling. )