We're TWO DAYS away from Christmas, can you believe it? This year has seriously flown by! My husband and I don't plan on doing a thing this holiday season, we actually didn't even have time to decorate the house or anything like that (or else you know I would have taken some pictures to show you). We're going to a Christmas party with friends on Sunday, but that's about it! Besides that, we'll pretty much just be taking a vacation from our vacation. I'm sad we aren't visiting family this time around but we plan to make a trip out to California early next year! 🙂
In the spirit of Christmas, here are some super rad trees that i found around the web/blogosphere!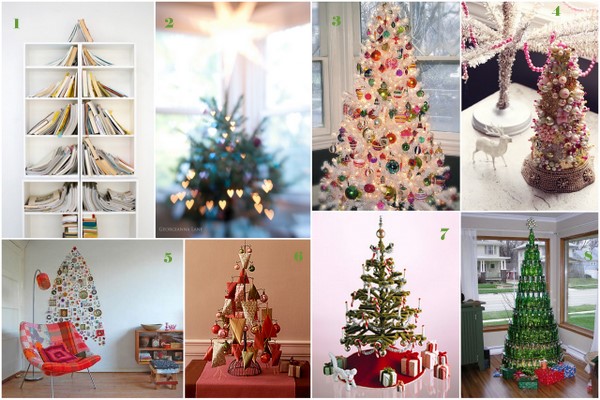 1 don't feel like getting a real tree? create this bookshelf tree seen on swiss miss
2 i absolutely adore this heart bokeh tree! picture taken by the talented georgianna lane
3 a stunning white tree seen on simplyvonne
4 a super cute beaded pink tree seen on sweet jessie
5 a tree made out of useless but pretty objects seen on greatfi
6 learn how to make a favor tree for your guests on martha stewart
7 make a mini tree out of pipe cleaners seen on martha stewart
8 super neat beer bottle tree seen on beer camp
Aren't they all so unique and pretty? Next year… maybe next year we will finally have time to put up a tree! Well, friends, I'll be taking a blog break for Christmas Eve and the weekend, but will be back next week to ring in the new year! 🙂 But before I go, here's a little virtual card for you that I made from a Pugly Pixel download (photograph by City of Blackbirds).