Hi friends! I'm officially back at home and back to blogging! For those of you who didn't know, my husband and I took a Southern Caribbean cruise last week and it was amazing! We ate a lot, caught up on movies, got a tan, ate more, relaxed, caught up on sleep, didn't touch the internet/phone for a few days, and did I mention we ate a lot… as in four meals a day (at a mininum) and multiple desserts at dinnertime! 🙂 Not to mention, I may have gained some poundage which will lend itself to a nice New Year's Resolution of "Lose the weight gained on cruise!", haha OK not funny. Anyhow, I've been spending this last week catching up on emails and such and am VERY afraid to tackle my Google Reader but I did upload/edit a few of my cruise pictures to share with you, let's call it a sneak peek as I'll do a full post or two with pictures in the next few weeks~!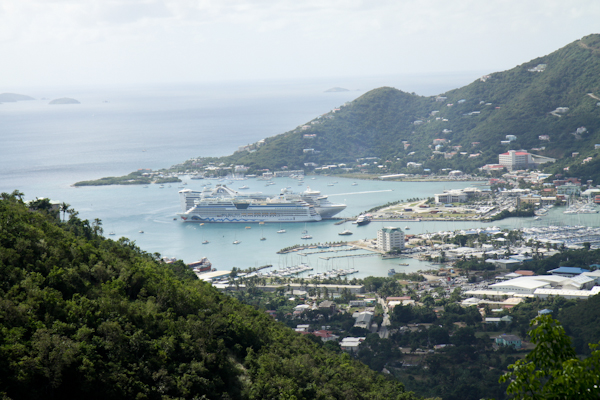 Our rockin' home for the week – the Caribbean Princess! My husband and I still get dizzy and sway sometimes when walking, HA!

Love this photo of me on the pier (isn't my hubby a great photographer)? And in case you missed it above, we ate, A LOT! Here's a picture of three different desserts we ate after dinner one night!!
At every port that we stopped at there was TONS of shopping to be done, from local handmade jewelry to every flavor of rum imaginable!
*sigh* Oh how I miss the Caribbean already. It's so crazy that Christmas is coming up in a few days here (especially since I just spent a week in super warm weather)! We finally sent out all our presents to finally a few days ago and that felt great! Can't wait for them to receive them. 🙂 But as for the holidays, this will be the first time that we are just staying in town and we're going to sit on the couch in our PJs all day long. 😉 Perhaps I'll work on some new bows for my etsy shop, or prepare out all my blog posts for January, or maybe I'll just bake bake bake, but whatever we decide to do, I hope it's pure relaxation awesomeness!
I just wanted to take this time to send a *HUGE* THANK YOU to all my guest bloggers this past week! They kept my blog alive while I was gone and I truly appreciate it from the bottom of my heart. And another THANKS to all those that still stopped by and left comments too! Just to recap, here's a rundown of all the guest posts (there were recipes, holiday decorating tips, fashion and photography advice, a music playlist and inspirational posts), if you aren't following these bloggers, I highly recommend that you do because they are all amazing!
Saturday, December 11 – Breakfast All Day by All Things Ami
Sunday, December 12 – Countdown to Christmas by Sweet Caroline
Monday, December 13 – Fashion Tips by Much Love, Illy
Tuesday, December 14 – Tune Tuesday by Sassy Smolak
Wednesday, December 15 – Christmas Sweater DIY by Wattlebird
Thursday, December 16 – Pear Bread Pudding by Not Your Average Ordinary
Friday, December 17 – Easy Holiday Decorations by Grace Hester Designs
Saturday, December 18 – I Left My Heart In Paris by Amy Couture
Sunday, December 19 – Almond Squares by Fur Elisse
Monday, December 20 – Photography Advice by Rebel Belle Photography
Tuesday, December 21 – Gift Wrap Tutorial by Sunshine and Carousels
And I had a GIVEAWAY going on for a beautiful handknit cowl from my wonderful sponsor, Wattlebird while I was away!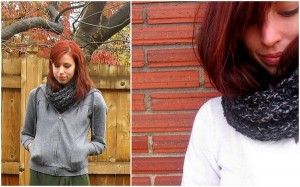 It ended earlier today and I have picked a lucky winner…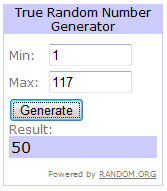 The 50th commenter was… *DRUM ROLL* please…. the lovely Piper from

Congrats Piper! I will send you an email shortly asking for your mailing address so I can send it off to Annie! I know that this beautiful cowl will keep you warm + you'll be so stylish in it!
Well again, I really missed you all dearly last week but it does feel good to be home! I hope that you are all having a wonderful (short) holiday week!