First of all, I miss this little booger, I call him that because he's been sick lately and has a lot of boogers and snot.  🙁  The cutest thing ever is that he'll blow his nose so all this snot is hanging out and he'll say "Blow, blow" so that you'll bring him a tissue to blow out all his boogies.  A little TMI, but super cute.  🙂  After having spending 4 days with my nephew, I kind of miss him, a lot.  We just always have so much fun together, can't you tell?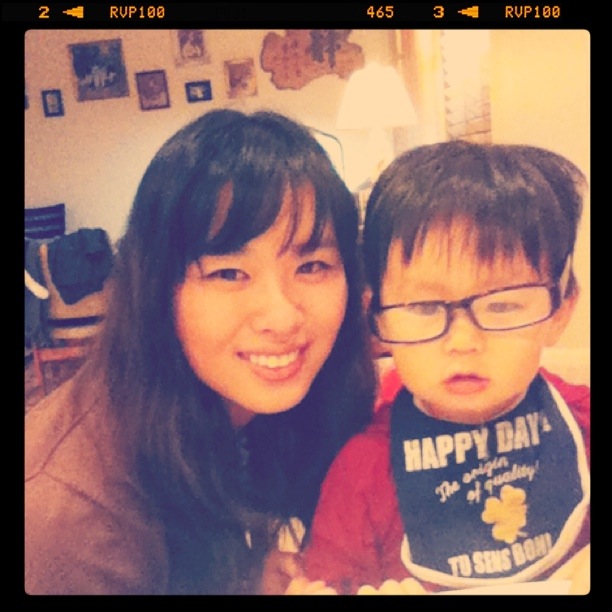 Oh yea, here's a peek at my new bangs and specs that I purchased at a swap meet for $4.  They kind of look cuter on Evan than me though, but I'm OK with that!  😉  These photos were taken with my sister-in-law's iPhone, I kind of want one just for cool photo apps.  I mean who uses a phone for talking anyways, am I right?
Anywho, speaking of things that I love (i.e. my nephew), today I just wanted to share a Mac N Cheese recipe I made for my husband the other day!  It's not just any old Mac N Cheese folks, it's got bacon, mushrooms, chicken, tons of cheeses and a super special and kind of expensive ingredient, truffle oil!  😉  Here's another similar one that's not sold out already.  I had never used truffle oil or cooked with it before but I know how heavenly it tastes I figured there was a first time for everything!  This recipe was pretty much modeled after Yard House's amazing Mac N Cheese with a few tweaks!
Fancy Mac N Cheese
(adapted from food blahg)
1 lb elbow macaroni, cavatappi, cellantani, or other tubular pasta
6 tablespoons unsalted butter
1/4 cup all-purpose flour
3 cups milk, heated
8 ounces sharp cheddar cheese, grated
8 ounces Monterey Jack cheese, grated
4-6 ounces Gorgonzola cheese (or other blue variety), crumbled
1 can chicken breast, or roasted (real) chicken breast, sliced
Salt, freshly ground black pepper, cayenne pepper, to taste
1 cup fresh sourdough breadcrumbs
10 slices bacon
Cremini mushrooms, as much or as little as you like, quartered
truffle oil for drizzling
Directions:
1. Fill a large pot with water and set it over high heat. Boil the pasta to slightly underdone (it will cook more in the oven); drain. Preheat the oven to 350 degrees F.
2. As you're waiting for the water to boil and the pasta to cook, be productive! Heat the milk in a medium saucepan over medium heat until barely simmering; remove from heat and set aside.
3. Process cubes of crusty sourdough bread (if it's a day old, it'll make it easier on you) — go ahead and process the crusts, too — until you have a cup of breadcrumbs. Set aside.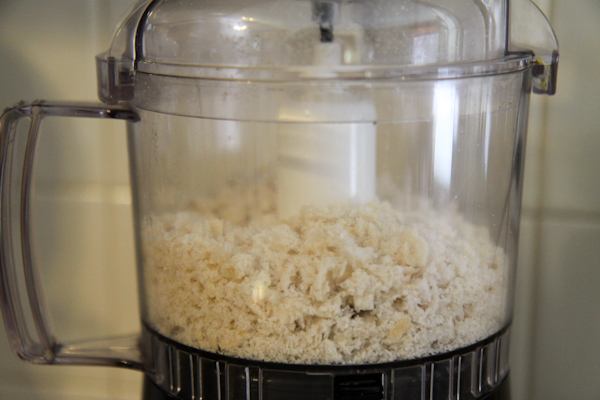 4. Start your roux: Melt 4 tablespoons of the butter in a large saucepan over medium heat. Add the flour; whisk to incorporate into the butter. Cook 1-2 minutes without over-browning. Add the milk and whisk to combine. Bring to a boil; remove from heat.
5. Add the cheddar and Monterey Jack cheeses a large handful at a time; mix well.
6. Toss the pasta with the cheese mixture in a large bowl. Add the chicken now, if you got it from a can. Add it later if you're using roasted chicken breast. Or you can add it now, whatever.
7. Fold in the Gorgonzola — 4 ounces if you like it mild, and up to 6 ounces if you prefer the potency. Add salt (keep in mind that you will be adding bacon later), freshly ground black pepper, and cayenne pepper to taste.Spray a large casserole dish with nonstick cooking spray, or grease with butter. Spread pasta mixture into dish; sprinkle breadcrumbs evenly over pasta. Melt the remaining 2 tablespoons of butter in the microwave and pour over breadcrumbs.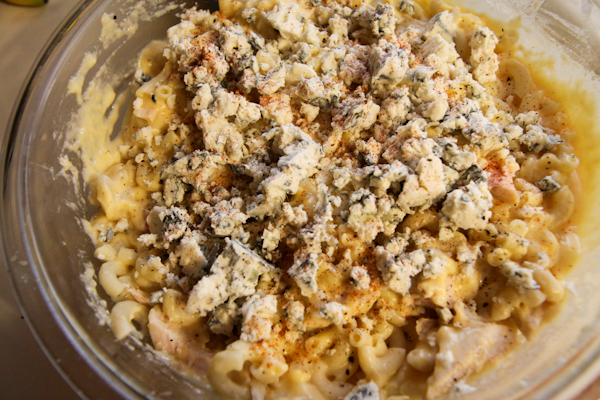 8. Bake in the oven, uncovered, for 40 minutes, or until top has browned.
9. While macaroni is baking, cook the bacon; drain on a paper towel. (Adding the bacon to the dish later will maintain its delightful crispiness.) Discard most, but not all, of the bacon drippings.
10. Brown the mushrooms in the remaining bacon drippings over medium-low heat. Add a pinch of salt to bring out a little of the moisture, but be wary not to make them soggy. They should be browned and fragrant, but still firm. Season with freshly ground black pepper.
11. When the macaroni is ready, serve some up in a bowl, and top with sliced roasted chicken breast, mushrooms, crumbled bacon and drizzle with truffle oil.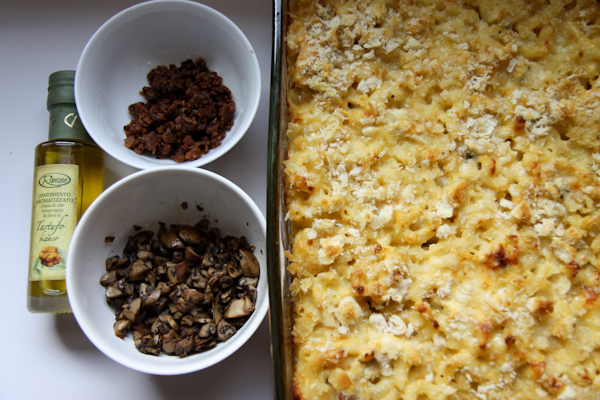 Are you hungry yet?  Because I am.  I think it's about time I bake up another batch of these.  Marvin describes this dish as "decadent, scrumptious and indulgent".  Are you going to make this already?
P.S. Are you ready for St. Patty's Day yet?  Well if you're not or you just love the color GREEN, I'm giving away a headband and a hairpin set over on Oh, Sweet Joy!  And btw, if you need a new crafty and inspirational blog to follow, you should definitely follow Oh, Sweet Joy! It's a daily read of  mine!! 🙂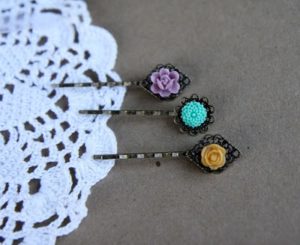 P.P.S. You still have 2 more days to enter a giveaway for this adorable Spring hairpin set over on Be merry, Kate!  And she definitely has an inspirational and happy blog as well that you should follow, kids.  Do it!