For today's post you have a two for one… an In Style + Nest Designs post, lucky you! I love this blazer I got from a local boutique and I just don't wear it often enough. Pair it together with my striped boyfriend button down I got from a shop in Vancouver and I have a Jeans Day Friday look, or Casual Fridays as some companies call it.
Button Down: Aritzia, Blazer: Amelia's Boutique, Jeans: Seven, Necklace: Forever 21. Shoes: Steve Madden
And when we had that snow you see up there, I was all cooped up in the house and felt like organizing our closet space. And of course I wanted to take some pictures to share my progress!! 🙂 Since our house is an older home (1970s) we don't have the luxury of super big walk-in closets (hopefully we'll have that in our next house), so we actually use two closets in two rooms as well as two dressers.
Closet #1, which is in the master bedroom, is basically where we put our work clothes… the ones we wear 5 /7 days a week!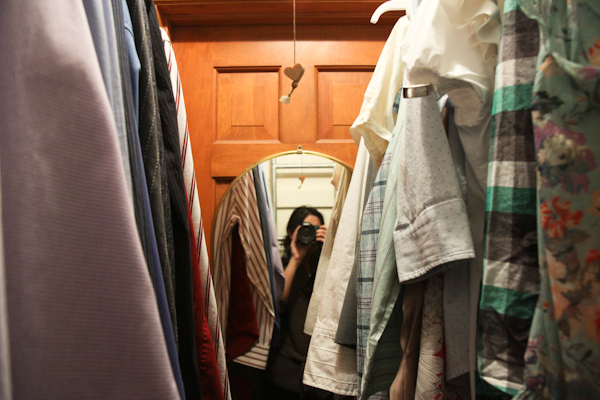 I love that the light switch has some vintage charm with a heart at the end of it separating the his and hers side. And yes, that's a full-length mirror on the door right there that gets a lot of use!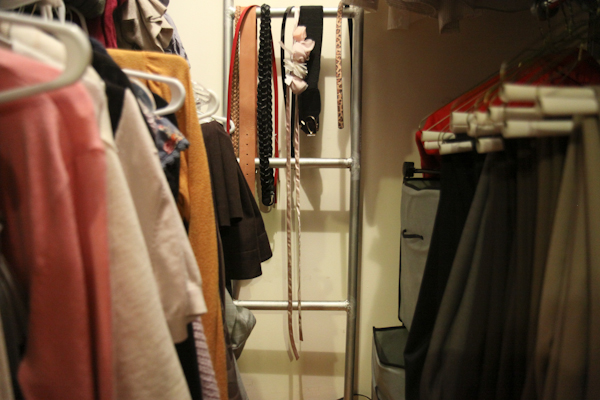 Opposite the door is actually a ladder that goes to the attic (we've never been up there), but I use the rungs to hold my belts!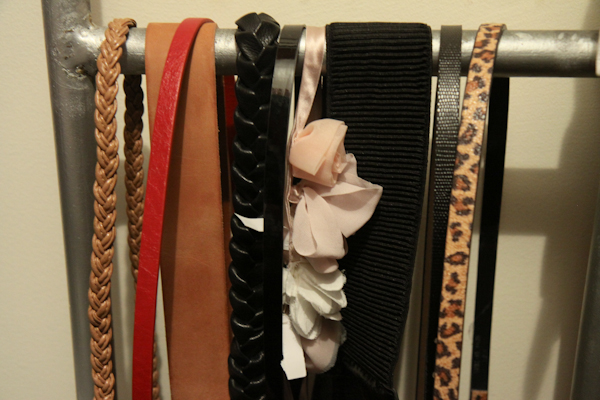 Here's a closer look! I actually just bought a few more skinny ones this past week that I can't wait to add to the collection!! 😉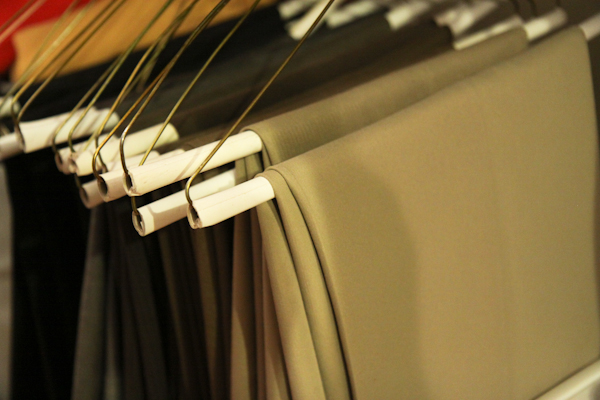 And look at how neat Marvin's pants are, all lined up, light to dark, no wrinkles.
Here's a look at Closet #2, it's where all our summer clothes go. On the left we have Marv's collection of polos that I arranged by color haha. And on the right is all my pretty dresses that I'm dying to wear. I love having an organized closet, it totally makes the morning routine so much easier and creates a happy home.
One more thing… I just wanted to introduce you to my newest lovely sponsors, all of which will have GIVEAWAYS next week!! 🙂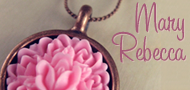 Mary Rebecca sells the cutest jewelry… my fave being her gold bunting necklace!!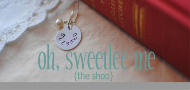 Alely sells hand stamped silver charms hung on sterling silver necklaces – have you started thinking about Mother's Day presents yet?
Krystina makes super cute custom cards! Go check out the set she made for me!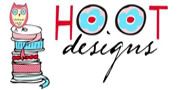 Chrissy makes a plethora of beauties such as note pads, camera strap covers, key fobs, purses and more!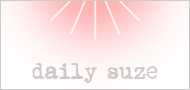 Suze has a SUPER cute blog full of inspirations and free printables! Definitely a daily read of mine!
What does your closet look like? Do you have a walk-in? Do you use dressers?