Have you entered the THREE GIVEAWAYS I have going on here? Win $25 credit to ChicGeek Designs print shop, a vintage turquoise and green necklace from No. 17 Cherry Tree Lane, and $25 credit to Mary Rebecca accessory shop!
***

Hi friends! Hope you are enjoying your weekend so far! Things have been a little busy around here with a recent promotion to be a manager at work (yay!) and prepping for a Ladies Night fair where I'm going to have my first in-person booth at the end of the month! All that and a whole bunch of travel planned (business and fun) about every other week for the next few months (eeks)!
Anywho, I just wanted to stop in today and take part in Yellow Songbird's GENIUS new idea of Saturday Snapshot. Basically every Saturday you share a fun picture of yourself or a picture you've taken, old or new, with a little description of it for the blog world to see! Personally, I love seeing old photos of people from when they were younger! And then link up your post on her blog and check out everyone else's awesome photos! Fun, right? Absolutely! So here we go….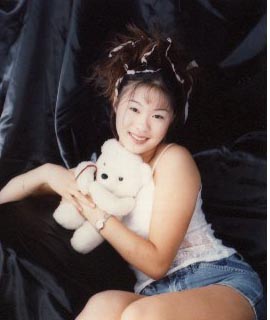 Where: Taipei, Taiwan
When: 13 years old
What: Glamour Shots
As a young teenage girl, it was totally the thing to do. I was over in Taiwan for vacation, so I thought why not? Getting your hair and makeup did, playing dress up with multiple outfits from casual to fancy, pretty much feeling like a princess for a full day, yes please!
A few things to note about this particular picture…
– I'm wearing short short jean shorts
– That tank top is pretty much see through lace on the bottom half (see I was still obsessed with lace back then too)
– I probably had 40 mosquito bites up and down my legs that were photoshopped out
– Don't ask me why I'm holding a white stuffed animal bear…
– I have bangs again right now like I did when I was 13, HA!
– And the white decorative accent in my hair? That's torn up strips of toilet paper. HOT. Ashley suggested I start selling toilet paper hair accessories in my etsy shop, now there's a money maker. 😉
There ya have it.
Now head over to Yellow Songbird to link up your own photo and check out some other Saturday Snapshots!