First off… I have a few GIVEAWAY WINNERS to announce, woohoo! I'm getting good at this!! 😉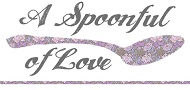 The winner of the Too Faced Spring Makeup Palette from A Spoonful of Love is Erika of Cafe Fashionista!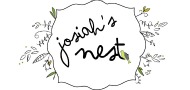 The winner of the charm necklace of your choice from Josiah's Nest is Kimberlee of Magpie Shinies!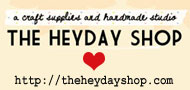 And lastly, the winner of fabric, a button ring, and cute tape from The Heyday Shop is Heather of Small Town Living!
Winners: Congrats! Please email me at sandyalamode@gmail.com with your mailing address (and charm necklace choice for Kimberlee)!
***
Because we're supposed to get 60 degree weather at the end of the week (and hopefully no more snow this season), I figure I should probably post this last Cubicle Chic post for you that was taken in the snow from a few weeks ago and then I promise, onwards to Spring outfits and photos only! 🙂
Tank Top: Forever 21, Cardigan: Lauren Conrad, Skirt: The Limited Belt: K Fashion House, Boots: Anne Klein, Tights: Target, Necklace: Gift
I'm actually pretty stoked about this outfit because it involves four of my obsessions: bows, mustard, boots, and houndstooth. If you are a regular follower of my blog or shop, it's not question that I love bows and mustard (*ahem* lacey). And boots? Who doesn't love boots? You're crazy if you don't! But to be honest, I only own two houndstooth pieces but I'd gladly take more! Oh and credit is due where deserved, my husband is the one who suggested that I add the cute bow belt to the outfit and I must say, it was a perfect fit! Slowly but surely, I'm teaching him about fashion so that one day he can be 100% comfortable buying clothes for me, HAHA. 😉
P.S. Don't forget to enter the THREE NEW GIVEAWAYS I have going on here. Win $25 credit to ChicGeek Designs print shop, a vintage turquoise and green necklace from No. 17 Cherry Tree Lane, and $25 credit to Mary Rebecca accessory shop!
Does your significant other shop for or pick out clothes for you? Are you a fan of their picks?