Floral Blouse: Forever 21 gift from Dad, Cardigan: Taken from my Mom's closet, Jeans: Express, Belt: Taken from another shirt, Shoes: BCBG gift from SIL, Cowl and Purse: Made by MIL
I think it's kind of funny and sweet that many of the pieces of this outfit were gifts from my family. 🙂 I love the nature-y feel of how greens and tans go together. Add in some floral elements from the blouse and knit purse as well as the bow detail on the flats for a touch of femininity. And do you remember that mustard hat I shared in this post? Well the cowl and surprise knit purse were also part of the awesome package of goodies that my insanely crafty MIL made for me. She's totally going to be opening up an etsy shop next winter, I mean, shouldn't she?
and speaking of receiving goodies in the mail….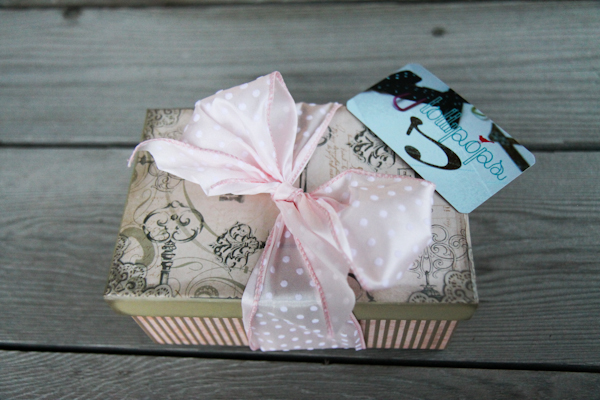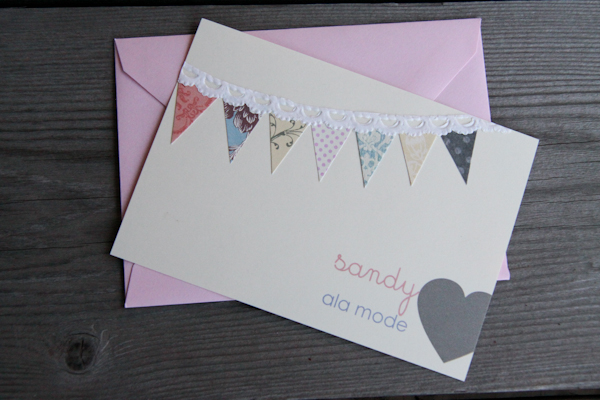 look what came the other day? my own personalized set of sandy a la mode stationery, woohoo!! i worked with the lovely krystina of lollipops on creating these custom cards. i pretty much told her some of the details, colors and specs i wanted and she ran with it!! each card is HANDMADE and those bunting banner flags are made of real cardstock, each one cut and glued on. not to mention, krystina is reasonably priced and a doll to work with! so order up and you may just receive one of these lovely cards with a handwritten note in your order! 😉
p.s. don't forget to come back later on tuesday for a GIVEAWAY featuring a clickety click item from the lollipops shop! 😉