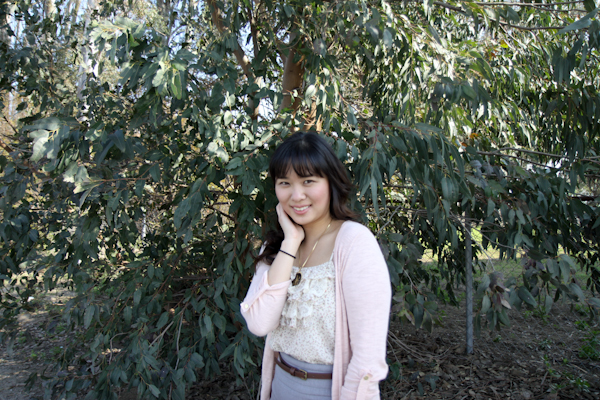 Cardigan: Forever 21 | Blouse: Amelia's Boutique | Skirt: H&M | Boots: Steve Madden | Necklace: Borrowed from Mom
Hello from Indiana! I'm here for the week and then this weekend I'll be heading to Arizona for Creative Estates, squee can't wait!!
My parents live in the far outskirts of neverland California where half of the day it smells like cow manure.  Oh, it's not as bad as it sounds though, you really get used to the smell and you don't smell it inside the house while you're eating dinner or anything.  But it just amazes me how much farm land is around their house and the fact that they were all eating grass at the same time, it was really picture perfect.  I felt a little bad getting close to the cows, because as I did, the would back up, case in point in that first picture.  This is truly a different side of California than all the traffic and Hollywood glitz and glamour.  And a special shout-out to my Mom for letting me borrow her necklace and being such a great photographer, she even used my DSLR.
Oh and I really did go to work in this outfit earlier in the day, so hence the Cubicle Chic, I'm really in love with that tank top and cardigan.  And I don't know how many times those boots have been an appearance on le blog but I know it's probably like every other outfit post haha, yea I really heart them.
P.S. I'm featured as the Girl of the Blogosphere this week over on Walk of Fashion!  Head on over and leave me some love over there and don't forget to follow her fabulous fashion blog! 🙂