How was your weekend?  I hope it was fab!  On Friday, Marvin and I had an awesome date night that consisted of a steak dinner, talk about a juicy Kansas City strip steak, yummy!  The rest of the weekend brought warm weather, we had dim sum with friends, did a little bit of sewing and a whole lot of cleaning.
I just wanted to say THANK YOU to all that left encouraging comments or tweets about my Ladies Night event.  It was a success and I had so much fun selling there.  It was a pretty low-key event in an upscale environment, which was absolutely perfect for getting my feet wet.  I made a good amount of sales but most importantly I learned a lot from it so I know what works and doesn't work so I can improve for next time… which happens to be in a few weeks (April 23, 2011 to be exact, but more on that later)!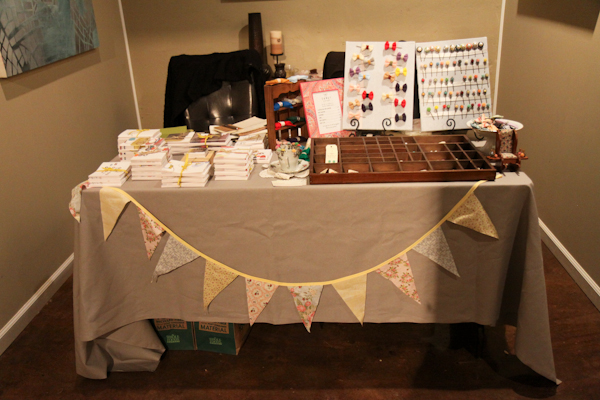 Here's the front view of my booth.  I actually split a cozy little space and 6 foot table with the fabulous Jenn Isom, who sells beautiful watercolor cards.  We draped the table with a grey duckcloth and my handmade bunting banner!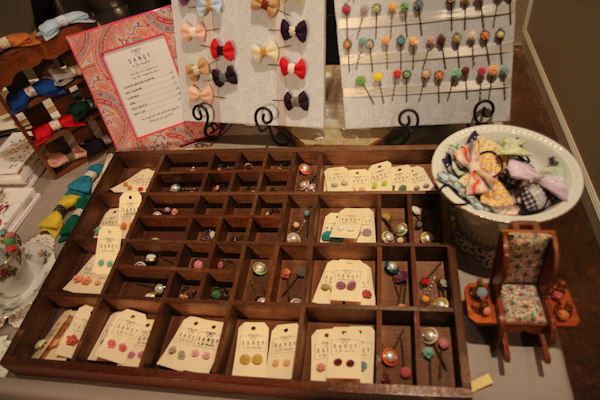 And here's a close up of all my items and how I displayed them!  I used lots of wood, vintage china, and fabric covered canvases.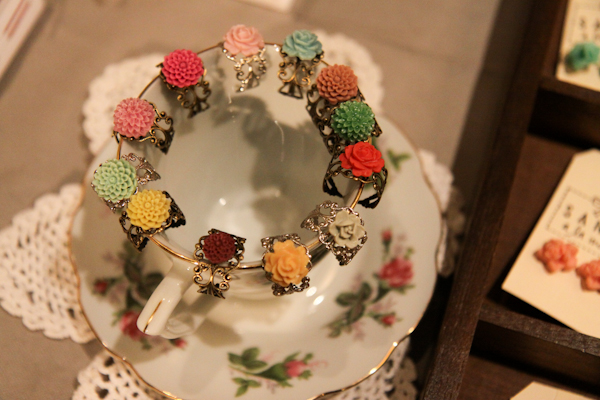 These really loved the setup of these colorful rings on vintage teacups that were placed on top of doilies.  These really caught people's attention.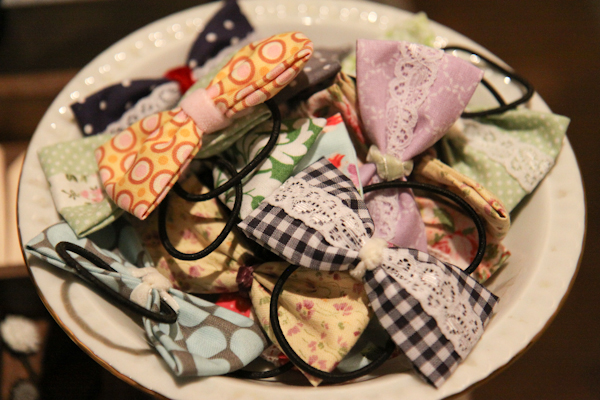 I placed my fabric hairties (which should be up in the shop soon) in a vintage floral candy dish, I thought this was pretty fun!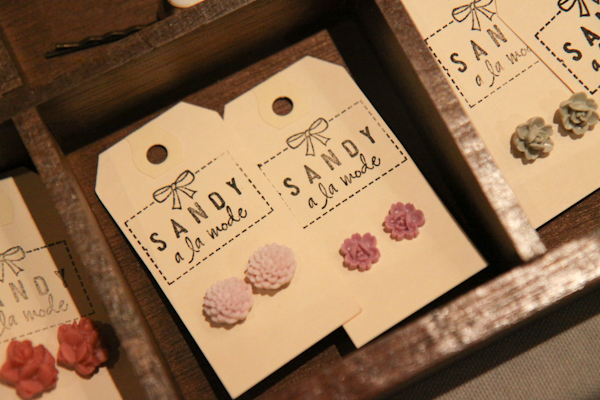 And I think I already showed you the sneak peek of stamp that my SIL made for me a few posts ago, but I pre-attached all earrings on tags.  As people bought hairpins, I had pre-stamped tags that I brought along and I clipped them on before giving it to them.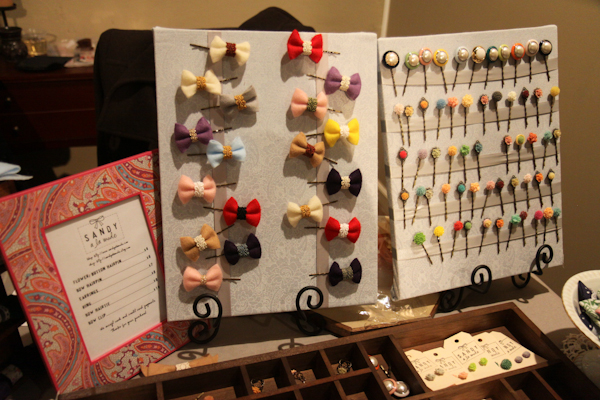 I had a colorful picture frame that displayed all my prices and a comment about how I accepted cash and credit cards (Square is AWESOME)!  And these lovely fabric covered canvases with ribbon were made by my husband.  🙂
My signature bows were displayed in a wooden box I picked up at a thrift store.  And here I am… all decked out in one of my hairpins, a Josiah's Nest necklace and Oh, Sweet Joy custom skirt!
I had a few friends that stopped by which I was really excited about… namely my husband and one of my sponsors, Ashley from Ashley Carter Designs!!
And here's a little peek at my boothmate, Jenn Isom's beautiful watercolor cards.  So many fun colors!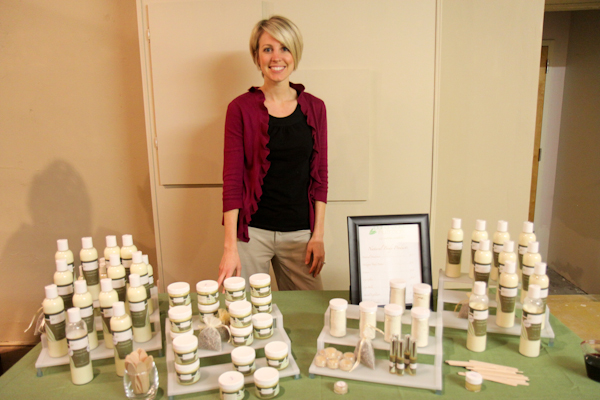 And lastly, here's my dear friend Amy, the one who told me about this event.  She sells her own product line of lotions, deodorant, lip balms, glosses and more over at Pura Vida Nutrition!  Thanks again Amy for letting me have a booth!  🙂
Things that worked:
1) I was actually pretty happy about my booth setup for the amount of space I was allotted.
2) Having a sign with prices was definitely a must, but do make sure to memorize your prices or have a cheat sheet with them written down for you to see. I didn't have a cheat sheet at first so I kept having to look at my sign to figure out how much to charge people, haha.
3) Having the free Square card reader was SO probably one of the best ideas ever. Lots of people came to the fair with no cash and only plastic. Square was so easy to use and the fees are minimal. The coolest part is that people can sign their signature with their fingers and get a receipt sent to their email. You also immediately get a receipt sent to your email as well! THIS IS A MUST!!!
4) For anyone who purchased hairpins, I clipped them on a pre-stamped tag. I put all items in a clear resealable cello bag that I purchased from Momgen. I also put a business card inside the bag. 🙂
Things I learned (let me know if you have suggestions):
1) I really wanted a good way to track everything that I sold, but unfortunately I didn't have one. I had a notebook and pen handy and recorded the Quantity, Item, and Price in it. However, for each item I was writing out " Purple Bow Hairpin", "Green Polka Dot Bow Hairtie", "Blue Ring" and that took up a lot of time. Square has a feature where you can take pictures of all items that are purchased but I didn't really have time to do this either.
2) Craftee Mcgee had an awesome idea to make a sign that says "This item is sold out. Please contact us for a custom order." so that if you got down to 1 item for any of your items you would save that and put it in pile in front of the sign. That way people could still see what the item is that they missed out on and possibly place an online order with you. Well I sure didn't sell out of any item, but will keep it in mind. 🙂
3) I am horrible with math. Next time I need to bring a big ole calculator or use the one on my phone. It seriously took me forever and a day to figure out the total cost of items when people bought multiples.
4) When people first approach my booth, I need to come up with some sort of speech or tagline to explain my shop, instead of just saying "Hi, how are you?" and that's it. I think it's better to have something prepared like, "This is my handmade accessory shop, with rings, earrings, bow hairties, clips and pins for your hair, etc."
Well, I think that's about it for now!  Like I said before, I'm planning on doing the KC Artists Easter Craft Fair on April 23… and I'm so excited because I'll be splitting a booth with Ashley Carter Designs!  AND I recently just got accepted to the Strawberry Swing Indie Craft Fair on July 10!  WOOHOO!  🙂
For all those who have sold their wares at booths before, I'd love to hear your thoughts on what works for you and any tips you have.  And for those who just like going to fairs, what do you like to see a booth have?