Hi friends!  This week felt like a long one even though we had Monday off but thank goodness it is Friday!!  🙂  I'm super excited to be going back to Michigan this weekend for a friend's bridal shower/bachelorette party!  We've done a lot of planning for it and I just know it's going to be fabulous.  🙂  And I'm just uber excited about going back to my home state and hanging out with my college buddies.
For this week's Flavors To Follow, I decided to do it on shorts!  I used to not be such a huge fan of them because I didn't like showing off my legs and thought that jean shorts were always uncomfortable.  But lately, I've been seeing lots of different types of shorts out there… ones with flowy material, that weren't too short and also have a fun pattern or bow on them.  Here are a few of my faves!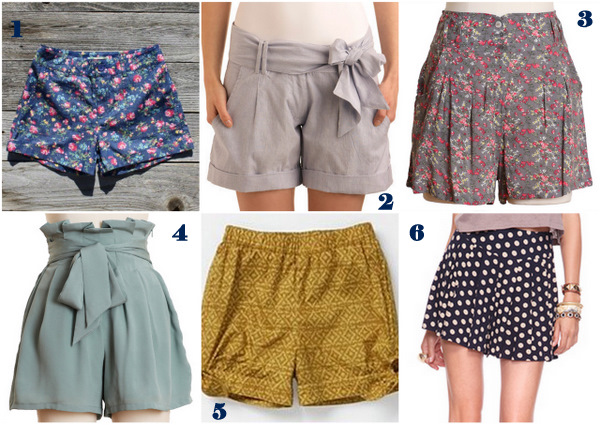 1) Clothesline Chambray Shorts from Spool No. 72
2) Yacht to Trot Shorts from ModCloth
3) Rose Floral Shorts from Shop Ruche
4) Mint Condition Paperbag Shorts from Shop Ruche
5) Bowtied Batik Shorts from Anthropologie
6) Polka Dot Swing Short from Forever 21
Well I hope your weekend is a fantastic one!  I'll see you next week from Ohio!  I've been blessed by not having to travel for the past 3 weeks but it's about time again.  🙂
P.S. Don't forget to enter the Sew Ewe-Nique Designs giveaway we have going on here!!
What are your weekend plans?