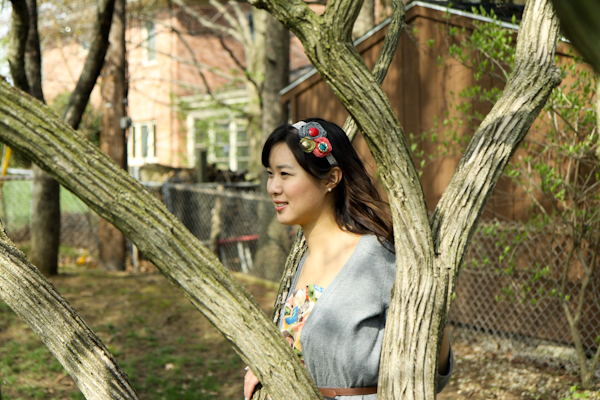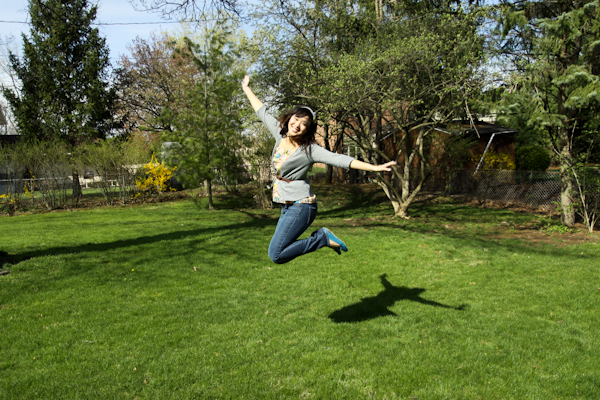 Tube top: Made by me from Joann's fabric | Cardigan: Target | Jeans: Express | Belt: Don't know from where | Shoes: Passed down from SIL | Headband: Whippy Cake
You recognize that Whippy Cake I'm wearing?  I'm sad that I'm going to have to part with it this week… but happy that it will be moving on to either Kim, Moriah, Ilene or Lindsay.  🙂  You'll find out who in a few weeks, teehee.  We like to keep you guessing.  And the best part, I'll be getting a new Whippy Cake to model myself, heck yea!
But what do I love about this outfit the most?  The fact that it has colors, a lot of them, all over my handmade top, my headband and fun shoes!  Anything colorful just reminds me of that time when Spring is heading into Summer, when flowers are blossoming all over, and the weather is getting warm to stay warm!  But unfortunately, with that, also comes some horrible weather as well.  My heart seriously goes out to all those in Joplin, MO (it's two hours from my house) and anyone else who has been affected by severe weather this year.  It's really a scary thing especially since we don't have any control over it.
On a happier note, did you happen to notice that I made this top?  Yup, sewing machine and all!  🙂  I made it on the same day that I made the dress I blogged about a few weeks ago.  I wish I had more time to make clothes for myself, I really do.
Are you a fan of all things colorful like I am?