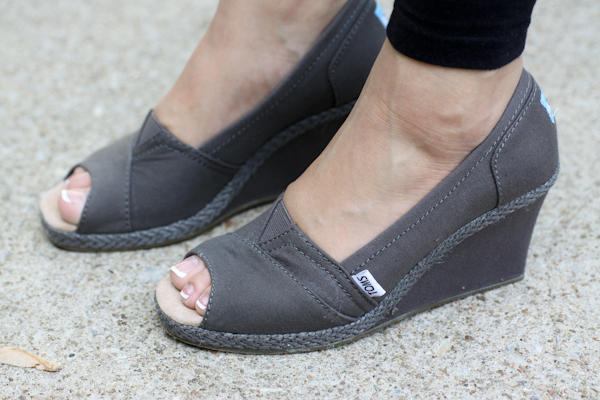 Tank Top: Maurice's | Cardigan: Target | Skirt: Forever 21 | Tights: Forever 21 | Shoes: Toms | Necklace: Forever 21 | Belt: From another outfit
Yay!  We made it through another week.  I loved that this week was a short one because it still sure felt like a long one to me!  Starting this week, until Labor Day weekend, we get to wear jeans to work.  We basically had a company weight loss challenge and if our company as a whole lost a certain number of pounds, our reward was "Jeans Summer".  And lo and behold we achieved the goal and now to get to wear jeans.  (I did help out by losing 3 pounds, woohoo)!  Problem is, I only have like 3 pairs of jeans I really love to wear and that aren't super tight painted on skinny jeans, HA!  But since it is summer, I'm excited about about being able to wear more skirts and dresses to work.  🙂
For this outfit, I was really excited to finally rip off the tags on my blue skirt and wear it for the first time.  Let's be honest here, I probably bought it MONTHS ago but just never got around to wearing it.  I know, I'm bad, but tell me I'm not the only one who has clothes in their closet with tags on still?  Yes, I see you nodding your head.  😉  And I'm excited Marvin got a close up shot of my toes, french pedicures are one of my best friends, foreals.  They match any outfit, look sophisticated and last for months!  French manicures on the other hand… they always chip after a few days, bummer.
Well, I just want to close out this week by saying THANK YOU for all your support and sweet comments yesterday about closing up my shop.  I am so happy that so many of you understand.  Based on your comments, I will probably put the shop on an indefinite vacation mode, and who knows, maybe I'll feel the urge to open up again.  No promises though!  So here's your last chance, take 20% off your order with code MEMORIAL!  This discount is good through Saturday.  This weekend I'll be helping one of my best friends celebrate her birthday, so fun!  And next week I begin my summer of travels (for work and weddings)… the first stop being Prescott, AZ!
Don't forget to enter this super rad Cute Tape giveaway!
Have a wonderful weekend friends!  Got any fun plans?