Yay!!  We've reached the end of the week again, who's excited?  I'm excited, are you?  Based on the title of this post, you can probably guess what has been on my mind all this week.  As my belly slowly grows, my clothes are getting tighter and tighter.  For most my pants, I use a hair band to tie around the button and hook through the loops.  It's a great alternative for the belly band as it's a bit too hot to use that right now.  But soon enough, I know that the belly band will need to be in full use and then… maternity clothes!  But of course, maternity clothing doesn't all have be frumpy and old lady looking, there's lots of cute stores out there, thanks for my Twitter friends!  🙂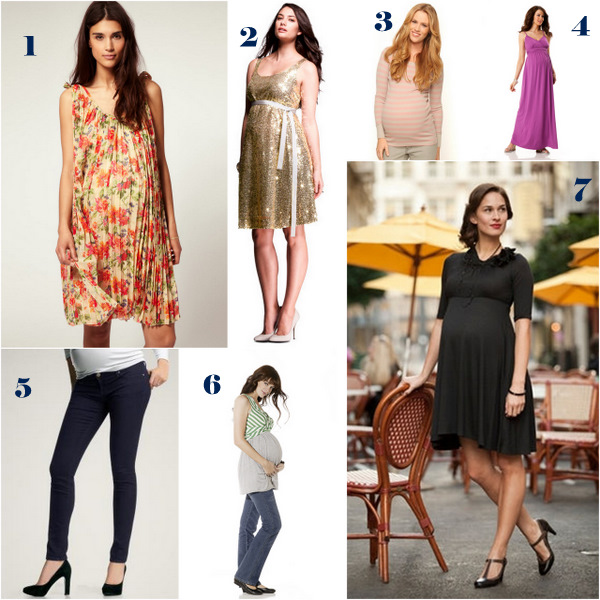 1 Someone please please please buy me this Asos floral dress, I can't get over how pretty and comfy it looks!
2 Even pregnant mama-to-be's need to look dazzling too, thanks to Isabella Oliver!
3 I find it a little random and ironic how Forever 21 now has a maternity section, but hey, their stuff is cheap so I'm not complaining!
4 If you are a regular blog follower, you know my love for maxi dresses runs deep.  Love the color of this one from A Pea In a Pod!
5 I think I could probably live in these Gap skinny jeans all fall/winter long!
6 I need this fun Lilac Clothing tunic paired with the skinny pants in #5!
7 Shabby Apple has the prettiest dresses and black is definitely slimming!
 If someone could buy me all of these things, I might, I said might just share a few pickles and string cheese with you.  😉  Because those are my current pregnancy cravings right now hehe.  Oh and Friday is the day that we find out the gender of our little precious bump!  Looks like the majority of you think I'm going to have a girl, based on the Guess Our Baby's Gender poll over there on the right!  I'll let you know next week if you are right!  🙂
Well, off I go to pack for three straight weeks of business trips, *sigh*.  I'm kind of looking forward to all the traveling to stop so I can just enjoy being home with the family and especially the new baby when he/she arrives!  22 more weeks to go (but hopefully less)!  🙂  Have a great weekend all!
P.S. This blog may be down over the weekend as I'm moving over to a bigger server to accommodate all the millions of photos I always post, so just a heads up!
Do you have any suggestions for maternity wear?