We're at 31 weeks today and the D date is looming closer and closer! The nursery is, I'd say, half done (can't wait to show you the big reveal next month) and our baby has more clothes than ever. Seriously, anything in baby size is just so much cuter, don't you agree? Lately, I've not only been obsessed with filling his closet with just clothes, but since I've been on a thrifting kick lately, I can't help myself but be drawn to VINTAGE baby clothes. Seriously, I should just keep all of baby's clothes so that he can pass them on to his boy one day… OK, hold on, back to reality. Anyhow, here are a few on etsy that have caught my eye!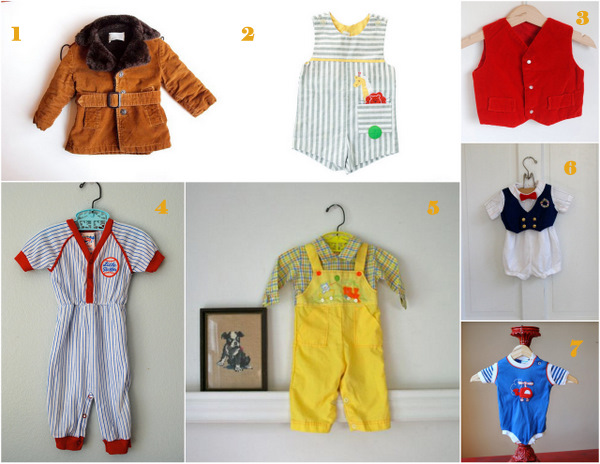 1 As winter is quickly approaching, this Corduroy Jacket from The Young Team is sure to keep babies delicate body warm!
2 It's yellow, it's grey, it's got stripes and animals. It's onesie perfection from Twitch Tots.
3 This Hart and Sew vest just screams Christmas baby to me (although we're hoping that our baby is not actually born ON Christmas).
4 This Little Slugger outfit from 3 Ring Circus is great for an active little guy.
5 Ms Tips Vintage sure found a keeper in this one. Boys and their trains… and a cool vintage plaid pattern!
6 It's never too early for boys to be suited up, just makes things a little bit more handsome, thanks Blue Bird Lucy!
7 Loving the contrast of bright blue and red on this Helicopter Onesie from Salvage House.
This weekend is going to be a busy one for us. On Friday night, I'll be heading down to the annual Holiday Mart in town with a few girl friends. I'm hoping that I won't do TOO much damage to the wallet w/ all the craft, food, holiday shops that will be displayed there, we'll see. Then on Saturday, I will be taking a half day photography class and field trip. Can't wait to capture some more pictures of my city and learn more about shooting in Manual mode. And then on Sunday (eeks!) we're taking our maternity photos with my friend from Ria Photography (hopefully the weather holds up)! 🙂 See you next week!
What are your favorite online shops to buy vintage clothing (doesn't have to be baby clothing)?