Hey all!  Hope you are having an amazing Labor Day weekend, we sure are!  This past week I flew to California for a business trip and my niece just HAPPENED to be born on the day that I arrived!  I surprised my brother/sister-in-law at the hospital and their faces were priceless when I showed up at their room!  🙂  It's been a fun and busy week hanging out with family, eating great food, doing some maternity shopping and of course watching college football (Go Blue)!
But what I really wanted to stop in and share with you all is my NEW BLOG LOOK!?  Do you love it?  Because I sure do.  The amazing, awesome, hilarious designer behind Yellow Heart Art, Leonora, and I have been working on this little project for a few weeks now and let me tell you, she is one patient woman.  I pretty much gave her a few design elements (chevron, lace, vintage) and colors (mustard, pink, teal, grey) and she totally ran with it.  And I'm totally in love with it.
Here's a 190 x 90 button with accompanying code!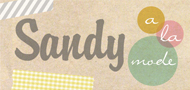 And here's a 200 x 200 button with accompanying code!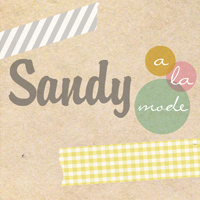 I have a few other button sizes handy, so if you want to ad my blog button to your sidebar, feel free to email me at sandyalamode(at)gmail(dot)com what size you'd like and I'll send it to ya!  🙂
For now, I'll leave you with this picture of my niece at 1 day old!  A full picture recap to come later!