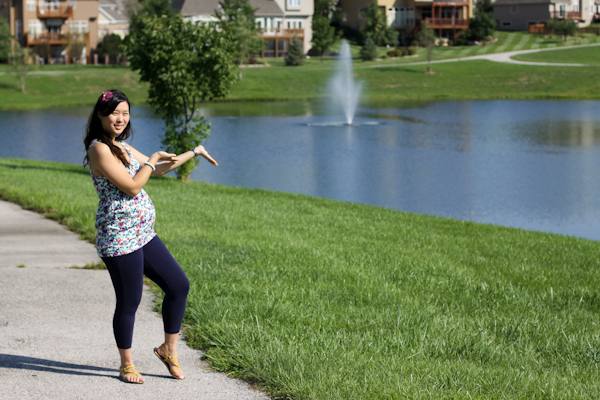 tunic : forever 21 | tights : forever 21 | shoes: forever 21| headband: ink and button
being pregnant really makes it difficult to keep up my normal workout routine. i'm too scared to overwork my body with running and weights so walking will have to do. besides daily walks with my friend in the work parking lot, marv and i like to take walks around our neighborhood. my goal is to walk at least 120 minutes a week (we get extra health discounts for work if we do so)! our favorite spot is to do walks around this man made lake. you've got geese, you've got the serene sound of water, you've got huge houses and friendly neighbors. i can't wait to talk our little baby boy on walks around this lake (well, it'll prob be another year and a half)!
bump update: 25.5 weeks
– getting ready to do the glucose tolerance test next week (i.e. drink nasty fluid and get stuck with a needle AGAIN)
– feeling fat and self conscious
– totally in a nesting mood
– washed all of bump's hand me downs and thrifted clothes received thus far
– on the hunt for more cute cheap vintage baby clothes
– craving fall drinks like pumpkin spice lattes and salted caramel hot chocolate (although i haven't had any yet)!
what is your current workout routine? for those who have been/are prego, what do you do for a workout?