It's that time again… it's the time to divulge my new favorite fall trend, and that would be fair isle. I seriously had to google it to find out the exact word for it and why it was called that, basically it's a certain knitting technique to create patterns with different colors. Makes sense. Not going to lie, I've already bought different pieces in fair isle, so you may be seeing them in outfit posts coming up. 🙂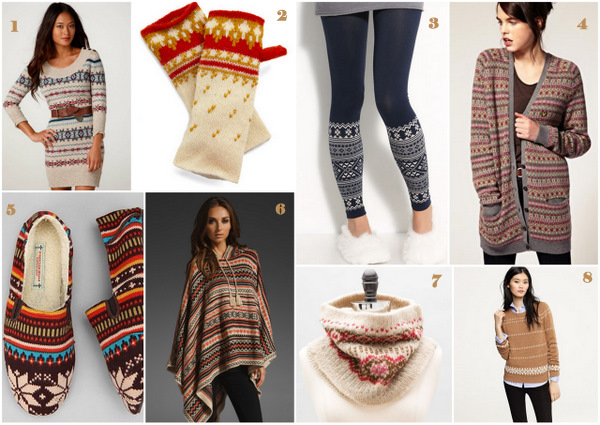 1 I have an obsession with sweater dresses and this AE one is no exception!
2 These Modcloth gloves scream fall, fashion, and warmth… great gift idea for Cold Hands, Warm Hearts participants!
3 Leggings are in, fair isle is in (at least I think so), so these Nordstrom ones are perfect!
4 I've never ordered from Asos before, but I absolutely adore that shop and LOVE this long cardigan. I'm always looking for longer tops to go over my ever expanding belly.
5 These UO slippers are darling and they look super warm for walking around on hardwood floors and tile.
6 Ponchos, like this one from Revolve Clothing, are SO versatile and comfy, just throw them on over an undershirt, skinny jeans and boots and your outfit is made!
7 Add a pop of color to your outfit and keep warm with this Lori's Shoes snood!
8 And everyone needs a soft cozy J.Crew sweater for going out or for sitting by the fireplace.
Whew, what a crazy busy week this has been and thank goodness we're at the end of it! Work is increasingly busy as I'm trying to train the newbies to be able to take over for me while I'm gone on maternity leave, my computer crashed twice this week, all of the Cold Hands, Warm Hearts partner emails went out on Tuesday/Wednesday (if you haven't received yours, email us at coldhandswarmheartsswap@gmail.com) and went to Child Birth class on Thursday (tip to preggos from the labor nurses: don't write down your birth plan because the opposite will probably happen)! This weekend I'm excited to just relax, relax, relax. Right now we have absolutely NO PLANS, and I love that. 🙂
Don't forget to enter the MoxieMandie

giveaway

to win a sweet chevron/floral pillow!
What do you think? Are you a fan of Fair Isle?