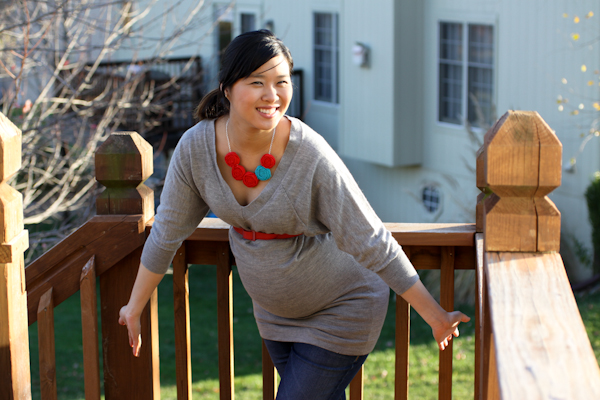 Top: Ann Taylor | Jeans: Motherhood Maternity | Necklace: c/o Seek First | Belt: Gift from Mom | Shoes: Soda
I got this idea for a post from Little Miss Momma and The Vanilla Tulip so I figure I'd join in on the fun!
I'm weird because…
I love being pregnant.
I only eat pizza crusts with ranch.
I like fries dipped in a mixture of ranch, ketchup and nacho cheese sauce.
I had a 3 legged, 1 eyed hamster in college.
I can have long conversations with my stuffed animal kids.
I like to eat fish eyes.
I find hand washing the dishes to be a calming activity.
I can't sleep with wet hair.
I'm a bad friend because…
Sometimes when friends leave me voicemails, I text them back instead of calling them.
I am a homebody.
I send birthday cards and presents after my friends' birthdays have passed.
I'm a good friend because…
I am a good listener.
I love talking my friends through their issues.
I will bake for them.
I respond to emails promptly.
I am trustworthy.
I'm sad because…
The weather is getting real cold.
I wish all my family lived closer.
I tend to dwell on little things too much.
We don't have a plan for holiday decorations yet.
I'm happy because…
I got to go shopping this past weekend and bought some jewelry and clothes.
My husband has been amazing throughout my pregnancy.
We will get to spend quality time with both sets of parents next year.
Of baby's kicks that make me realize the important things in life.
I'm excited for…
Becoming a mommy.
Date nights.
Reading in front of the fireplace.
The Sing Off finale – go Pentatonix.
The upcoming 4 day holiday weekend.
Cold Hands, Warm Hearts posts.
Finishing up nursery decor.
P.S. Jean Jean Vintage and The Rice Babies both have giveaways right here on this bloggity blog. Have you entered?
Now let's hear it… tell me why you're weird!