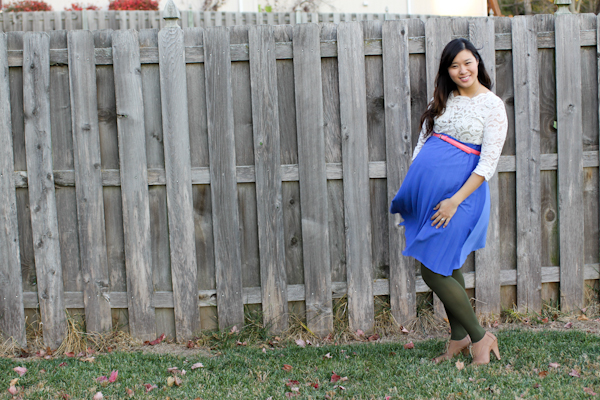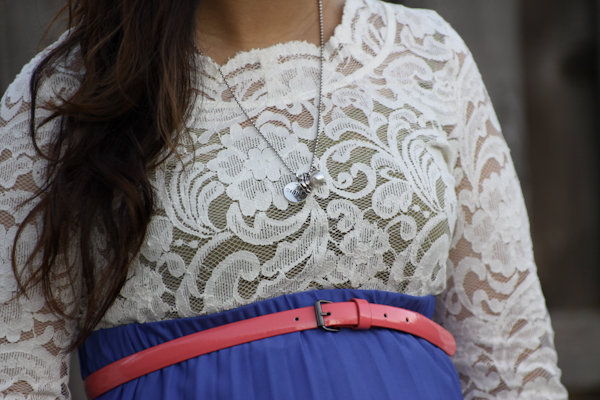 Lace Top: Ruche | Skirt: Thrifted | Belt: Forever 21 | Tights: TJ Maxx | Shoes: Shi | Necklace: The Shine Project
We're in the home stretch of "In Style" posts with my bump. Pretty much, baby can come any day now. It's crazy to think that some of my friends have had their babies at the point in weeks I am right now. But don't worry, I think our Baby a la mode is pretty dang comfortable inside his little man cave. I mean really, he gets to eat whatever sweets I eat, it's nice and warm inside, and he can move around as he pleases. Although once in awhile I can see him fighting with the food for room, like after our big Thanksgiving meal.
Bump update: 36.5 weeks
– Currently craving green grapes
– Had the Group B Strep test done (waiting to find out if it's pos/neg)
– Lots of Braxton Hicks contractions
– Hospital bag packed
– Marv is currently nesting, frantically crossing off house projects
– Baby is head down
– Getting my second and last prenatal massage tomorrow night
– Will be FULL TERM this Friday!
For all those mama's out there, at what week was your baby (or babies) born?