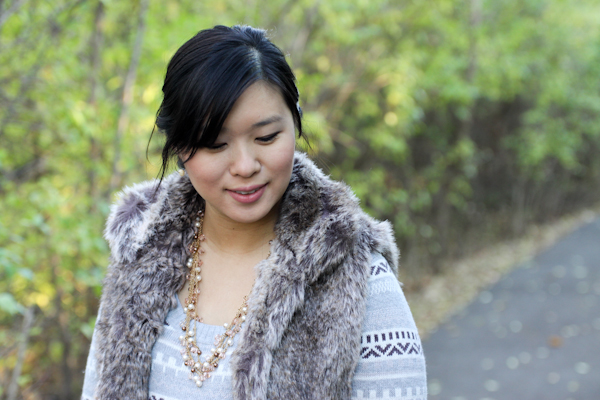 Sweater & Vest: TJMaxx | Necklace: Forever 21 | Jeggings: Eco Wear | Boots: Famous Footwear
And that's it for November, we're on to December already!  It's time to bust out the fair isle sweater dresses (well most sweater dresses are more like tops for me right now) and the faux fur vest.  I'm kind of surprised that it's taking this long for the weather to get cold, but really, I'm not complaining.  The bits and pieces of warm weather this November have been NICE because who is ever ready for cold weather.  And if you ask me, there's no getting used to it even if you've grown up with it.  One good thing about having a baby in the wintertime is that you don't have to leave your house in the brutal cold icy weather to go to work each weekday.  By the time my maternity leave is over, the weather should be warming up again, YES!  Although, it may kind of be a little depressing being cooped up in the house all day and not really getting much sunshine or fresh air.  :/
Speaking of maternity leave, just wanted to let you know that once Baby a la mode decides to come out, I won't be leaving you hanging here.  I have an awesome line up of guest posts where the topics range from baby + mommy stuff, fashion, recipes, DIYs, and printables!  You may even see a few before Baby a la mode makes his appearance (as the final days I'm sure will be super uncomfortable for me), especially if he decides to wait until right before the New Year to come out.
Oh yes… and if your name is Stephanie T and this is your blog, then CONGRATS!  You are the winner of the Rice Babies $20 credit giveaway!  Please email me at sandyalamode(at)gmail(dot)com to claim your prize!  🙂
And don't forget to enter the $35 credit giveaway to the lovely Seek First rosette accessories shop!
It's the last day to FACEBOOK LIKE and COMMENT on my looks to help me win the Soon Maternity Blogger's Style Challenge, won't you help me out?
What are you looking forward to most this December?
(I'm hoping Baby a la Mode is born this month!)