The 6os are back and NEON is so HOT right now. Just goes to show you should never throw any of your old clothes out, it may be useful for your kids or even grandkids. And yes, of course I've caught the fever for the trend. If you need some help shopping… well, here ya go! 🙂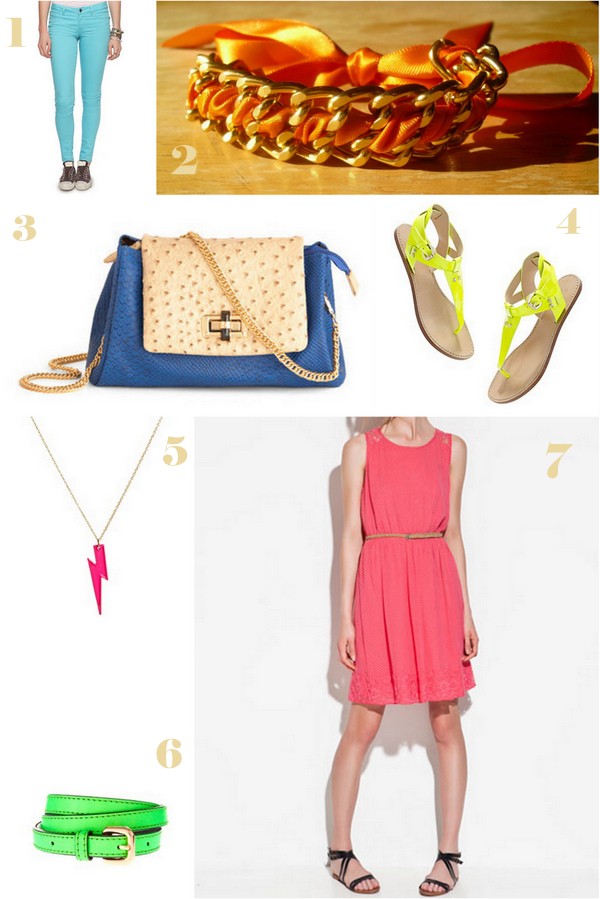 1 Pair these Forever 21 aqua denim with a black + white striped top, statement necklace and nude shoes.
2 Christina M Boutique has the cutest chain bracelets I ever did see.
3 Get ready for a girl's night out with this cobalt Modcloth bag on your shoulders!
4 Add a pop of yellow neon to your feet with these Madewell lovelies.
5 Strike a chord with this hot pink Asos lightning necklace to brighten up a neutral blouse!
6 Belt your favorite cardigan with this Asos neon green shocker.
7 This Zara dress is the color of the season, coral, and has lace and polka dots, LOVE IT!
Have you gotten your neon on yet?