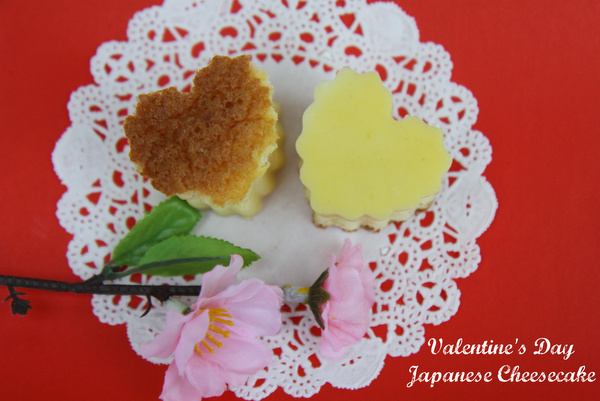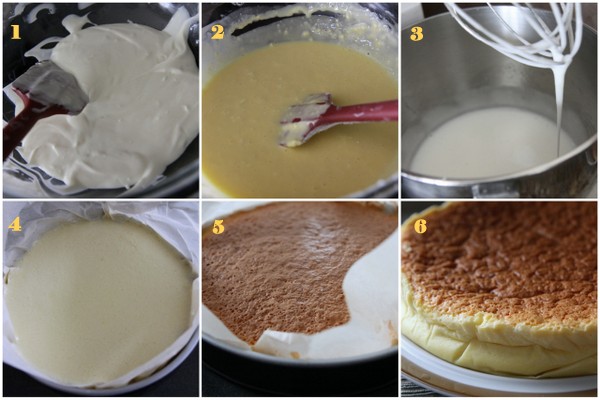 adapted from Diana's Desserts and Sprinkle Bakes
Ingredients
9 oz. cream cheese (one 8 oz. brick plus 1 oz. of another brick)
4 tablespoons unsalted butter
1/3 cup fresh, whole milk
6 eggs, room temperature – whites and yolks separated
1/4 tsp. cream of tartar
1/2 cup plus 1/8 cup extra fine granulated sugar
1/3 cup plus 1 tsp. cake flour (i used regular flour even though it's not really recommended)
3 tbsp. corn starch
Directions
1. Melt cream cheese, butter and milk over a double boiler.  Cool the mixture.
2. Fold in the flour, the cornflour, egg yolks, lemon juice and mix well.
3. Whisk egg whites with cream of tartar until foamy.  Add in the sugar and whisk until soft peaks form.
4. Add the cheese mixture to the egg white mixture and mix well. Pour into a 8-inch round cake pan (Lightly grease and line the bottom and sides of the pan with greaseproof baking paper or parchment paper).
5. Bake cheesecake in a water bath for 1 hours 10 minutes or until set and golden brown at 160 degrees C (325 degrees F).  When timer sounds, bake for an additional 10-15 minutes with the oven door cracked.
6. Cool on wire rack and serve on cold / room temperature.
I am a sucker for trying out new recipes or taking the average of two recipes and making it my own.  This was no different in this year's Valentine's Day dessert.  I've always had a liking towards a Japanese Cheesecake.  You might ask, how is that different than Cheesecake Factory cheesecake?  Well, it's fluffier, softer, not as heavy cream cheese tasting and more cake-like, oh so heavenly really.  You probably already have all the ingredients in your kitchen (except I used regular flour instead of cake flour but I hear it will taste even better if you use cake flour) and the hardest part was waiting forever for it to bake.  I'm an impatient baker.  😉  Once done, I used a cookie cutter to make little heart shaped cakelets and Valentine's Day dessert is served in bite sized heart shaped pieces.  Hope these make your heart go pitter patter, enjoy!