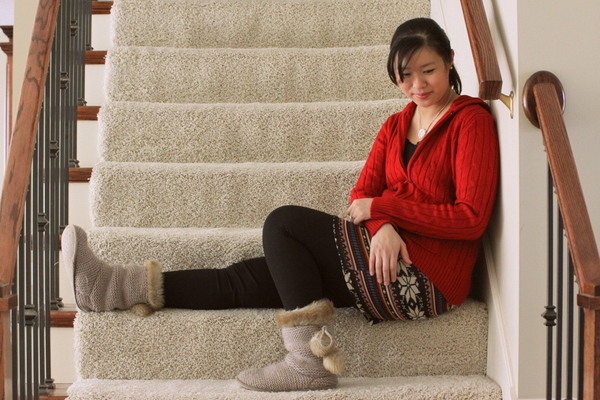 Tank Top: Target | Zip Up Hoodie: JC Penney | Skirt Leggings: Yesstyle | Boots: Gap | Necklace: Melody Joy 1983 | Baby Onesie & Hat: Target
Being on maternity leave and all, there's some days when I don't even leave the house.  And on those days, I surely do not get dressed up in colored jeans, pumps, or any of those other outfits you've seen me wear.  But rather, I wear my "chill clothes" (term coined by moi), ya know, the clothes you wear for "chillaxing".  Really?  Did I just say "chillaxing"?  Oh yes, I did.  They kind of have their own genre of fashion and I've discovered the latest trend for them – skirt leggings!  Say what?  How many times have you seen girls on the street wear leggings with a shirt that barely covers their bottom and all you want to say to them is that leggings are not a substitute for pants.  Well, their solution lies in skirt leggings, that's right, it's a skirt (that covers your bottom, duh) that's attached to leggings.  I first saw this trend on Yesstyle and totally bought into it.  Or I guess you could just wear a skirt over your leggings… but hey, it's faster to put on if it's just one item.
What do you wear for chilling around the house?

P.S. The winner of two prints from The Little Illustrator is Chantilly from Chantilly Songs!  Congrats!  Please email me at sandyalamode(at)gmail(dot)com with your mailing address and two prints of choice and we'll hook you up!  🙂
P.P.S. Don't forget to enter the $35 credit aPearantly Sew giveaway!!