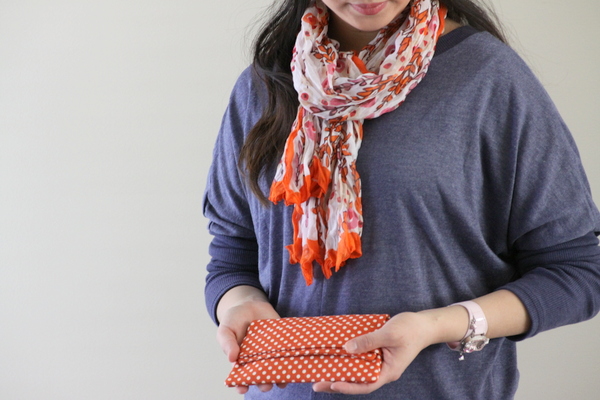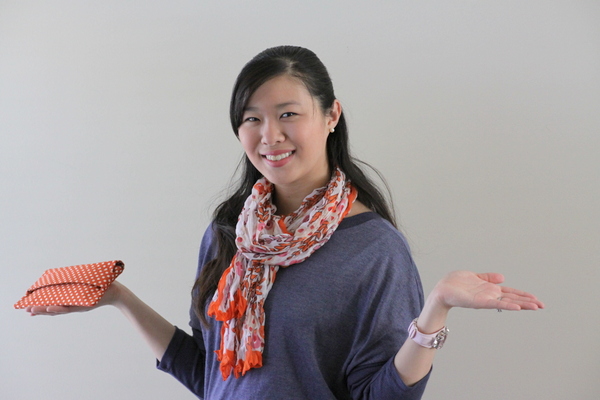 Top: Yesstyle | Scarf: Gift | Pants: Gap | Shoes: Gift | Hello Kitty Watch: Gift | Clutch c/o Glow Kouture
Well, who cares what the Groundhog said, the weather is still warm and I'm loving it. It just makes me long for Spring that much more and allows me to keep my winter clothes in the spare closet right wear they belong. Yes, even though we moved to a bigger house with a bigger closet, I still have an overflow closet for all my clothes, can you blame a girl? And another closet for shoes. Don't judge, I'm sure your situation is similar, I see you nodding your head. And especially now with this new colored denim trend and me wanting to get some in every color under the sun, that spare closet is key. I am totally LOVING this grey pair as it's subtle, goes with a lot, is one of my all-time fave colors, and is probably the closest I'll ever get to owning a pair of white denim/pants (which I'm kind of afraid of). By the way, did you notice the pattern mixing here? It's polka dots (Glow Kouture is having a 30% off sale with code PRESIDENT30 through the end of 2/20 – go get an amazing clutch for yourself so we can be twinsies) and florals! I was paying attention to your comments in this post, I'm a great listener (errrr reader). OK, let's hope I didn't jinx anything weather-wise because of this post.
How many closets do your clothes/shoes/bags take up?
P.S. Have you entered The Little Illustrator giveaway yet? You can win TWO PRINTS for your lovely home… or one of you and one for a friend!!
P.P.S. Have you voted for me today for the Circle of Moms Top Fashion and Beauty Mom blogs? I'd love it if you could vote once a day! 🙂