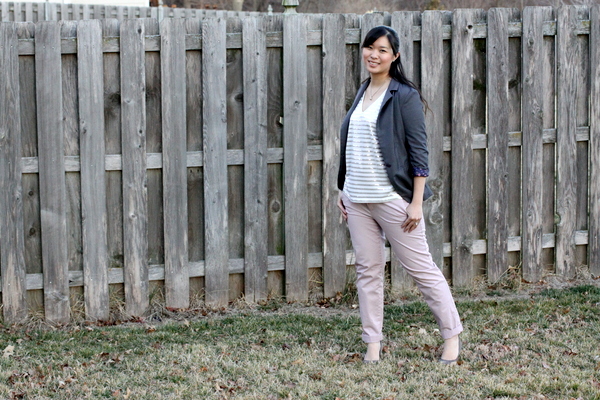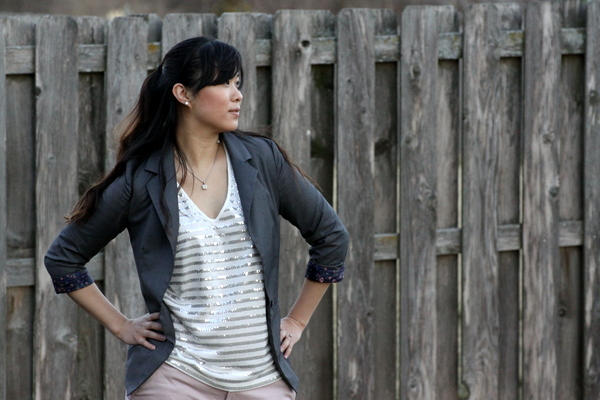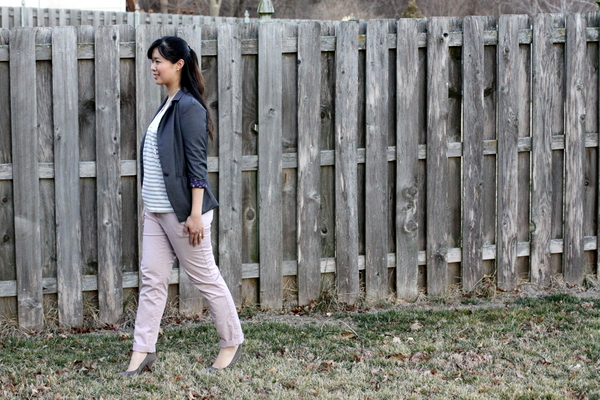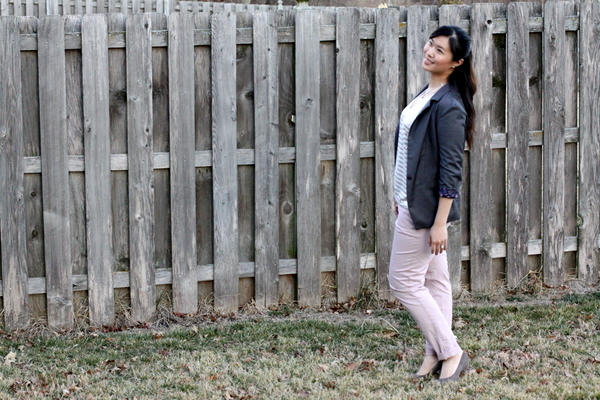 Blazer: Amelia's Boutique | Striped Top c/o Karen Kane | Pants: Gap | Shoes: Steve Madden
Do you all remember when I used to do Cubicle Chic posts? Yea, that was way before Maternity Fashion posts starting taking over this blog. Well I'm bringing this series back… since in less than 3 weeks I will be going back to work… in my lovely cubicle. Gahh! Don't want to think about it~! Sometimes I ask myself how I manage to do it all. Work 40+ hours a week, travel all over the country every couple of weeks to visit clients, manage a blog, take care of my husband and our home… and now add a baby into the mix! We are so lucky that Austin's grandparents are so willing to help take care of him for this first year. That definitely saves us money and is peace of mind that his caretakers are trustworthy and totally loving!
At my work we can actually wear jeans now, EVERY DAY! It used to just be Fridays but they realized it might as well be every day. But in front of clients, we still have to look pretty and polished. And since it probably wouldn't be appropriate to wear colored skinny jeans in front of them, I decided to pick up these pink straight leg khakis from Gap. They are perfect for work but are still in line w/ the colored pant trend! 🙂 So as of now I have cobalt blue, raspberry, pink, red pants… what color will I get next? Haha… you'll just have to wait and see. Excuse me as I go back to enjoying my time off~!
P.S. Want to win that striped sequin top I'm wearing or something like it? Don't forget to enter the Karen Kane Giveaway going on right now!
P.P.S. Or want to win over $250 in handmade items, clothing + accessories, ad space?? Enter my March Group Sponsor Giveaway!