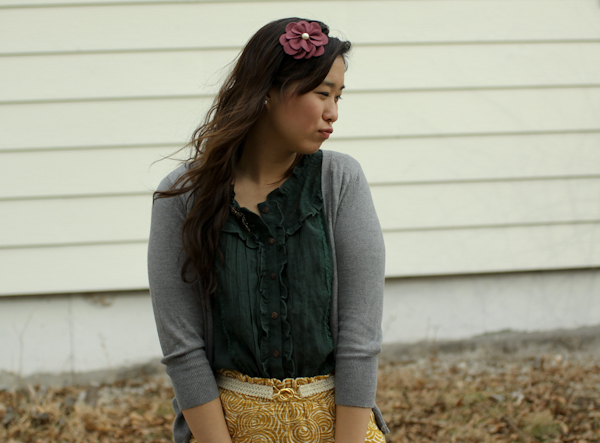 Blouse: Forever 21| Cardigan: Target | Skirt: Anthropologie | Tights: Target | Booties: Love Culture | Headband: Ink & Button
Just got back from a weekend with my girls in Miami! We had an awesome, fun, relaxing time, but it was definitely too short. The best part was the mid Saturday afternoon nap we all took on the beach, where I may have gotten a little burnt, oops, totally worth it. Miami has so much culture and I love how everything is so bold and colorful there.
So for this week's Cubicle Chic, I have one of the most colorful outfits I've ever put together. I pretty much went out of my comfort zone in putting this together but I'm actually loving the mustard, hunter green, purple and greys together. And I kind of wanted to show off my fabulous Ink & Button headband as well as my grey booties with a bow detail. Yea, I'm obsessed with grey shoes. 🙂 I'll definitely be linking this up to Cute and Little's Color Brigade this week!
And not sure if you've noticed, I surpassed 1000 Google Friend Connect followers this weekend, woohoo! I just wanted to say THANK YOU again from the bottom of my heart for reading my blog, your encouraging comments, your tweets, emails, everything. I'm so grateful for all you readers!
And lastly, I have FOUR giveaways going on right now!
Ending on Tuesday, March 21, 2011 at 12PM
1) Enter to win $20 credit to Chrissy Designs beautiful shop!
2) Enter to win $15 credit to Along For The Ride's jewelry and accessories shop!
3) Calling all picture taking freaks! Enter to win a print from Lollipops!
Ending on Friday, March 25, 2011 at 12PM
4) Celebrate Spring by entering to win a beautiful Plum Pretty Sugar tank top!
What are you looking forward to this Spring?