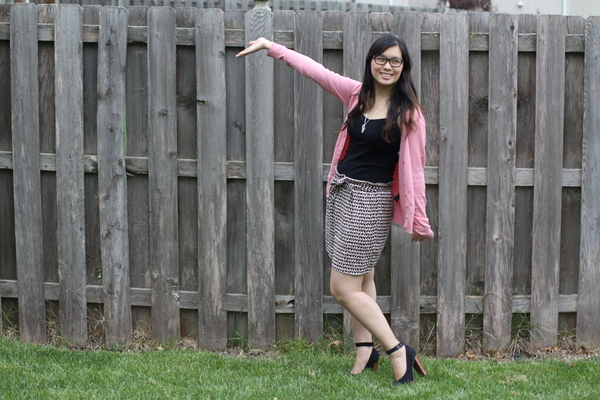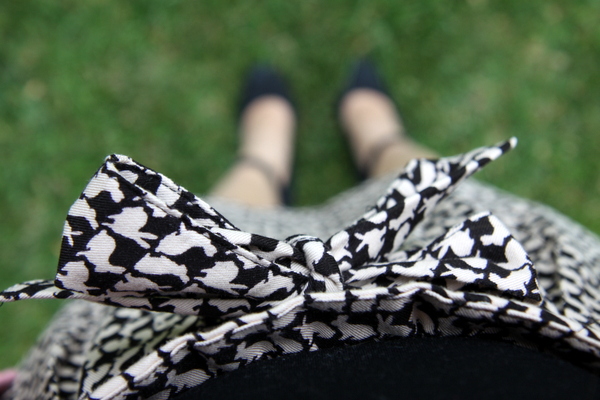 Tank Top: Target | Cardigan: | Skirt: H&M | Necklace c/o Lisa Leonard | Shoes: Sam Edelman | Glasses c/o GlassesUSA.com
Did you all have a good Easter, friends? We pretty much celebrated by spending quality time with our bunny, Austin, relaxing and doing some cleaning. I wore this outfit to work earlier this week and wow, it's been awhile since I've worn heels this tall. It definitely took some getting used to. In case you couldn't tell, the skirt has got bunnies on it, so perfect for Easter! 🙂 I'm trying to dabble more with fun and quirky prints. For every few "staple" or "solid colored" things that I buy, I make myself buy something with a print as well. I think that's good in making sure my closet stays diverse. Oh but don't worry, I haven't purchased a thing in April yet, still standing strong in my shopping hiatus.
A few weeks ago, I was contacted by Meira to do a review for GlassesUSA.com. I'll let you in on a little secret here, I actually don't need to wear prescription glasses or contacts, because I have one near-sighted and one far-sighted out. So my eyes actually adjust, balance everything out, and makes it so I can see most things pretty well, near or far! But I figured I was due for another pair of accessory, fun eyeglasses, so I said why not?
The cool thing about GlassesUSA.com is that they have a super handy virtual mirror that let's you "try on" their glasses. This was especially important for me because I was only getting glasses for looks. All you have to do is pick your gender, either upload or take a picture, and have fun trying and comparing on all their different frames. Go ahead… try it for yourself. You know you've always wanted to see what you'd look like in wayferers or nerd glasses or maybe even some red frames!
The glasses came in a timely manner in a cute little box that contained the glasses, eyeglass case, and a polishing cloth. The ones I got were the iSee 723 Black. The frames were a perfect size because the dimensions of the frames were listed and because I was able to "try them on" with the virtual mirror. The plastic frames are quite sturdy and reliable and I just love the style of them, kind of a mix between nerdy, retro, and hipster. The only thing I would have wished that I'd gotten was Anti-Reflective Coating to reduce glare. I sit at a computer all day at work and it would help to reduce the glare.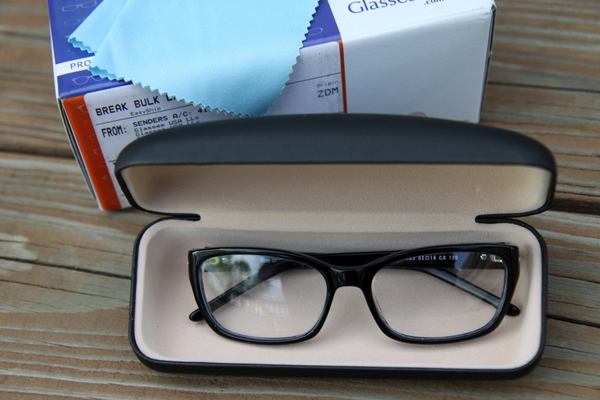 Besides their high quality frames and lenses, here's what else I like about ordering glasses from their site:
110% lowest price guarantee and a 100% satisfaction guarantee
A generous refer-a-friend program (You can get $30 for each first purchase a referred friend makes – and use the $30 towards your next pair of glasses)
A Facebook page and Twitter feed with exclusive discounts for fans
Great return policy
Tons of Sales and Coupons
Have you been convinced to buy glasses at GlassesUSA.com yet? If so, you can take 10% off your next order with code: Blog10.
P.S. The winner of the Oreck Grab-It & Steam-It Giveaway is Blair M. from Wild and Precious! Congrats girl! Please email me at sandyalamode(at)gmail(dot)com with your mailing address! 🙂
P.S.S. Have you entered the April Group Sponsor Giveaway and the Jessica N Designs Giveaway yet?