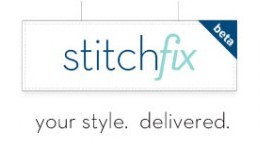 Have you guys heard of Stitch Fix before?  Well if not, you are in for a shopping treat.  🙂  Stitch Fix is an online personal shopping service where you fill out a survey about the style and then send you clothing or accessories right to your door step!  The survey is extremely detailed first asking you questions about your body type and shape, what areas of the body you like the flaunt, and what size you typically wear on top and bottom.  Then it asks you how much you spend on average on different pieces of clothing and accessories and what materials you absolutely don't like to wear (like pleather, fur, etc.).  Then it has you characterize your personal style, I said that Casual Chic and Cute top and jeans kind of girl was totally me while Boho Chic and Edgy was not.  But I did say that I would like to add some more Glam, Romantic and Classic pieces to my wardrobe, so just because your current style may be one thing, you can always say you want to add different styles into your current wardrobe.  After that, the survey then asks you about your Color and Brand preferences and any other Personal Notes you might want to add.  Then lastly you put in your mailing address, billing information and you schedule your Fix!  Basically you get charged a $20 Styling Fee (no matter if you decide to keep anything or not) and if you decide to keep anything, that $20 goes towards the price of the item.  And if you buy all 5 items that they send to you in your Fix, you get 25% off the entire purchase.
I must say that the shipping was very fast and when I received the box I was SUPER excited!!!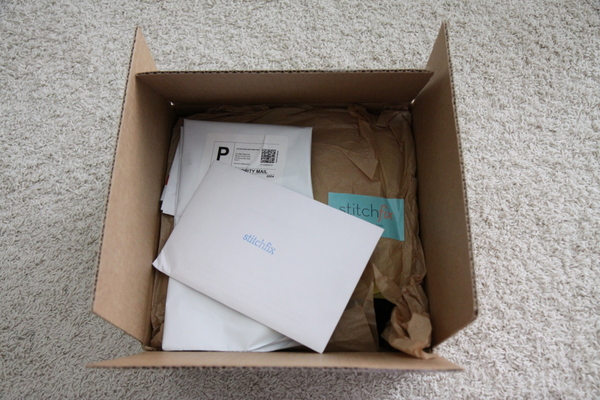 Here's a look at the box and its contents.  The box came with a letter to me describing all the different pieces that were in the box, a stamped and addressed envelope to send back the items that I didn't want, and 5 items to try on!!  The package arrived on a Thursday and I had until Monday before I needed to send anything back if I didn't want it.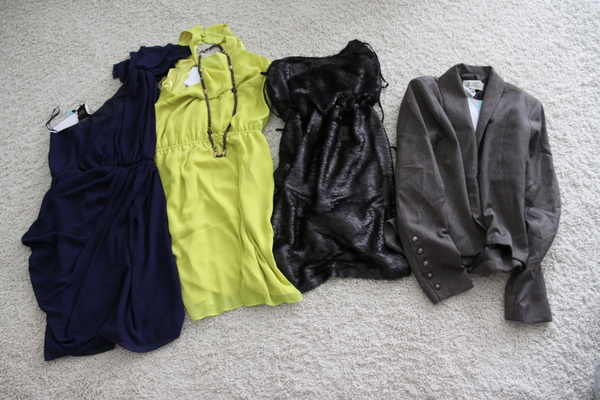 Here's the contents of my Fix!  Like I said above, these items aren't typically ones that I would wear on a daily basis, but I chose that I wanted more Classics and Glam pieces so I think these fit that category quite perfectly.  Here's a breakdown of the items and what I thought about them:
1. MM Couture Dress : day to night ellen one shoulder dress ($66) – I was excited about this one because I don't have a lot of one shoulder dresses.  I was worried that it would be too tight, especially around my belly area, but luckily it has a little bit of drapery around that area to cover it up.
2. Max and Cleo Dress : day to night cassie halter dress ($115) – I LOVED the color of this dress, but unfortunately the fit on top was a little bit weird on me.
3. Whats In Store Jewelry : Cheney Necklace ($30) – The necklace is a classic piece with a great color that would go well with a lot.
4. Ark n Co Dress : Evening Wear quily matte sequin dress ($62) – I was very hesitant about this dress at first glance because of all of the sequins.  I knew that it probably wouldn't work well if I had to carry Austin around while wearing it and it was just a little too much sequins for me.  I wasn't a big fan of how it looked on.
5. BB Dakota Outer Layer : Blazer etta brown dotted blazer ($100) – I was SUPER excited to see this because I had been looking for a brown blazer for the longest time.  But I wasn't a huge fan of the coattail in back.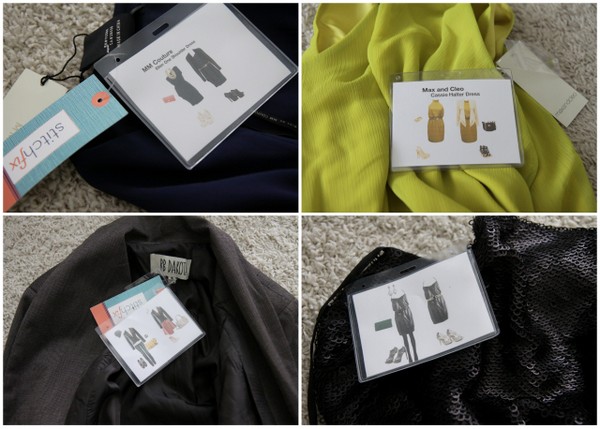 One of my favorite things about each clothing item is that each item came with 2 suggestions of how to style that item.  Whether it's pairing a dress with a blazer and tall heels or a belt, flats and a colorful clutch.
So which ones did I decide to go with?
Dress: MM Couture | Belt: Target (similar) | Necklace: Forever 21 (similar) | Shoes: Sam Edelman
I ended up going with the MM Couture Dress!  I figured it would be a great dress to wear for a wedding or just out for a fancy girl's night.  It definitely is very form fitting but I figured that my baby belly is only going to go down with more time so the dress will keep looking better and better on me.  😉  Prior to receiving the dress, I had never heard of this brand (MM Couture) and when I had looked it up, I realized there were a ton of pieces I loved at really affordable prices.
All in all I loved the experience of having my own personal shopper and getting clothes sent to my house.  With my new responsibilities of being a Mom, it's rare that I have time to go out and shop anymore.  The only downside is that you can't try things on for size before getting them but that's pretty much the same as if you bought something online.  This time I decided to go out of my comfort zone a little a probably got too many dresses that I will probably only wear a few times, so next time I am going to go for some more every day pieces that are more my style.
If you'd like to try out your own Fix, you can sign up here.  It's still in beta mode so you need an invite to sign up and I definitely think its worth trying for fun!  🙂  I'd love to hear about your experience if you have tried it out or once you do!
I was given a credit for $100 to do a review of Stitch Fix.  All opinions listed here are mine, truthful and honest.  They would have been the same regardless of if I got the credit or not!
P.S. The winner of the Jessica N Designs giveaway is Valerie of Mamavalveeta03!  Congrats!  Please send me an email at sandyalamode(at)gmail(dot)com with your shipping address!
Have you gotten your

Fix

on yet?