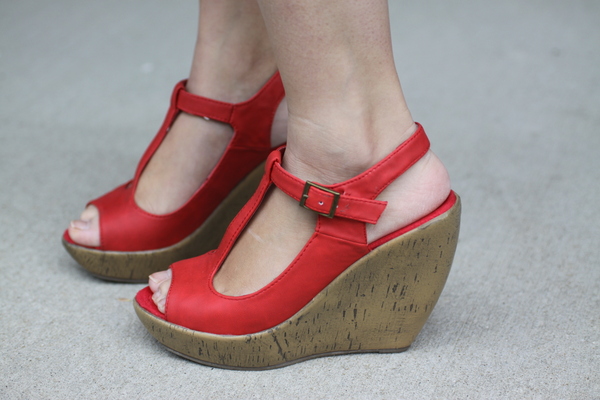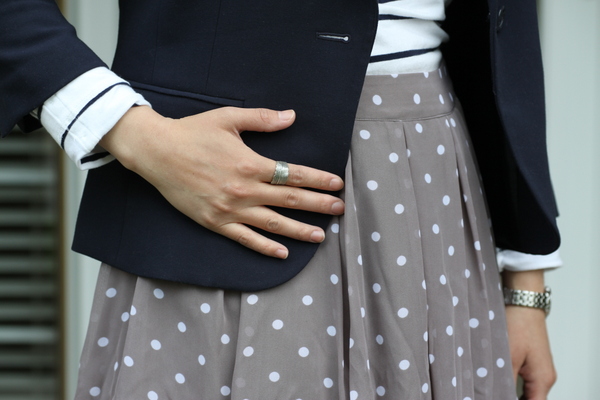 Striped Top: H&M| Blazer: Forever 21 (similar) | Skirt: H&M (similar) | Wedges: Blowfish Shoes | Necklace: Seek First | Feather Ring: Unexpected Expectancy
Ever since I won these Blowfish shoes from A Thought Is The Blossom, I decided that my shoe collection could use a lot more platform wedges. They give you height without having to arch your foot like crazy and smash your toes so that you have permanent indentations on your feet from strap marks. That has happened way too often to me in some heeled sandals I own (although please don't make me part with them just yet). But anyhow, wedges are my new best friend, just thought you'd like to know. And by the way, there is no "i" in wedges, they are not to be mistaken with wedgies, because those are most uncomfortable!! At the Tim Gunn show I went to this past Saturday, when someone asked a question, they referred to them as wedgies, and I was totally taken aback. No, WEDGIES are NOT in this season, or any season for that matter. But WEDGES are in.
The thing I like about this look is the mixture of stripes and polka dots (yay for pattern mixing), the use of a blazer to make this outfit great for work, the pop of red and turquoise, and a fun feather ring accent. I'm not going to lie… the mannequin at H&M was my inspiration for this outfit. Mannequins generally have a great sense of style, don't ya think? Or that's just a really good job at store display design and I am a sucker for it. Sometimes it's just so much better to see what an item looks like on a perfectly crafted mannequin body than on a hanger. Or as Tim Gunn preached, "Ladies, try it on" (will be sharing pictures from that event soon)!
OH and in case you are wondering what the title of this post means… well I have a confession to make. You know how I was on shopping hiatus for the month of April? Well I made it 28 days and then I shopped. I'm not going to blame Simply Bold since she was there as I rung up my purchases, although she is a pretty good enabler. 😉 But I'll blame the cute things that H&M always has in store at totally affordable prices. That store is dangerous I tell you. I actually didn't end up thrift shopping at all either in April, but I did spend more than my allotted $35. Either way, I failed, but I still think making it 28 days is pretty dang good, for me. Next time I decide to limit myself, I think I'll just give myself a budget for the month instead of saying NO SHOPPING, because clearly that's kind of impossible for me. 😛
P.S. The winner of the Hugs & Kisses Designs giveaway is Sarah of Yes, Teacher Crafts!
What stores do you always walk out of with something in hand?