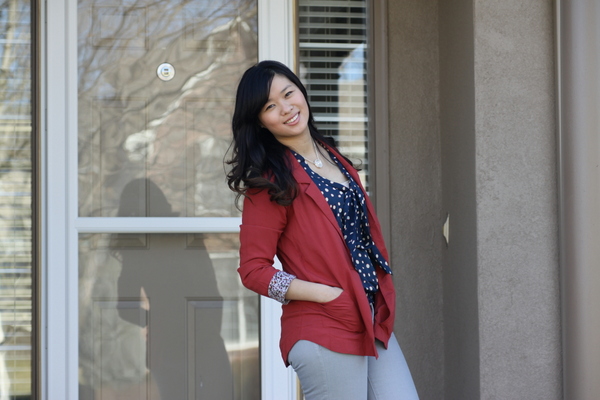 Blouse: Francesca's | Blazer: TJ Maxx | Pants: Gap | Shoes: Steve Madden | Necklace: MelodyJoy 1983 | Purse: Jason Wu for Target
It is no April Fools joke, my friends. From April 1-30, 2012, I am going on a clothes/accessory/shoe shopping hiatus. Well not exactly, but let me explain. In the past few months, I've kind of done a lot of shopping. A lot of in store shopping, a lot of online cute boutiques shopping, a lot of etsy shopping and I think it's about time I check myself. So, I've made a deal with myself that for the whole month of April, I am going to limit myself to $100 ($35) to only spend at thrift/consignment stores. (Anything I receive as a gift or to do a review on does not count.) Do I think I can do it? Probably not, but I am sure as heck going to try!
So in honor of this challenge, I've posted pictures of one of the last outfits I wore on a shopping date with a girl friend. I am in love with my grey Gap denim. And I think you already know my love for polka dots. And I feel so special to have that Jason Wu for Target purse I had been eyeing, Marv gave it to me for Valentine's Day since I couldn't find it in stores myself when the collection came out!
And that's all folks. Here's to only thrift shopping in the next 30 days! Please help keep me honest! And if you'd like to send me clothes/shoes/accessories in the month of April, be my guest! 😉
P.S. I'm featured today as a Mod Mama over at Life in Mod!!
Have you ever put yourself on a shopping hiatus?