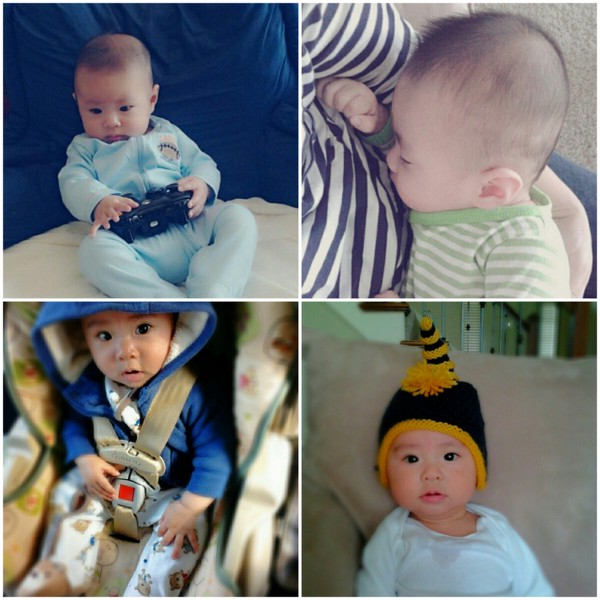 Life lately has been super overwhelming. I'm tired all the time and have a million things I need and want to do. And because I work better in list form, here's some of the bad and some of the good. 🙂
The Bad, Stressful and Ugly
1. Been driving around a huge Chevy Impala rental car for the past few days as my car is still getting fixed. This thing eats up gas like crazy.
2. Waiting for the liability insurance claim to come back to see who was at fault for the car accident.
3. Austin's sleep schedule at night has varied between 1 hour – 9 hours of sleep for his longest stretch. He may be teething?
4. Had to push back Austin's 4 mo. appointment because of a client in town.
5. Work has gotten me SO busy and I know I'm not the only busy one on the team, everyone is drowning.
6. Trying to keep up with blog posts. I have lots of outfit pictures and Austin pictures taken and ideas for post, just lacking the time to write them all!
7. Pumping at work is a real pain, I'll leave it at that.
8. There's never enough hours in the day.
The Good, Happy and Cheery
1. Seeing Austin smile or giggle makes all things right in the world.
2. This month consists of my first Mother's Day and me and Marvin's 3rd wedding anniversary! Excited to celebrate both.
3. I really do love blog writing and reading, just wish I had more time to do it. I really look forward to reading all your comments at the end of the day!
4. Our neighborhood garage sale is this weekend and I am SO EXCITED! Our neighborhood is FULL of kids so I'm sure we can pick up some great things for Austin. Looking for a jumperoo at an affordable price.
5. 80 degree weather.
6. Having my Mom care for Austin all day, make dinner for us when we get home, and take care of him on weeknights. We are SO blessed.
7. Rocking sweet baby boy to sleep. Although eventually we'll have to train him to soothe himself to sleep so we can have some more time back in our day, these moments when he is small enough to rock him to sleep are precious. Don't suppose he'd appreciate me doing that once he's a teenager.
8. I got instagram, follow me at sandyalamode! Above are a few of my most recent favorite pictures of Austin. He's my little cutie pie! Looking at these pictures at the end of the day makes all the Bad, Stressful and Ugly seemingly unimportant.
P.S. The winner of the Tookies $25 shop credit giveaway is Laura Royal! Congrats girl! Send me an email at sandyalamode(at)gmail(dot)com to claim your prize!!
What's on your good and bad list?